Why do businesses need PWA (Progressive web app)?
10 Nov 2020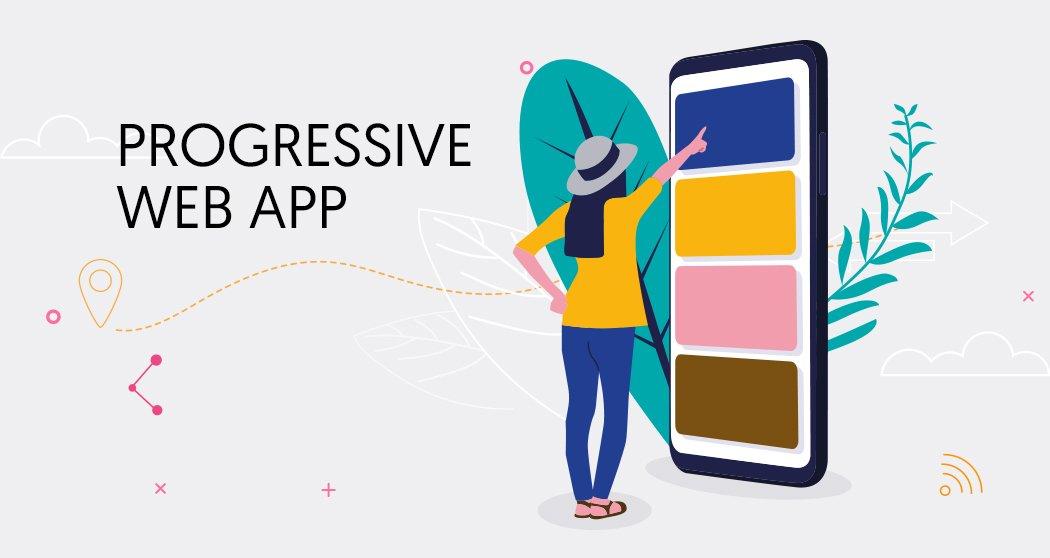 Nowadays, the phone is gradually becoming a powerful assistant for everyone, all problems can be handled with just a phone. Because of that, companies need to deliver the best mobile experience to satisfy customer's needs. Instead of launching native apps, many businesses think progressive web apps (PWA) is the best choice in terms of development and user experience. If you own an e-commerce business, take advantage of the PWA benefits available to you today
What is PWA?
Progressive web apps are next great trend for the mobile web. It is the combination of website and app, containing the advantages of both websites and apps.
In a way, PWA is a website that looks and acts like mobile app, meaning it can be added to home screen of smartphone, sends push notifications, accesses your device's hardware, and operates offline.
Especially, PWA works just as smoothly in unstable connection or without network, as it would be with full Internet access.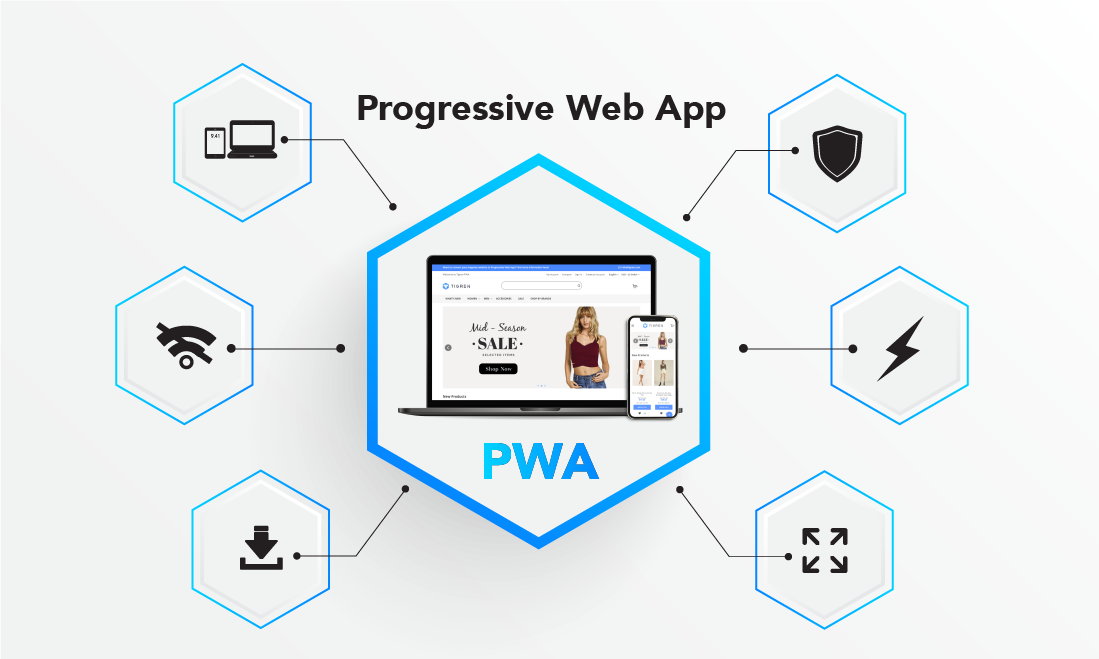 The benefit of progressive web apps
Below you will find some overview of the important benefits of PWA
Offline mode
As we know in certain cases, when there is no internet connection, restricted web, or apps display properly. However, with offline mode, all information can be saved automatically the last time you visited online. The offline page can be completed with a brand logo, some information, and maybe even some advanced features.
In fact, this could benefit businesses with product categories that everyone can see offline. As a result, It is based on the saving of information that users previously accessed. However, if they try to open those that they have not visited online, an app can show a custom offline page. This capability is important for retailers, as it allows them to prevent users from abandoning their catalogs and enhances customer retention.
Behave like native app
Progressive web apps are designed like mobile apps while they are still having full functionality of the proper website with full database access. This makes PWA different from native applications. Let's say you can get access to them via URL and therefore, they can be indexed by search engines. As a result, businesses can get important advantages of doing it.
Fast installation
Unlike a regular mobile application, PWA doesn't require a complex installation process which significantly improves user experience. As a result, Users just download an app quickly and directly to their devices, also they don't need to go the App Store or Google Play.
Also, it streamlines the procedure and reduces user abandonment.
No update issues.
PWA has specific functionality that allows updating automatically, without notifying the user and bothering by permission requests. These apps update themselves every time user visits them, thus eliminating the need to download batch changes and install them.
Push Notification Functionality
Like native mobile applications, PWAs have access to device-specific functionality, such as push notifications. This capability can be performed in various ways and allows companies to make the best use of content advertising.
Why are push notifications especially effective when it comes to PWAs? According to some statistical data, almost 60% of users allow their progressive web applications to send them notifications, which significantly increases opportunities to promote products or services. Furthermore, these notifications are displayed on the screens of mobile devices, through which they attract the user's attention, especially when compared to email newsletters, blog entries, or posts on social networks.
In such way, companies can better access their target audience and raise the response rate from the audience. On the other hand, app icons on the device's screen is added significantly to brand awareness.
Save Costs
PWAs do not require different versions for various devices, therefore, a single progressive app meets the requirements of all endpoints on which it operates. Moreover, it significantly reduces the amount of development effort, which helps saving the production cost a lot.
Why do businesses need Progressive web app?
Incredible site speed and performance
PWAs are way much faster than all websites. With the underlying cache technology, all the content of PWA has a load speed quickly. If the website is not using PWAs but wants to speed it up, they will need to find some Page Speed Up Optimizer or Performance Optimization extensions. However, most of those plugins were unable to fully meet the merchant's expectations.
Higher traffic and site rankings on search engines
As Progressive Web App is still the website, they have URLs that can be indexed by the search engines as usual. In fact, Google loves PWA because it's fast, reliable, and mobile-friendly. With the combination of Affiliate extension, your e-commerce site will definitely give customers an unbelievable shopping experience.
Consequently, all websites that are upgraded to PWAs will have a lot of advantages when being indexed by Google or other popular search engines. Being on top of SERPs also means that the website would welcome more organic traffic.
Saved e-mail marketing costs
Progressive Web App's push notifications will make customers engaged. If there is no PWA or no push notification, we need to use the traditional e-mail marketing channel to notify users of news, promotions, or abandoned carts.
But with PWA's notification, the marketing job is done in faster and more cost-efficient way.
A higher level of customer satisfaction and more conversions
Instant access on the mobile home screen, fast loading speed as well as offline mode, low data consumption ... are how Progressive Web App features can contribute to the experience. Great user experience leads to higher user engagement. And in most cases, increasing user engagement results in more conversions and sales.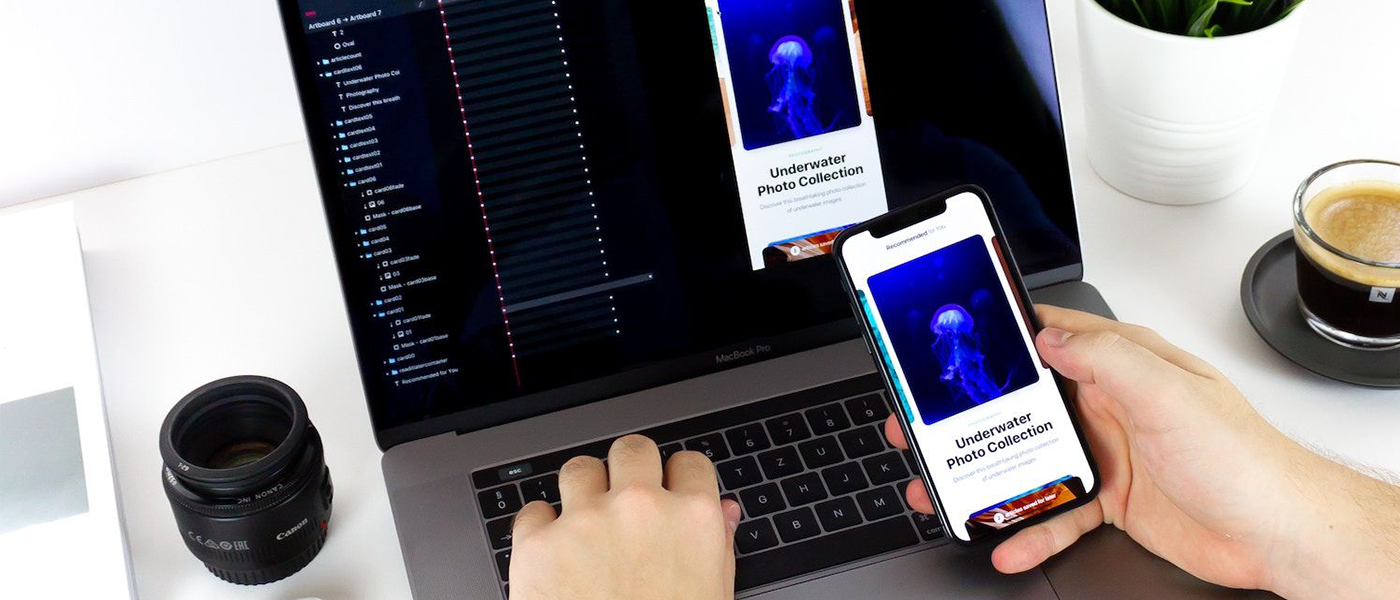 How do you install a PWA?
Installing the app on an Android phone is pretty simple. The site will display a message to the user if they would like the app added to the home screen and all you have to do is click yes.
On IOS, you need to visit the website with the Safari browser and click the share icon. That opens a submenu with more icons and an option to save to the home screen.
Conclusion:
PWAs are a perfect combination of the web and native apps, helping businesses to increase conversions and page visits. Despite some limitations, its advantages make PWAs a perfect solution for new businesses, and also for media and e-commerce businesses to engage their mobile users on the web.