Magento 2 FAQ Extension
Homepage On Frontend

FAQ Search

Categories On Frontend

General On Catelogies

Manage FAQ Category

New FAQ Category

Easy FAQ

Configuration

Layout Style - 1 Column

Layout Style- 2 Column Left Sidebar

Layout Style - 2Column Right Sidebar

Warranty On Catelogies

Catelogies In Frontend

General Catelogies In Frontend

Manage FAQ Category

Layout Style In Backend
Highlight Features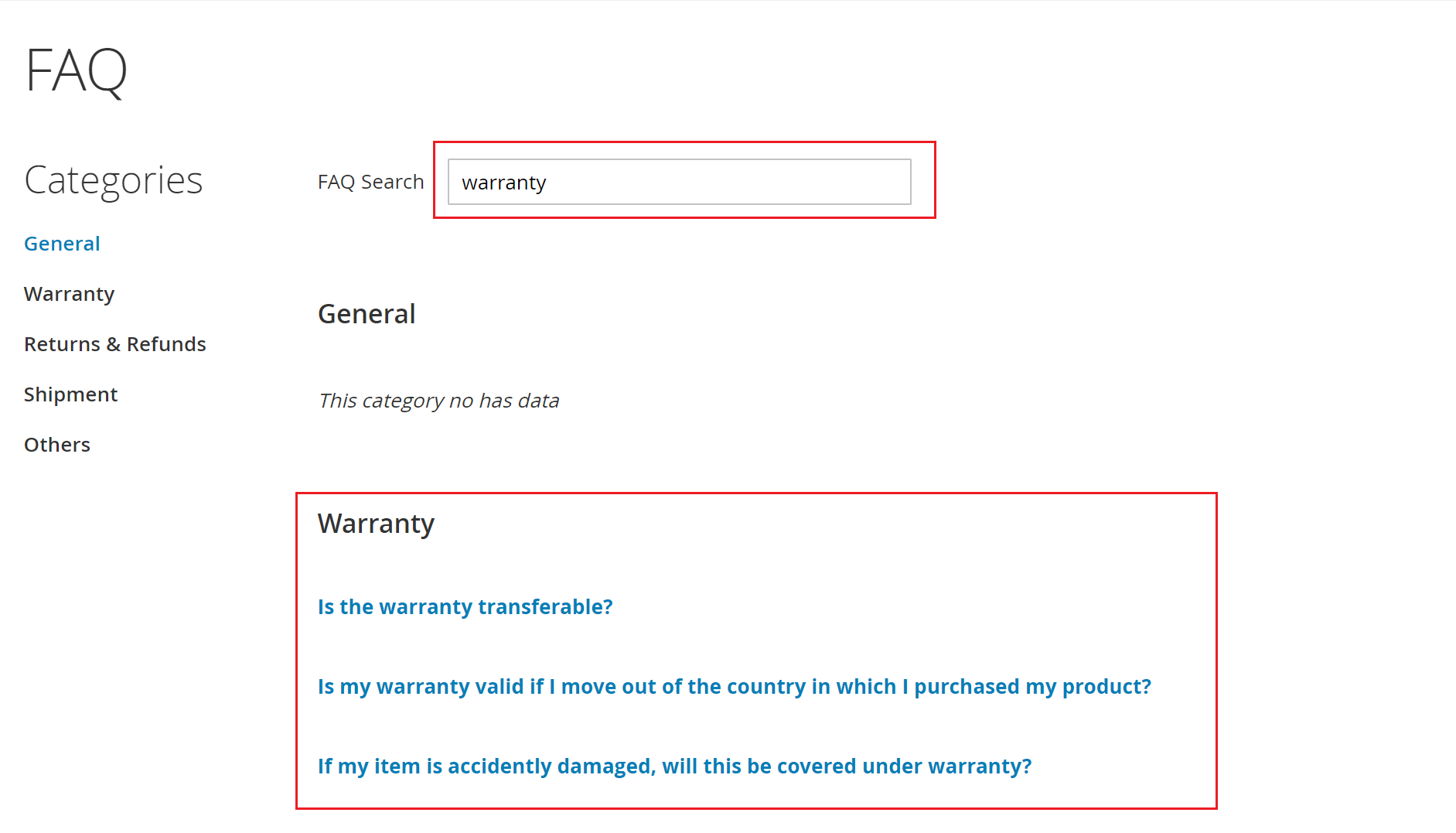 The smart search box helps customers get the answer for any FAQs by entering keywords
Imagine when the customers want to ask for something but you are not available to respond to them immediately, so what would you do to keep them stay on your site and continue shopping? Magento 2 FAQ extension will help you to solve this problem by letting customers search for what they care about such as warranty, shipping information or refund policies,.. and find out the answer quickly. Especially, with this feature customers only have to enter the keyword into the search box on the FAQ page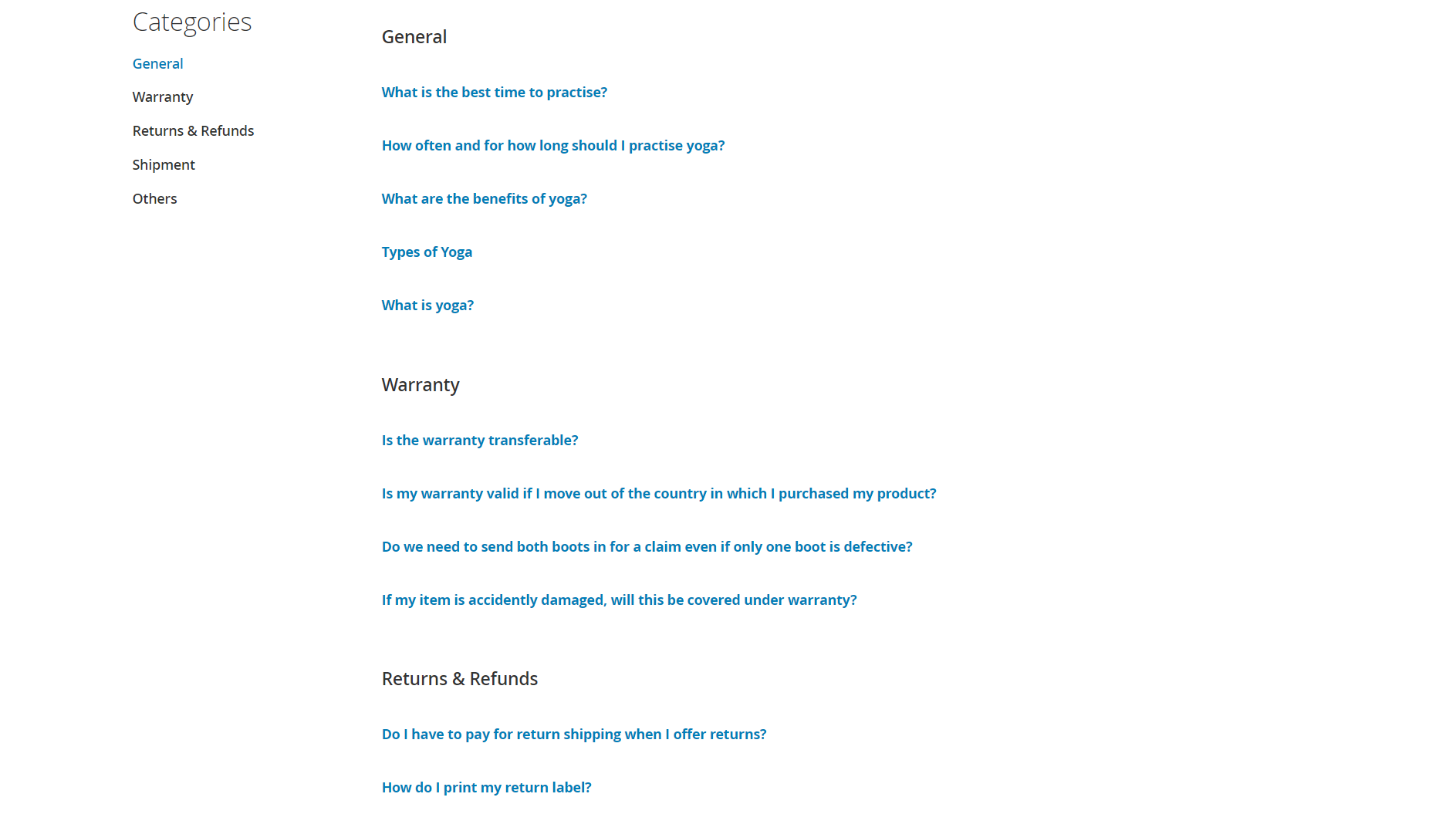 Shows featured categories and questions in the FAQ page
By displaying all questions and answers on one page it will save your customers' time of redirecting page by page, increases their satisfaction. On the other hand, if customers do not get the answer to their concerns, they may leave the site and go to another store.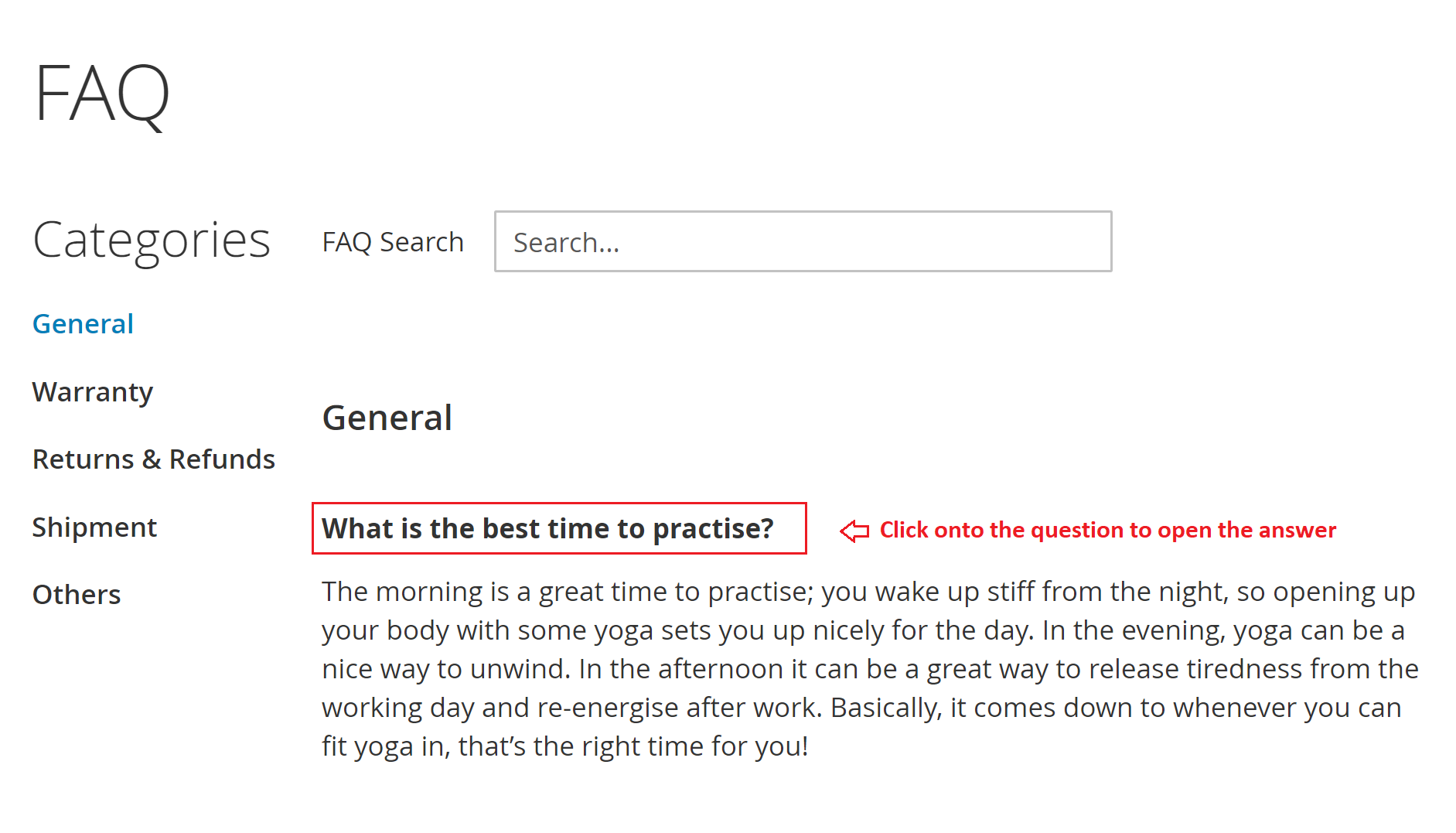 Allows customers to collapse/expand a question-view section
With just one click on the question, the answer will be demonstrated right under and the customers get the answer immediately. Every customer has their own question about different subjects before deciding to purchase a product, and they tend to expect to get the answer as soon as possible. This feature in Magento 2 FAQ extension satisfies customer's demand that answers what they concern about without wasting time redirecting to other pages.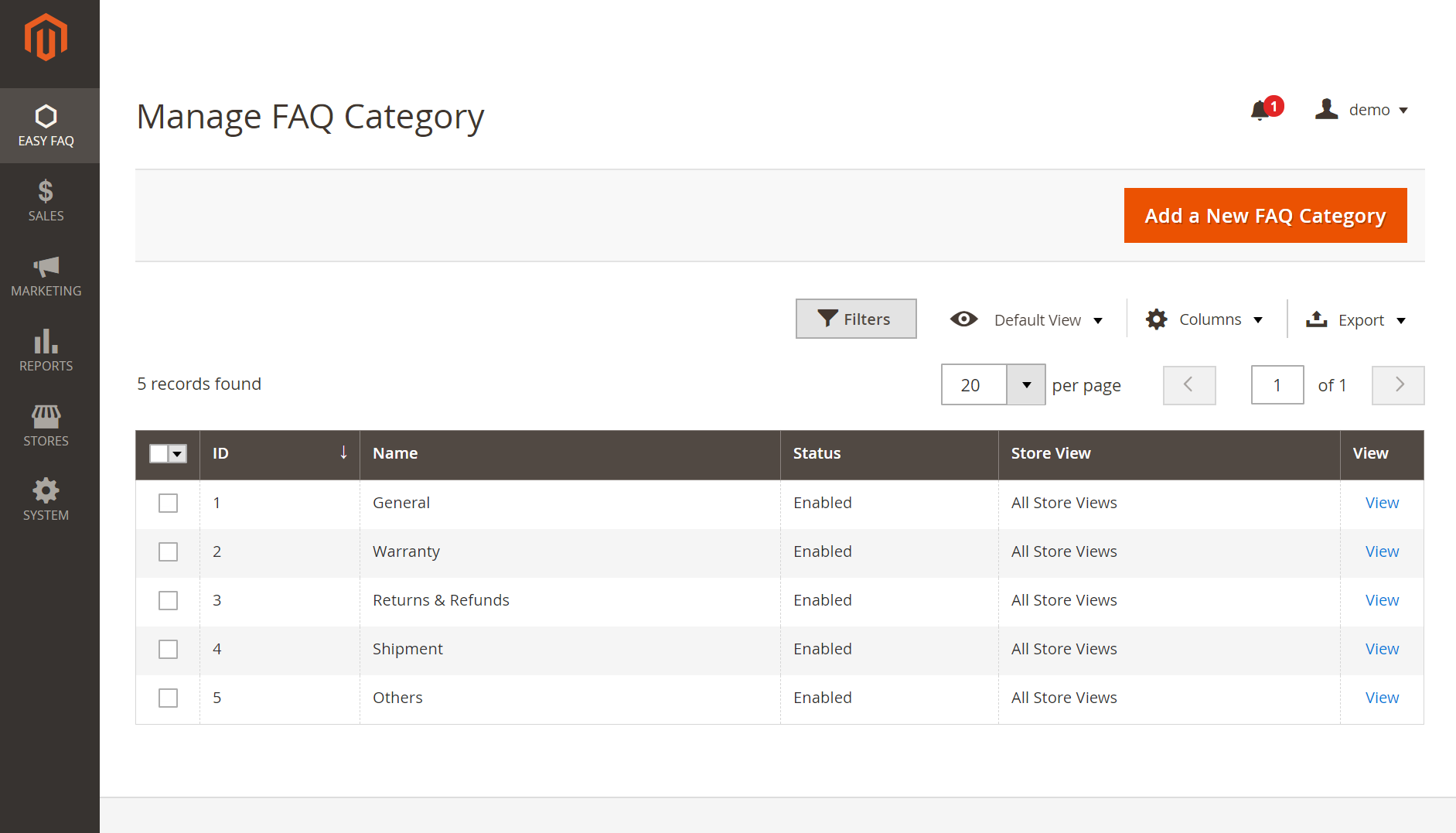 Create and manage FAQ categories/ FAQ items in an easy way
The simple display made it is no problem for web owners to create and make any changes to FAQ categories and items. You can manage categories and FAQs in the configurations setting page. The more FAQ you provide the more satisfaction you may get from the customers. Prepare as much as possible the basic questions and answers, you will save a lot of time for yourself as well as your customers.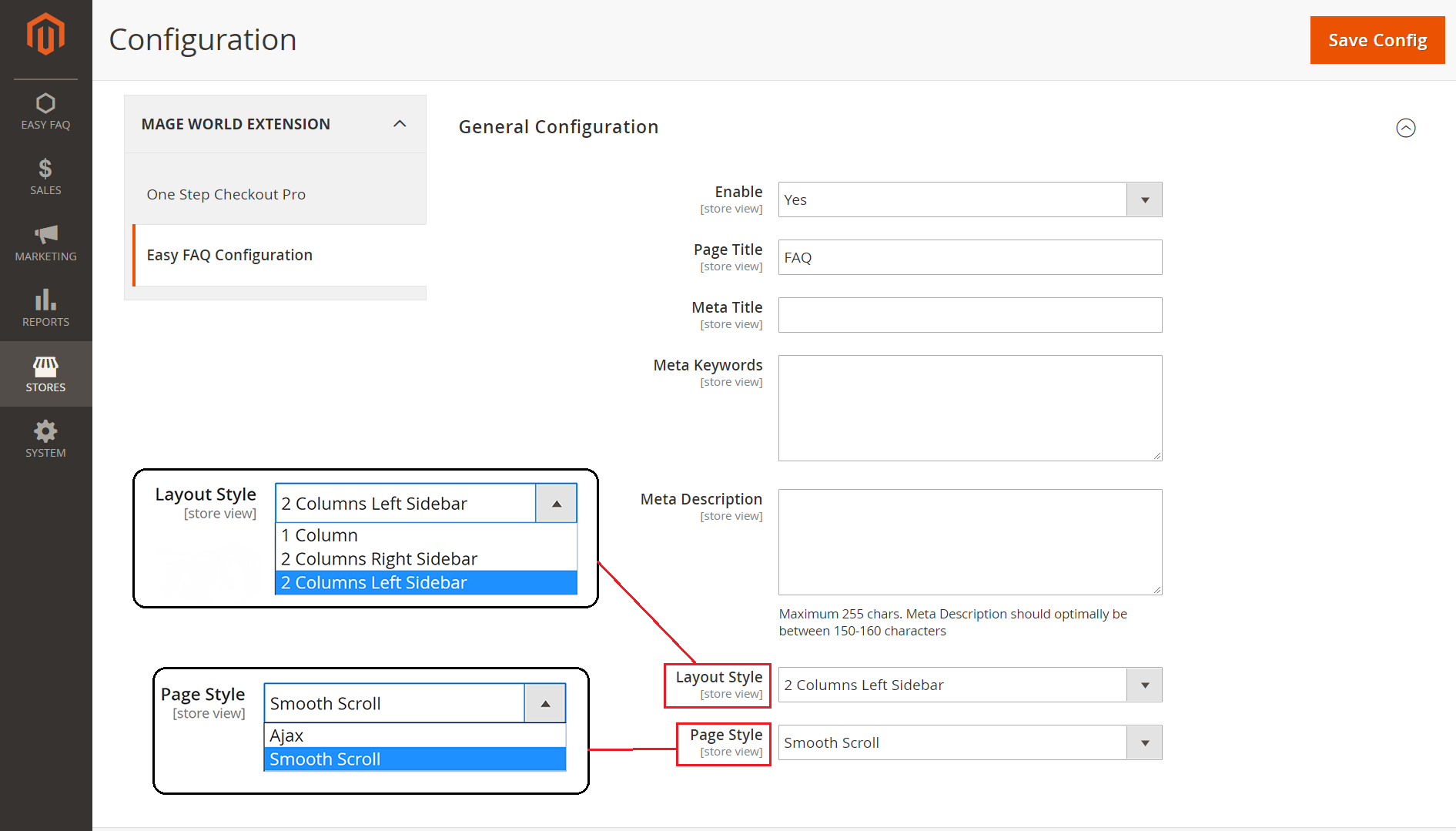 Admins are able to configure page layout and page style in frontend
There are multiple choices for page layout and page style, you can obviously manage your FAQ page layout and style as the way you expect it to be.
Page layout:
- 1 Column: All questions and answers are displayed in 1 column.
- 2 Column Right Sidebar: Categories and questions are divided into 2 columns with the sidebar on the right.
- 2 Columns Left Sidebar: Categories are demonstrated on the left of the page while questions are listed on the remaining column.
Page style:
- Ajax: This style shows categories one by one. When you click on a category, the page displays only the questions belong to that category.
- Smooth scroll: When you click on a category, all the questions are still listed on FAQ page but the selected category will be focused. This style gives a slightly look with the sliding motion.
Feature Full-List
FOR CUSTOMERS
The answer is shown right under the questions in Magento 2 FAQ
Easy to access FAQ page
Approach available categories and questions easily
Get the answer quickly without waiting for suppliers' response
Get a wider knowledge of their concerns through the FAQ page
FOR THE STORE OWNERS
Easy to customize web interface
Add and remove categories and FAQs in an easy way
Able to sort order of categories and questions in frontend
Create questions and its answers divided into categories of Magento 2 FAQ
Manage categories and question order to push priority ones on top
Enable/disable the FAQ page or any category/FAQ
OTHER FEATURES
100% Open-source
Flexible interface
Based on Magento 2 coding standard closely
Smooth scroll style makes page appearance more beautiful
Applying standard UI component of Magento 2
Responsive design allows users access the site from different devices
Why should we choose MageWorld
Free
Life-Time Upgrade
Free
Life-Time Support
90 Days
Money Back
100%
Open Source
98% Customers
Satisfied
11 years
On The Market
Testimonials
Your satisfaction is our most value motivation
Mage-World's Magento 2 extensions are very impressive, they are all easy to install and use. I haven't experienced any difficulties when using these products. I highly recommend this site! I think I will sponsor this company to my friends in the future.
Ashley Rulin, Sales Manager
The support service is really good, you're always there when I have problems. I have worked with several services but you are the one that is able to satisfy my expectation. I will continue working with your service in the future! Keep the good work.
David Bleu, CEO
I'm really impressed with the Magento 2 Affiliate Pro module from Mage-world. It's simple, but powerful, and it can entirely replace my previous costly affiliate system without any difficulty. It's a valuable catch for anyone who wants to have an built-in affiliate system for your Magento site. Besides, the support is superb and affordable.
Steve Marshall
Customers reviews
Best FAQ extension on the market

Ruud - www.gamesellers.nl

Very easy to use and very easy to install. Thanks to Mage-World for helping me out with some minor things! Very fast response time!

Very Good extension

Maurice - Not yet Live

Worth the money, very reasonable for an extension that works,

Good service

Jeroen - xs4all.nl

Nice FAQ.
Very good support. They helped me with a feature that this extension doesn't support, but they added if for me, quickly and for no extra costs.
(I wanted to link from an other page to a specific question-category from the faq)

Recommended

Damien Wallberg

Works Fine! Fast support! Easy to use. Highly Recommended.

Easy Extension

Rousselle

Like the name of extension, it is really easy to install and use. It just take me 10 minutes for making to work on my site. Thanks.
faq
Q. Is this extension compatible with any other extension?
A. Yes, our Magento 2 FAQ extension is already integrated and working well with any extension for Magento 2. There are some recommendations following: Magento 2 Free Gift Pro, Magento 2 FAQ Extension, Magento 2 Affiliate Pro. If you have any question in installating the extensions feel free to call for support via here.
Q.

Is it possible if i want to add more custom features to the extension?
A. Definitely YES! Our extension is 100% open-source so you can freely customize it as the way you want. Otherwises, you can always use our professional customization service. Please send us your request through this link and we will make your ideas become real.
Q.
How can I access to the FAQ page?
A. The FAQ link is dislayed right on the top right of the page, it is very easy to be recognized, click onto the link you will be directed to the FAQ page.
Q.

Is support service for free?
A. It doesn''t cost any fee for support, so you can freely ask us anything, we will try our best to help you.
Q.

Currently i'm using a custom theme, will the extension run well on my theme?
A. Our extension bases on Magento 2 coding standard very closely so be assured to install the extension, it can be suitable on any custom theme or design that doesn't affect to them. If you have any problem, feel free to contact us, we're always available to support you.
Q.

Why do I need FAQ extension for my site?
A. The customers often want to ask something when they are interested in an item while you are not available for 24 hours a day to support and answer for their question. Though, the customers may be not patient enough to wait for your response and leave your site, this meant you may lost the sales. The FAQ extension provides you an opportunity to support your customers instantly, You will add the frequently-asked questions to the page and customers can visit there to search for what they concern about.