Affiliate Pro
Magento Affiliate Extension

Banner Manage

Program Transactions

View Commission History

Edit Program

Peding Withdrawls

Transaction History

Active Affiliate

Add Group

Edit Program

Configuration

Manage Affiliate Withdrawl Request

Conmisstion History

Configuration

Affiliate Report

Transaction History

Homepage

My Invitation

Account

Affiliate Banners

My Affiliate Programs
Highlight Features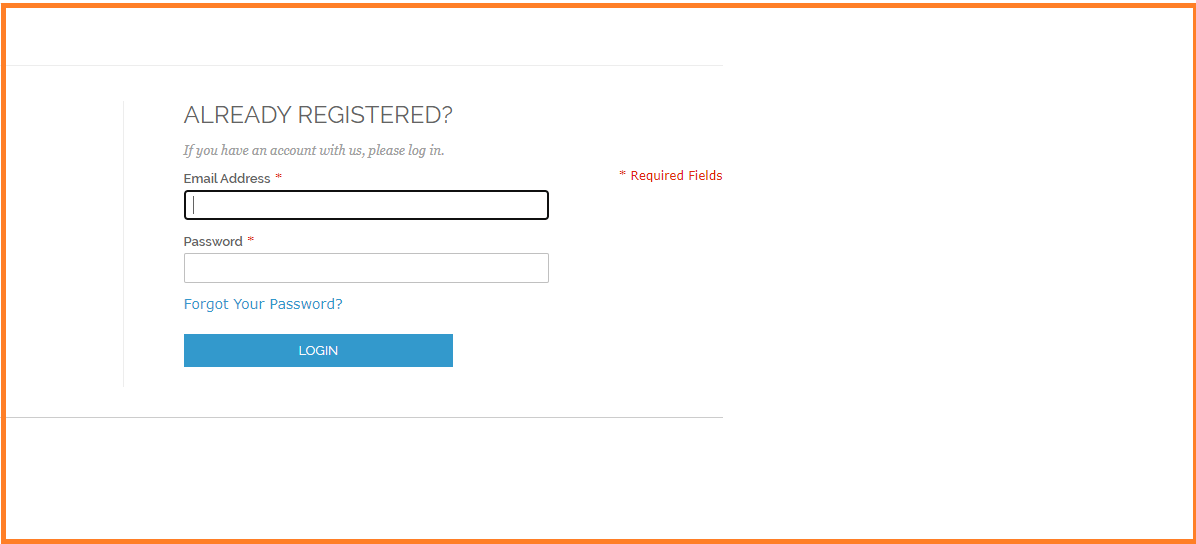 Easy Affiliate Sign Up and Pay Out.
In the front-end, the interface is very clean and neat to easily create a new account. If your customer wanna become an affiliate, they just perform two simple steps: fill out personal information and sign-in information. Then the affiliate account will be set up.
With MageWorld Affiliate for Magento, Affiliates can withdraw their commissions via the most popular payment methods:
Paypal

Bank transfer

Offline payment
The commission withdraws can be automatic or requires permission from admins. Besides, store owners can set the expiration time for the commission.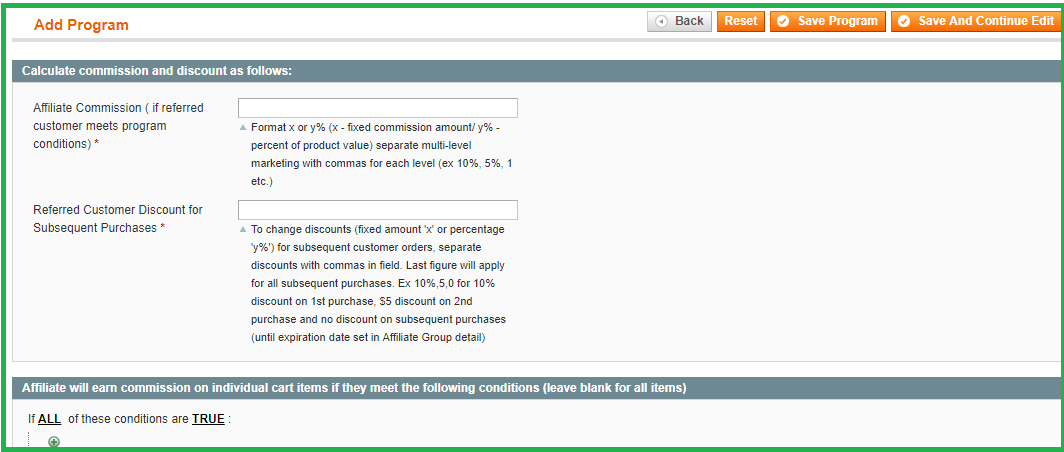 Single or Multi-Level Marketing
With Magento Affiliate system, as an administrator, the store owner can generate Affiliate programs as many as possible without limitation and also set the level of commission for them. Each campaign will be assigned to specific Affiliate Groups and the exact duration if you need it:
Name

Descriptions

Affiliate groups

Display

Valid date

Status

Order

Store view

Discount

Condition

Commission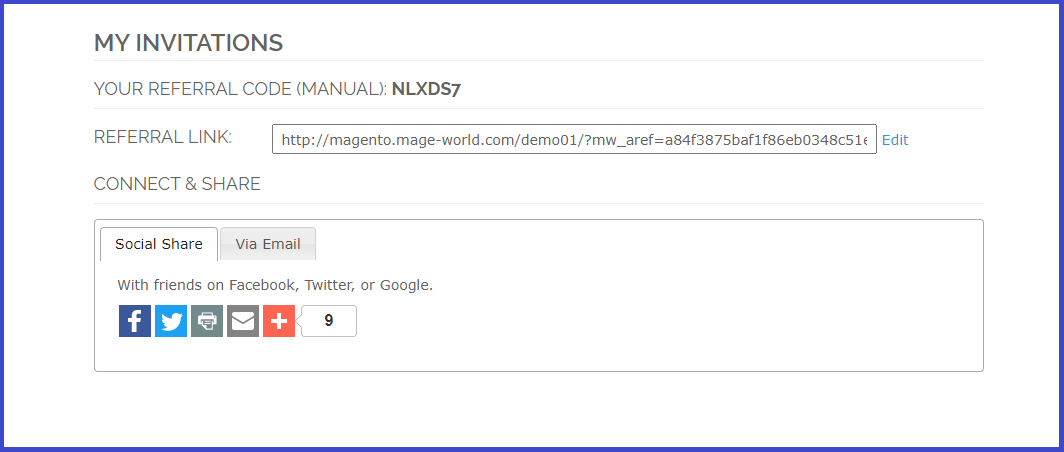 Low-Cost Marketing Program
Designed to help users easily operate and quickly achieve expectations, this is an essential marketing tool for any online store. It not only helps store owners promote products to the community and boost sales but also be used at low prices.
Links, Banners, Direct Referrals or Manual code to track commission.
With Magento affiliate extensions by MageWorld, the customer can take advance of various ways to share and recommend store home page as well as specific product and category pages, thus driving more much traffic to your store.
Share to social networks like Facebook, Twitter, or banner...

Send an invitation email to friends and family.

Send the referral URL to friends
Feature Full-List
For Your Affiliates
Sign up Affiliates and manage new accounts
Easy to sign up new affiliates using Magento's sign up form or your own customized form.
Easy to update referral accounts.
Support Flash Banners or Direct Referrals.
Track commission/discount and transaction history
Affiliates can evaluate their performance by new visual report: NEW
Line chart displays total sales generated by affiliates and total earned commission during a period
The pie charts show sources of commission
The invitation report allows to see the results of sharing such as total click, sign-ups, subscriptions, - purchases.
The affiliate will earn a commission and the referred customer could also get a discount
Easy to manage and track affiliate transactions with detailed commission and discounts for each product
Redesigned and optimized 'My Affiliate Account' front end including view of their 'Affiliate network'.
Easy to manage and track credit.
Credit usage and Payment
Two ways to use credit (withdraw or apply to new purchases)
Select defined payment method. Decide to withdraw manually or automatically (Featured)
Support multiple payment methods including bank transfer, offline payment and paypal (Featured)
Refer friends
Easy to broadcast referral link and earn commissions (Featured)
Easy to connect and share on facebook, twitter, google buzz, and etc
Easy to send referral link to friend via email or messenger
Allow to import contact from Gmail, Yahoo, Outlook, America Online, CSV, text file...
Easy to post referral link and affiliate banner on website, blog, forum...
Easy to share referral link (refer friends) from any category or product page
Easy to manage and track referral visitors and invitation histo
Always update Affiliate information with email notification
Notified when account is approved
Notified when new program is added or balance has changed
Notified when customer purchases order
For the Administrator
Create and manage multi-level marketing
Set commission by Affiliate level (direct referral and upper-level referral can get commission with defined rate)
Manage Affiliate accounts
Easy to create and manage affiliate groups
Easy to approve and manage affiliate accounts and assign affiliate to specific group
Support auto sign-up for affiliate when customer creates account NEW
Support auto approve affiliate account
Support option to automatically reassign affiliate to affiliate group when automatically signup affiliate.
Support reassign affiliate parent manually
Manage payment and transaction history
Set up different withdrawal fee for each payment method by amount of money or percentage NEW
Easy to manage and track credit transactions
Easy to manage and process withdraw requests, support exporting pending withdral requests to CSV (Featured)
Manage invitations
Easy to create and manage affiliate banners with specified link
Support Ajax invitation form for category, product and CMS page
Support Affiliate Widget
Email Notification setting
Email templates are available for both administrators and referrals
Manage commission and discount
Easy to manage and track affiliate transactions with detail commission and discount for each order and product
Allow admin to create flexible rules for affiliate program NEW
Multiple-discount tracking for different orders' order items... (Hot)
Option to 'Hold' commissions for defined period
Apply program on specific products, specific categories
Create conditions, based on catalog rule and cart rules
Apply program on products with specific attributes conditions (Hot)
Apply program on whole order. Ex: order greater than $500, order with more than 2
Apply program on specific affiliate group (Hot)
Allow to assign program to multiple affiliate groups NEW
Allow to set program commission and discount
Allow to assign category and product to program
Allow to set active period (from time to time) for program
Easy to view total member and total commission of program
Easy to manage and track program transactions
Reports
The performance of affiliates is visualized through line chart and pie chart: NEW
Line chart displays the total sales generated by affiliate, total commission and total referral discount.
Pie charts show the percentages of sales/commission generated by different sources and programs.
The statistics summarize important numbers such as total sales generated, commission, top affiliates, etc.
See at a glance who generates the most referrals and additional income
Show report of affiliate sales by period.
Show report of referral sites by period.
Highlighted Features
Multi-level marketing (Featured)
Support multiple affiliate programs (Featured)
Create flexible rules for program, based on catalog rule and cart orders (Featured)
Handle sale affiliate tracking automatically via cookie, client IP and client accounts
Support affiliate referral code for offline marketing (Featured)
Allow to create unlimited programs with fixed or percentage commission and discount (Featured)
View more features
Allow to create affiliate group and apply program rules on specific groups
Per-product commission and discount tracking, even on orders with multiple products and multiple programs
Apply program by maximum commission, maximum discount or priority for products(Featured)
Automatically close program after valid period
Auto-subtract commission in case of refunding or cancelled order(Featured)
Maximize referral potential by full-supporting recent referrals (provide links and banners for sharing on Facebook, twitter, blog, website... and via email)
Email confirmation and notification for both admin and clients (new members, new programs, balance change ...)
View affiliate transaction (always auto-update balance change with detailed comments)
Easy manage affiliate member and their history (full information storing)
Encryption for affiliate referral link to protect client's privacy
Why should we choose MageWorld
Free
Life-Time Upgrade
Free
Life-Time Support
90 Days
Money Back
100%
Open Source
98% Customers
Satisfied
11 years
On The Market
Testimonials
Your satisfaction is our most value motivation
Mage-World's Magento 2 extensions are very impressive, they are all easy to install and use. I haven't experienced any difficulties when using these products. I highly recommend this site! I think I will sponsor this company to my friends in the future.
Ashley Rulin, Sales Manager
The support service is really good, you're always there when I have problems. I have worked with several services but you are the one that is able to satisfy my expectation. I will continue working with your service in the future! Keep the good work.
David Bleu, CEO
I'm really impressed with the Magento 2 Affiliate Pro module from Mage-world. It's simple, but powerful, and it can entirely replace my previous costly affiliate system without any difficulty. It's a valuable catch for anyone who wants to have an built-in affiliate system for your Magento site. Besides, the support is superb and affordable.
Steve Marshall
Customers reviews
great support

Miro

TOP SUPPORT !!! Thank you a lot!!!
Great extension!

Good value

josh - mrb-supply.com

Initially I was set to go with another developers extension but when I found out their "pro" version did not include their full features and I would have to buy multiple add-ons. I opted for mage-world instead and I am not disappointed. It has more features at the price-point than any of the competitors versions. It is also very intuitive for the customer with little explanation required to a customer on using all the features.

Great Product

DSVL - dejavutrends.com

Great Product. Very Helpful.

Outstanding support

Ebischek - CGAMES

Hello,
I would like to share my opinion about mage-world and the affiliate extension.
I bought this extension 3-4 months ago. I was between the Affiliate Pro 3 and a extension from a other company.

I really wanted a auto-withdraw feature but needed the "tax calculation" feature from the other extension. I wrote a support e-mail and was told this feature will be added in the next days.
I think 3-4 days later I got a e-mail from the support that the feature was added ( v3.5.2.5 (November 13, 2012) ).

I purchased it and are using Affiliate Pro 3 now since 2 Months. In these months I faced some issues nothing really outstanding but each time I got a solution after 2-3 e-mails.
I say e-mails because due the time difference.

Overall I must say I'm very happy the only thing I miss or better my affiliate is the possibility to export a detailed review of clicks/registered/purchases of each day/week/month from the affiliate control panel.



Wonderful extension - Highly recommend

Jason - Fractalwater.com

I am so pleased with the support that MageWorld has offered throughout our install of affiliate pro 3. The product works wonderfully and Hai is always quick to respond with curious and knowledgeable answers. I highly recommend MageWorld.com for your next Magento project!

Incredible

Louisa

This extension is incredible. I've never known there was such a great extension like Affiliate Pro 3. The support is excellent, they are quick and helpful.

Works great, reporting not quite there, but overall - awesome

Brian - Banksashby.com

It works great, just not how i need it. That said - the service is fantastic, and always rapidly responds. Turns out, i needed Reward Points Pro.

Amazing

Vanriper

Definitely amazing, we are using this Affiliate Pro 3 and we really enjoy its helpful features. Thanks a lot, Mage World.

Excelent extension and support

Marcos - Kalliope.com.ar

Exelente extension, very clear functionality, easy instalation and operation, and above all an excellent support!!!

Recommended for every one

Ader345

My company started an ecommerce site used magento and one of the most importance for us is affiliate plan. We chosen this extension and we are 100% satisfaction about this. Recommended for every one.

Perfect|

Hewson

Simple and Perfect

Perfect

Bonnie

We are using Affiliate Pro 3 and we're happy with the functionality of this extension. It has all functionality of Affiliate Program and works perfectly.
I also got great support when I had a question!

Nice extension, Best support

Stormy

I'm using this extension and here is my comments:
+, It works exactly as advertised
+, The extension are well written code. It is very clean and easy customize the extension
+, The price I think is fair for the great extension with a lot of features
+, And finally The support is really good: quickly, professional and friendly.
5 stars + for Mage World


Excellent extension and support

MaryBella

The extension is really good and it makes everything it says, and it's REALLY easy to use. Even for a beginner like me, I could configure it in 2 minutes.
Overall the support is great! Submitted the issue and after few hours received the update :D

I'd really recommend this extension for its easy functionality. Look forward for updates!

Absolutely Amazing!

JaneB

I've got to say, that I had no idea what to expect when installing this program, but was blown away once we were setup. Initial installation is a breeze, and setup was quick and easy. We had a couple of bug issues that were immediately corrected by customer support and we were off and running.

The frontend is aesthetically pleasing, and very user friendly. There isn't a bunch of confusing mumbo-jumbo to cross users up, but instead everything is laid out well with ease of use in mind. Having worked with some other affiliate programs in the past, this is light years ahead of simplicity!

The backend is just as easy to setup as the frontend, and everything is streamlined helping you to be off and running in minutes. Integration into Magento is seamless, and setup couldn't be any simpler.

Customer service has been outstanding both through email communication and instant messenger. You cannot go wrong with this program, and it's easily worth double what they are asking. You won't be sorry if you decide to purchase.

Desirable extension

Nelson

This tool works perfectly, i can not imagine how a more desirable extension looks like.


Nice module, Good Support

jenny

I bought and tried to use an affiliate module from another provider, however then I had to stop this because the module is very poor. Now I'm using the module from Mage World and it works well. Moreover They always support me for any question.Thanks.

Excellent extension

John

The extension works fine. This is one of the best extensions I bought. Totally satisfied. I really recommend it.

Great extension

Rosalez

This is great extension. I have it working without any error. I will buy more products from MageWorld.

Can't recommend highly enough

TomFrever

I rarely give reviews for commercial products but Affiliate Pro deserves 5 stars. It works seamlessly and integrates neatly and it's so intuitive. Congratulations to the team. Excellent support. See? All those caffeine-fueled late nights were worth it.

The best affiliate system finally met

jackyG

Before I bought Affiliate Pro, actually I have spent to other affiliate system, I have to make a new try to purchase Affiliate Pro because this module can bring me more function which I really want. It can show a single refer link, also can display each "product" with an affiliate link automatically, smooth and looking professional.

I have met some bugs after install it, although it take about 1 month to fix my problem, but I still say they offer a great products and excellent service. Thank you admin, I high recommend here every Magento users you should use this affiliate system !

Super incredible service support and extension

ManuelZila

I had an installation problem and the technician answered in just 5 minutes, excellent communication, super helpful and quick. The technician personally installed and configured the extension!
The reliable value for money is excellent
Highly recommended

Super module

Toni

This is one of the best module I used. It works fine on my site, I installed it quickly. I recommend.

I love this extension

Mac

This is a great extension, my clients love it!
The support was quickly when I had a problem with the installation!

Best extension

Robin

I'm developer and I used this extensions for some clients. Here are my reviews:
1, Easy to Install and configuration
2, Manual is good to understand
3, Good coding, Easy to customize

Good extension, Helpful support

J. de Jong

Good extension, I had small problems and they fixed this quickly and helpful. Thanks for such great extension.

A very nice extension

Phung

Affiliate Pro 3 is very nice. There's no doubt that I like it. Thanks MageWorld. Recommended.

A++

Velde

Great extension, great support. Thanks.

Highly recommended

Ali Sam

Perfect extension- It works exactly like as advertised. Did exactly what I need.Thanks for all. Highly recommended.