Magento 2 Advanced Delivery Schedule Extension
Manage Delivery Time

Edit Manage Times

Manage Delivery Schedule

Configuration

General Information
Highlight Features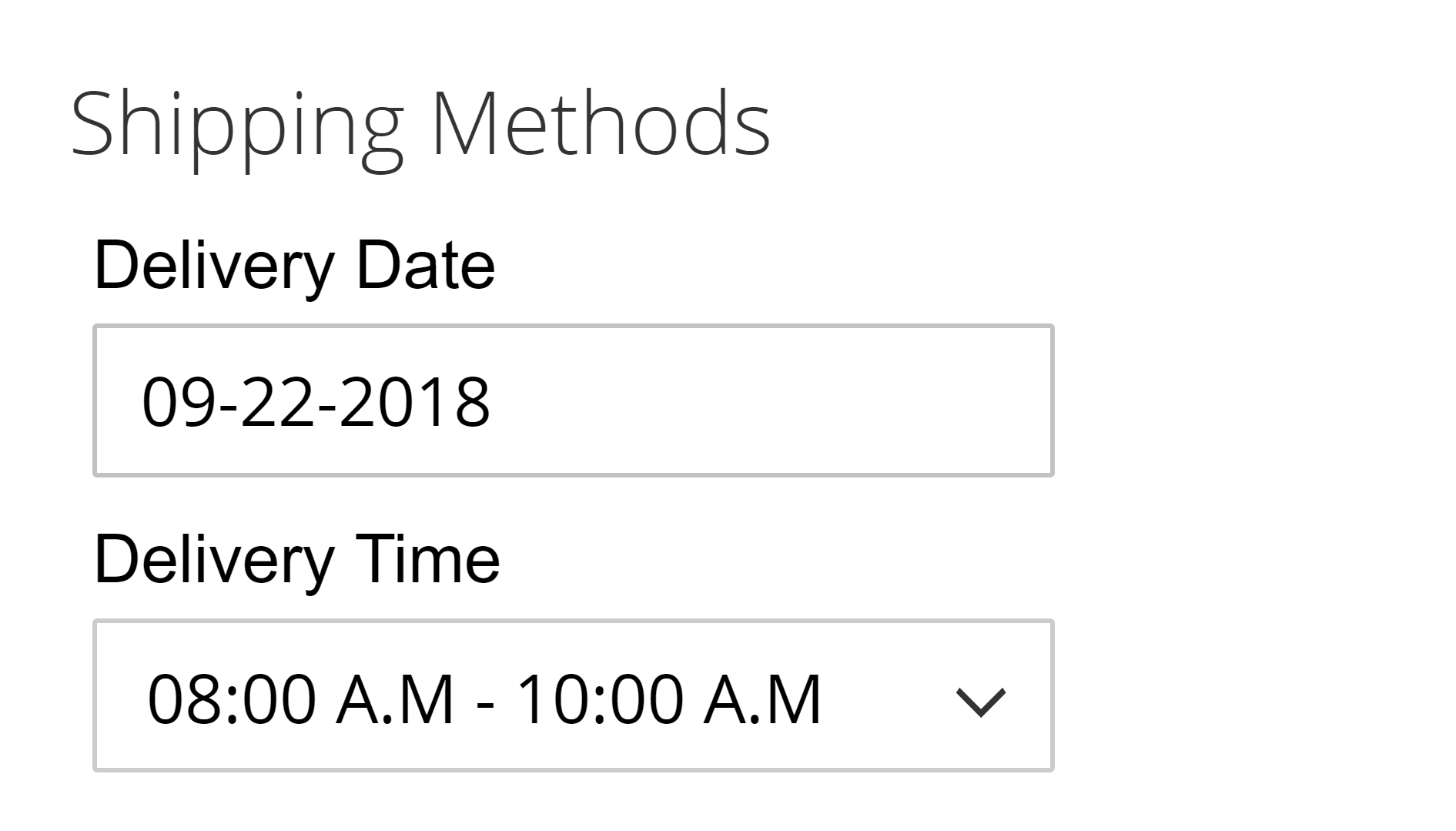 Allow customers to pre-select delivery date and time
Instead of depending on the delivery schedule from the suppliers, customers can set their preferred date and time when checking out the order of Magento 2 Advanced Delivery Schedule extension. Then store owners receive the order, they will see the requirements about delivery date and time so they can manage to deliver customers' packages on time. With this feature, customers can arrange their time easily and take the initiative to receive the package.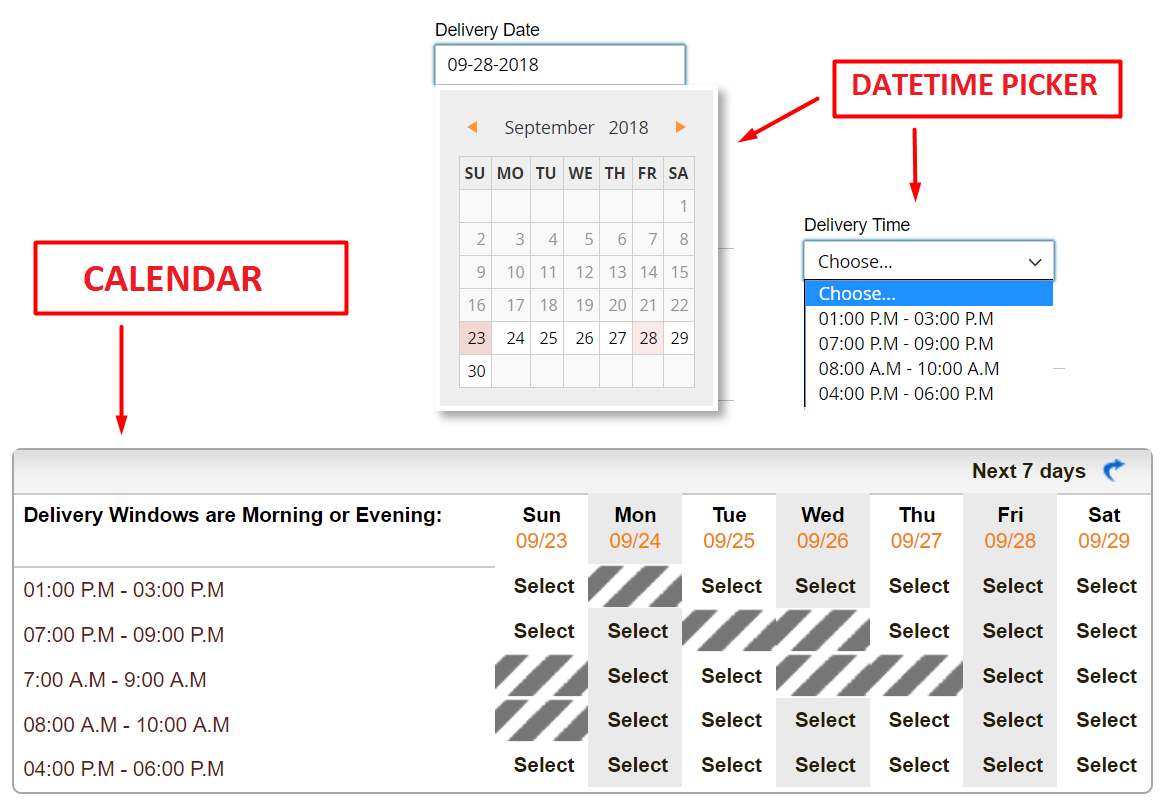 Adjustable time-picking board
There are two types of calendar display:
- Calendar: Both delivery date and time range are shown on the same board and customers can choose their favorite time as expected.
- Datetime Picker: Delivery date and time are divided into two fields separately. Customers will choose the delivery date first then select a time range.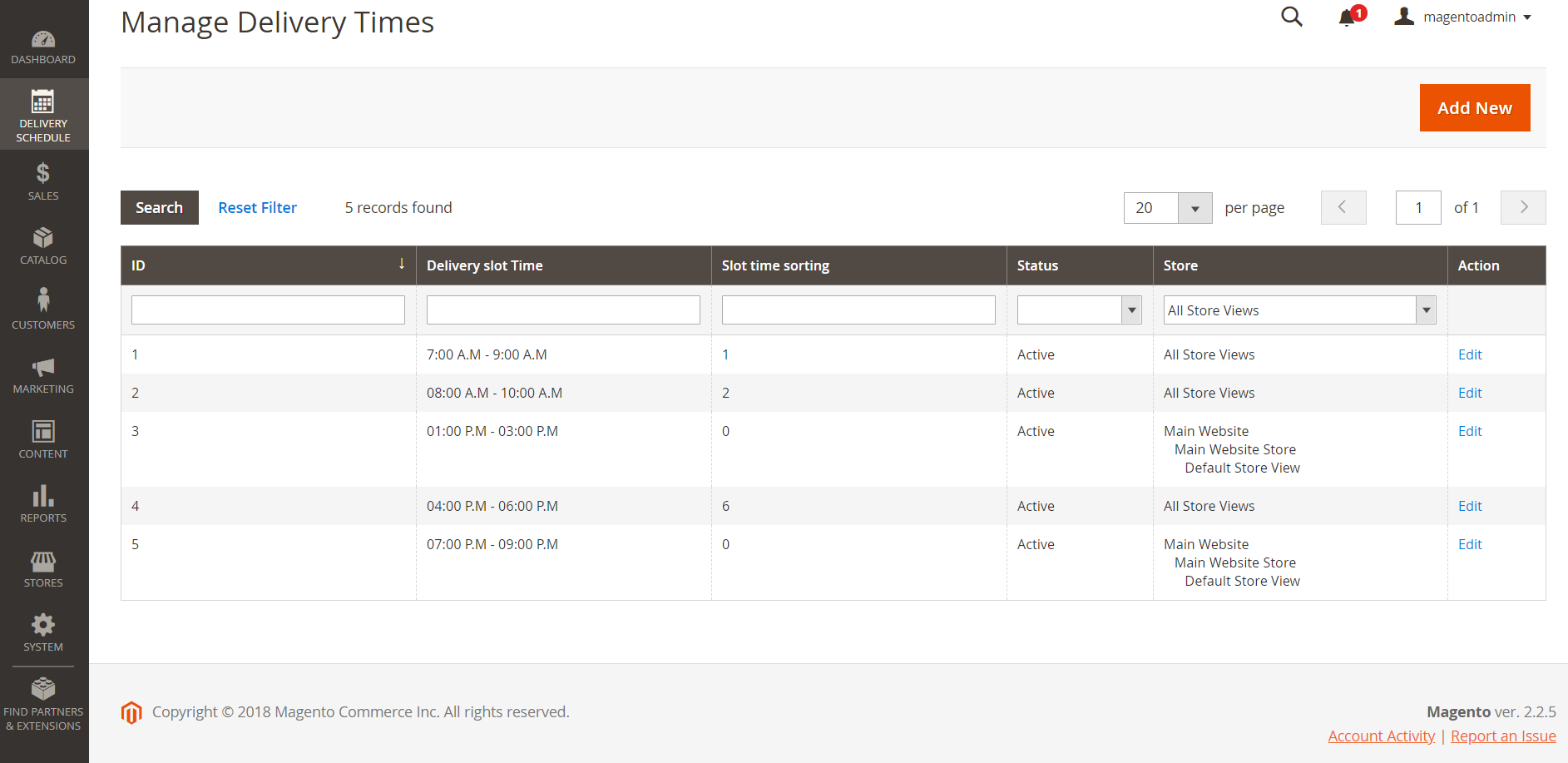 Store owners can set different time ranges to delivery
Normally, customers have to spend all day waiting for their package to be delivered to their door. The Magento 2 Advanced Delivery Schedule extension lets the store owners create different delivery time ranges so customers are able to choose the most suitable one for their timetable. This feature is a solution for the customers that avoids irritating experiences.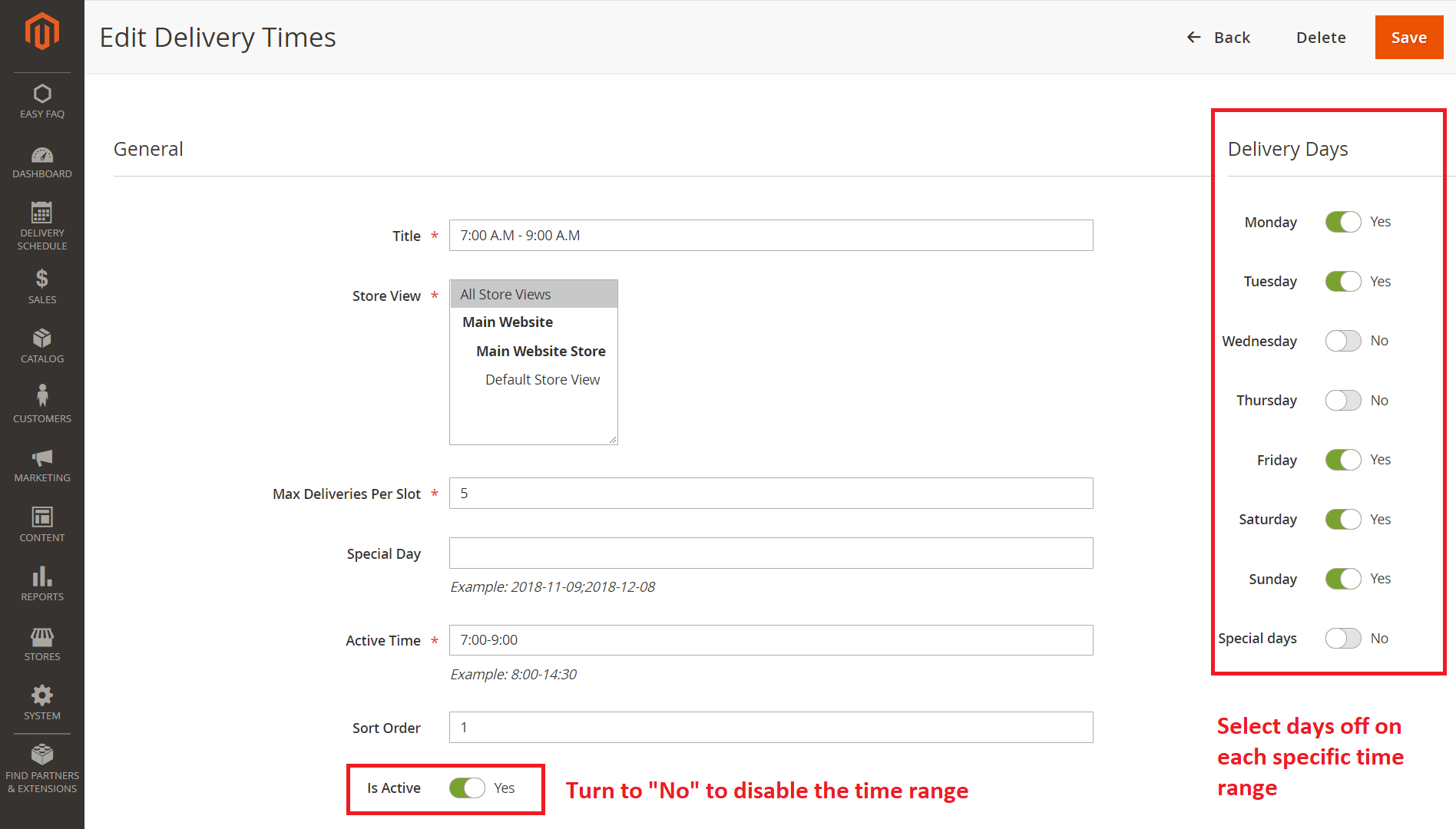 Disable specific time ranges
Magento 2 Advanced Delivery Schedule extension allows web owners to disable time ranges on particular days. Customers will not able to select those who have been disabled by the administrators. This feature ensures the quality of the delivery service, avoids late delivery due to rush hours or order overload.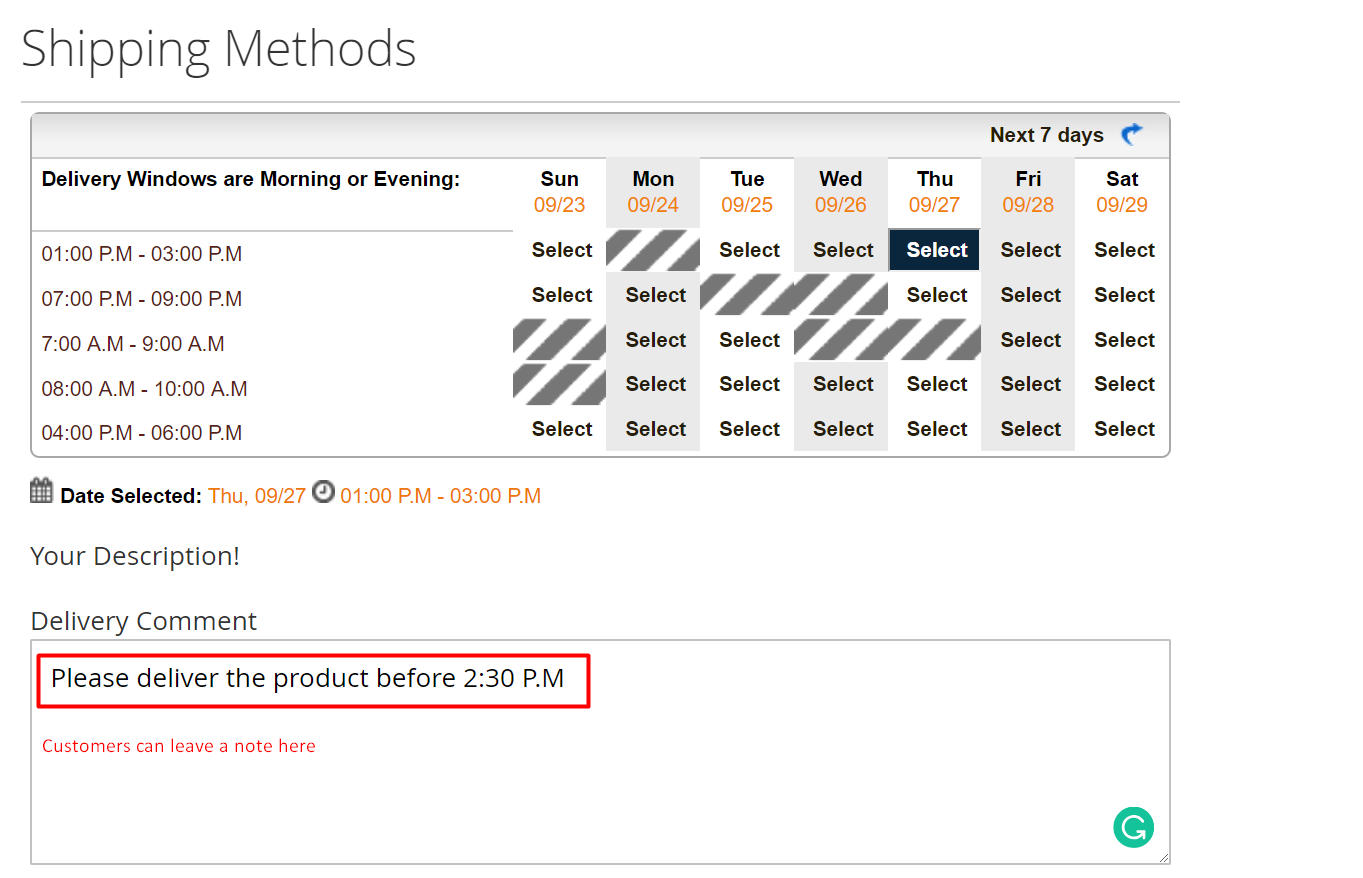 Customers are able to leave a delivery note
The feature of Magento 2 Advanced Delivery Schedule Extension lets customers leave a comment on their order for specific requirements or detailed information. They can express more data about the address, house security code, or additional phone number in case the delivery man can not contact them. This is a bright point of the extension that helps store owners to understand customers' demand better.
Feature Full-List
FOR CUSTOMERS
Pre-select date and time to get orders delivered
Comment on the order for detailed requests for Magento 2 Advanced Delivery Schedule Extension
Receive out-of-slot delivery time notification
Receive the order on the exact day as expectation
Save time on communicating with the suppliers or shippers
Able to provide the house security code in case of necessity
FOR THE STORE OWNERS
Set holidays and days off to disable delivery service
Able to disable particular time ranges
Easy to configure time range options in the backend of Magento 2 Advanced Delivery Schedule Extension
Allow delivering on weekend or not
Manage delivery time slots on each time range
Provide the maximum number of weeks that customers can select the delivery date
Allow returning delivery slot when an order is canceled or shipped
Optional calendar display
OTHER FEATURES
100% Open-source
Based on Magento 2 default closely
Responsive design
Optimized for PC, laptop, mobile or tablet
Easy to install
Why should we choose MageWorld
Free
Life-Time Upgrade
Free
Life-Time Support
90 Days
Money Back
100%
Open Source
98% Customers
Satisfied
11 years
On The Market
Testimonials
Your satisfaction is our most value motivation
Mage-World's Magento 2 extensions are very impressive, they are all easy to install and use. I haven't experienced any difficulties when using these products. I highly recommend this site! I think I will sponsor this company to my friends in the future.
Ashley Rulin, Sales Manager
The support service is really good, you're always there when I have problems. I have worked with several services but you are the one that is able to satisfy my expectation. I will continue working with your service in the future! Keep the good work.
David Bleu, CEO
I'm really impressed with the Magento 2 Affiliate Pro module from Mage-world. It's simple, but powerful, and it can entirely replace my previous costly affiliate system without any difficulty. It's a valuable catch for anyone who wants to have an built-in affiliate system for your Magento site. Besides, the support is superb and affordable.
Steve Marshall