Magento 2 Reward Points Pro
Shopping Option On Frontend

In Stock On Frontend

Shopping Cart

Shipping Address

Rewardpoints Dashboard On Backend

Configuration

Catolog Reward Rules

Display Configuration

Sell Products In Points

Reward Point Pro

Configuration

Sharing Reward Points

Shopping Cart Reward Rules

General Configuration On Backend

Rule Information
Highlight Features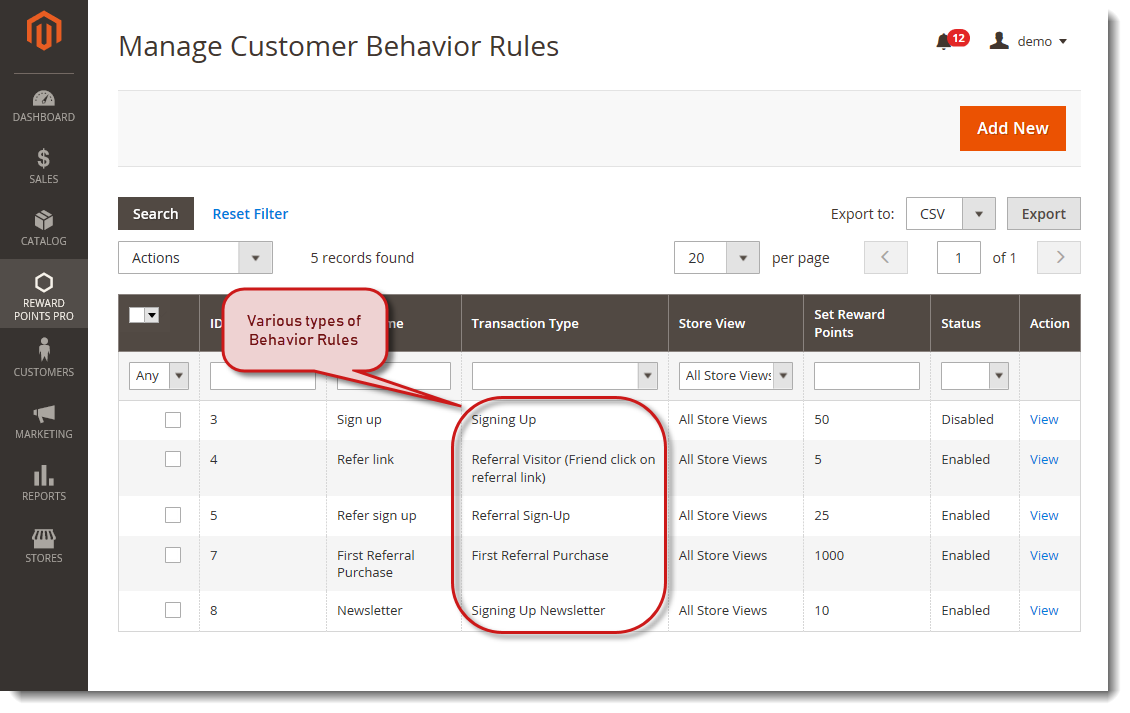 Reward by Customer Behaviors
Magento 2 Reward Points Extension lets customers have various ways to earn points, based on their behaviors:
- Purchasing on the Website
- Registering a new account
- Signing up for Newsletters
- Posting a Product Review
- Voting in a Poll
- Share/Like on Facebook
Since the customer can have many ways to gain points, this feature helps encouraging customers to keep coming back for earning more points, which eventually make them purchase more on-site to redeem those points. Additionally, this will help increase the customer's interaction to the website.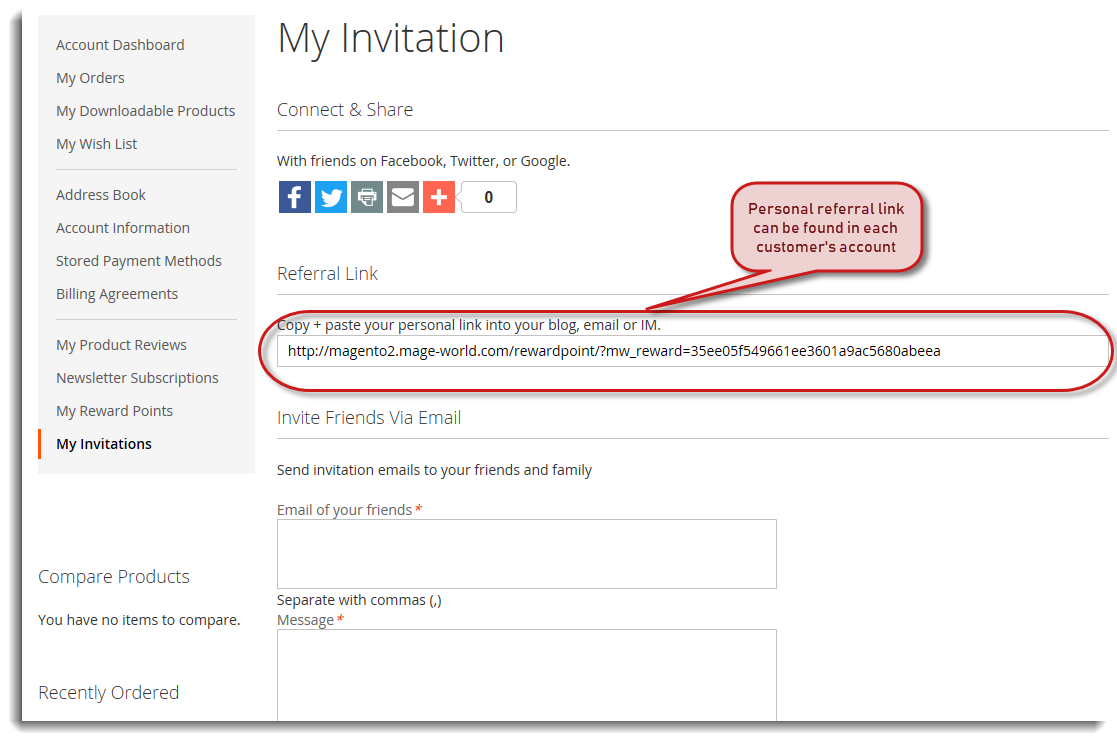 Reward by Referral
This feature of Magento 2 Reward Points Pro allows customers to earn points when they refer to any friends to visit, sign-up, or purchase on the website (for both first and subsequent purchases). Customer can easily take their own referral link from their account and share your web store with friends via social networks (Facebook, Twitter, Google...) This is a great way to widen up the customer network and encourage them to interact more on the website.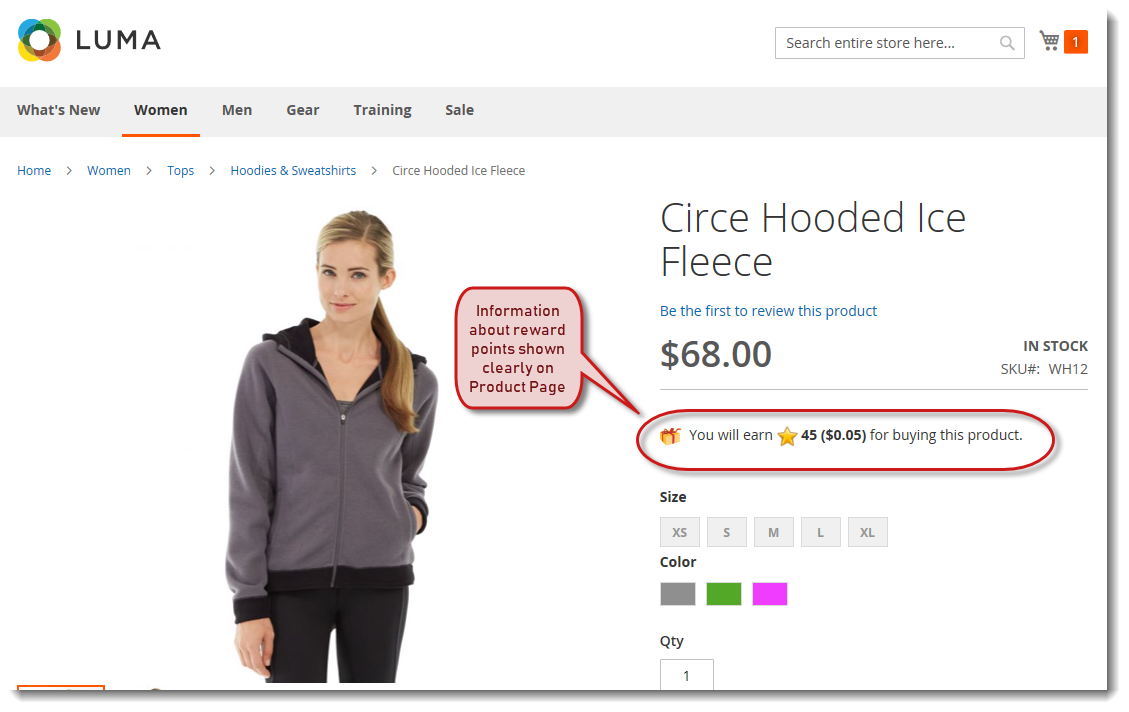 All Reward Points programs can be effortlessly kept track
Admin can show the reward points information on many places on Website: Category pages, Product pages, Registration page, Signup blocks, Newsletter block...). Details about the number of points rewarded are also shown on the Shopping cart page/Order review. With this, customers will always be notified about the current points programs and never worry about missing the chance to get points again.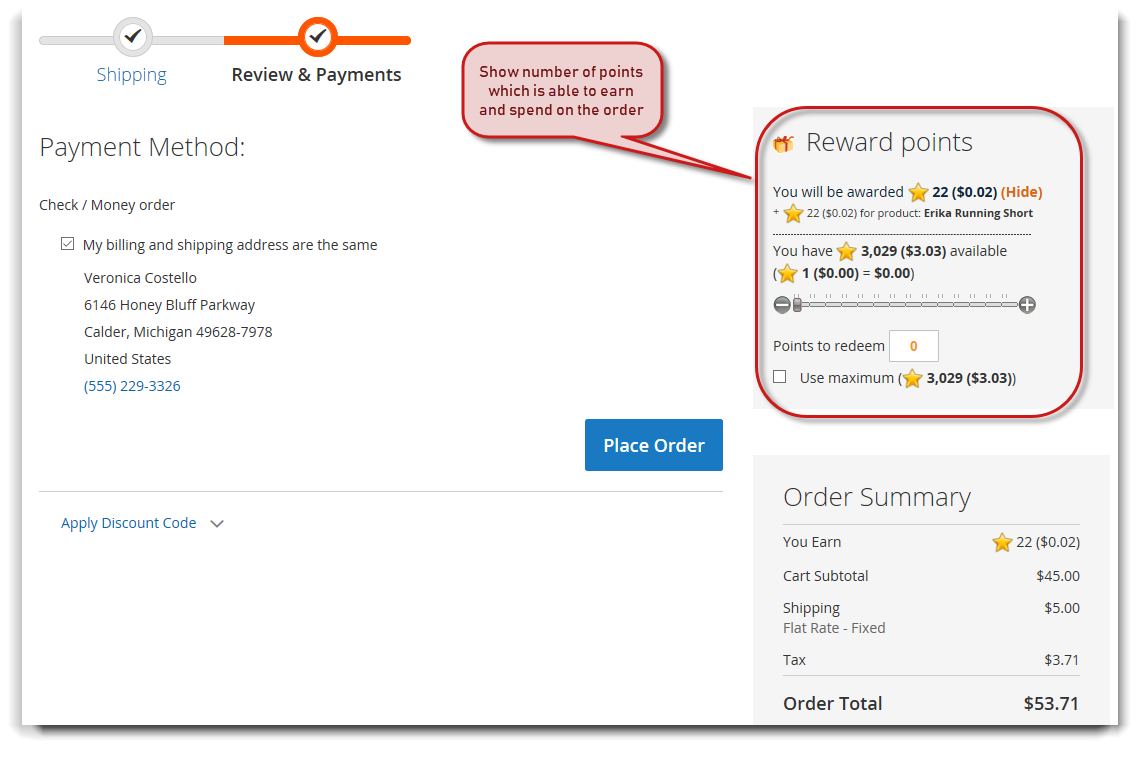 Earn & Spend points simultaneously on the same page
With Magento 2 Reward Points Pro, customers can get a discount on their purchase by using current points, and at the same time, earn more points which can be spent on the next orders. Besides, customers can manage the number of points to spend on the purchase by using the point slider right on the Shopping Cart/Checkout page. They can decide to use all the points in the account or just a specific number of points as their preference.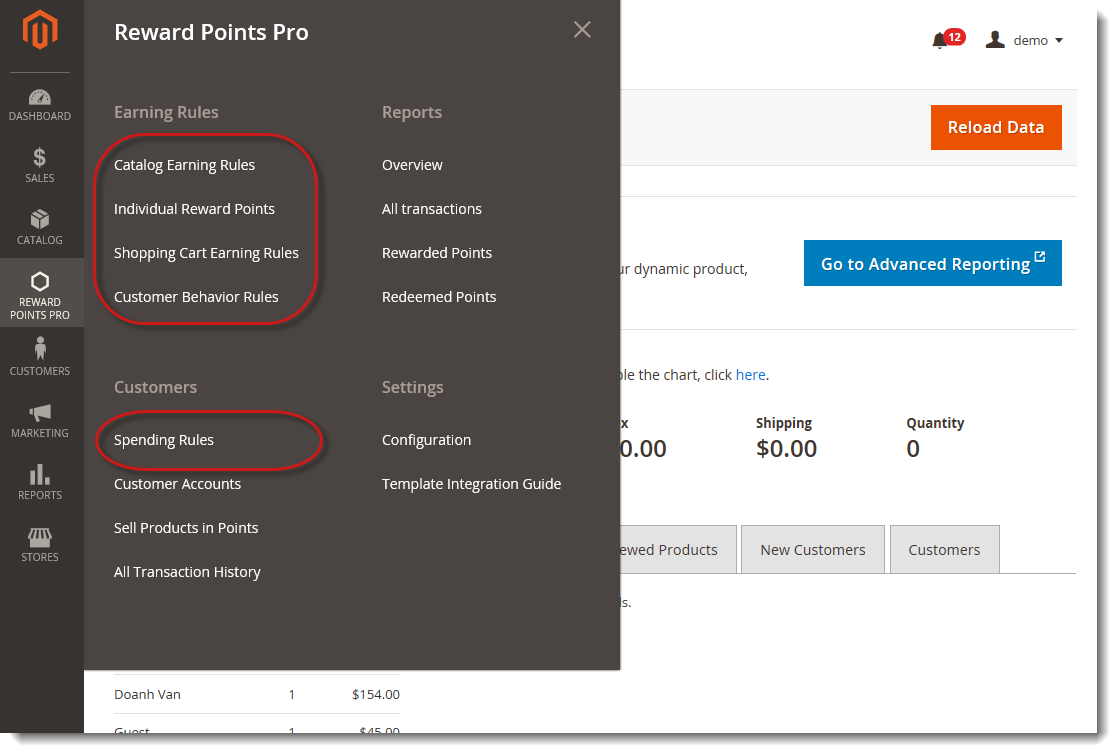 Multiple ways to setup Earning & Spending rules
Magento 2 Reward Points Pro allows admin to set different earning rules based on Catalog Rules, Shopping Cart Rules, or set fixed points earned for each specific product. The number of points earned can be fixed number or can be set by a rate (E.g: Earn 10 points for each 1$).

Correspondingly, admin can set spending rules with cart conditions: cart amount, cart items, cart attributes (Shipping method, Shipping Region, Total Weight...)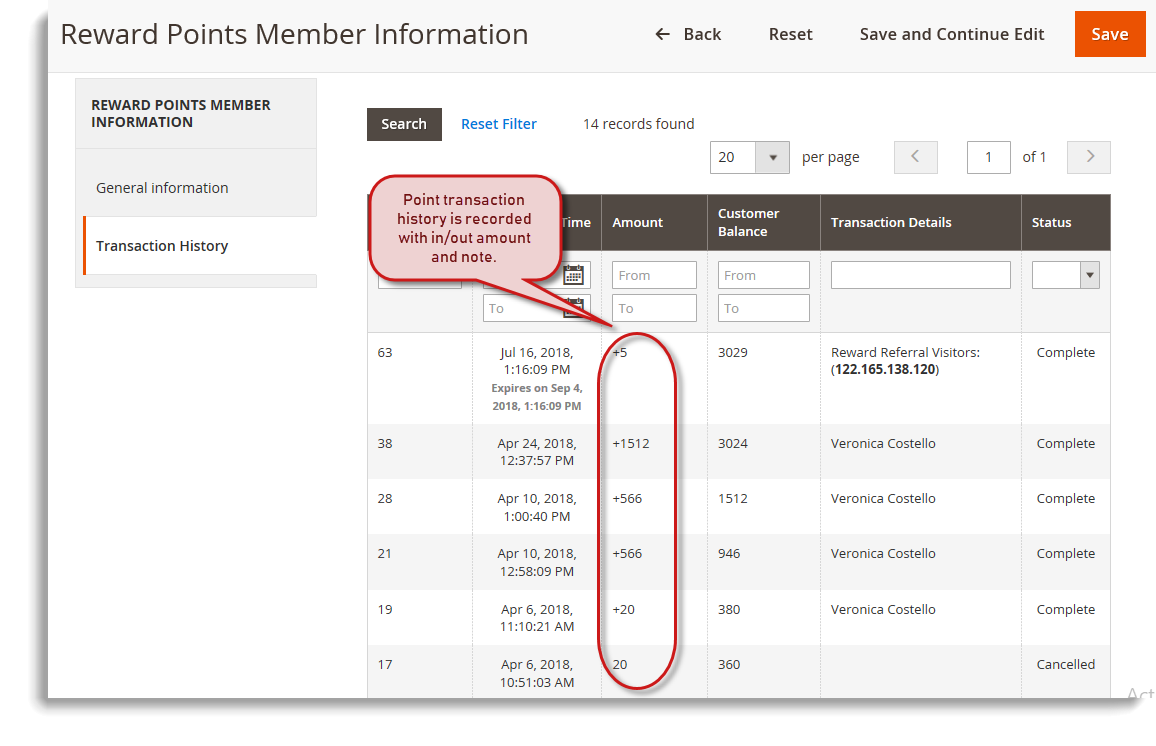 Track & Manage Customer Reward Points activities
Admin can flexibly track the point account and point transaction history of all or specific customers. Besides, Magento 2 Reward Points also allow admin to edit the point balance of customer by adding or subtracting points with a comment right from the back-end.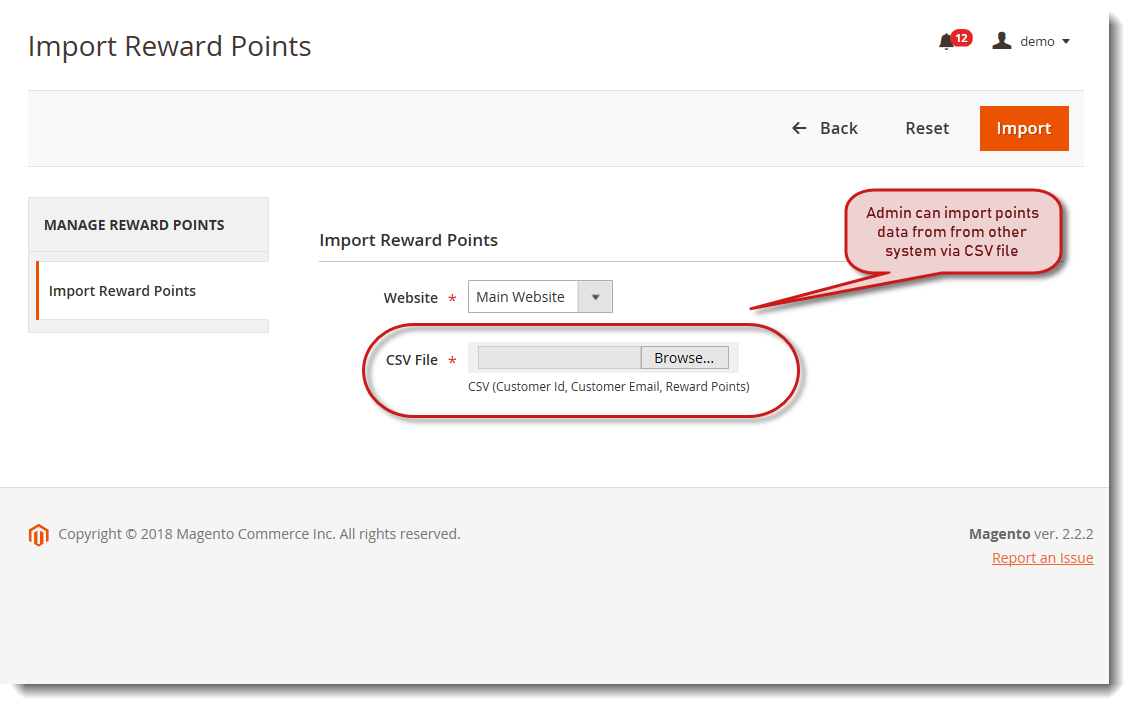 Import points data from other systems easily
Magento 2 Reward Points has the function of importing customer's reward points in bulk via CSV file. It helps admin to edit the points balance of customers in mass. With this function, admin can also easily import the points data of other point system to Reward Point Pro for Magento 2 by using just a CSV file.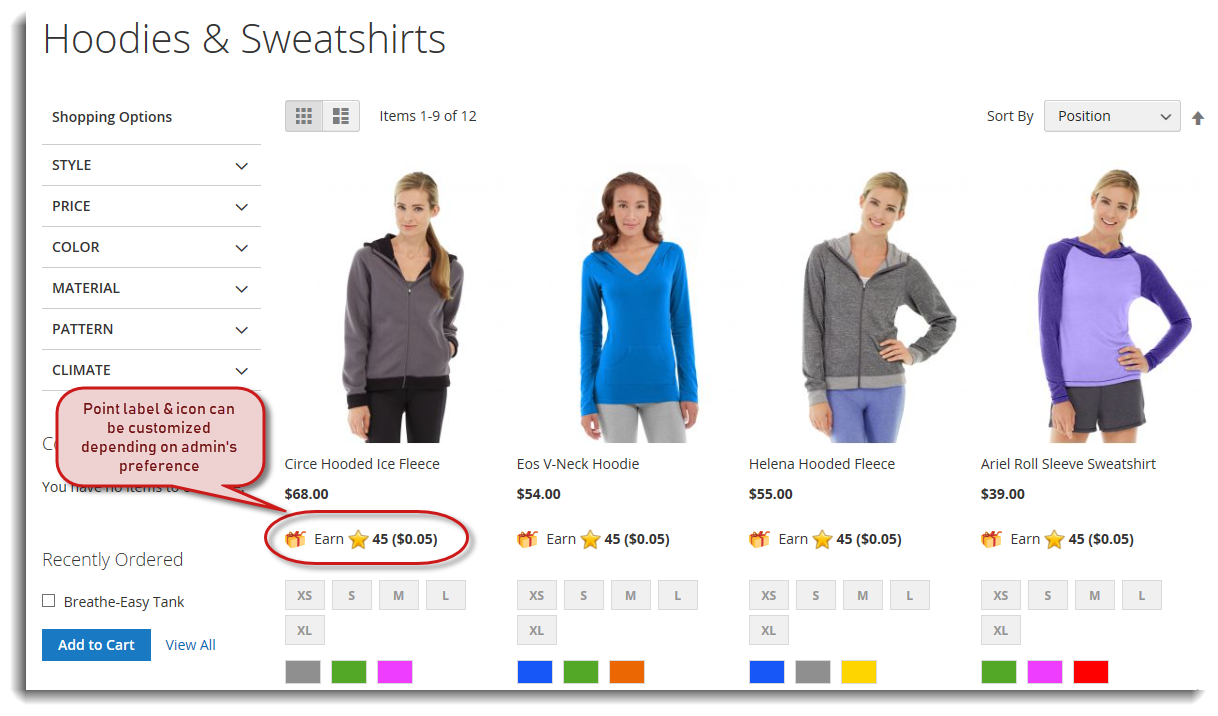 Customizable point label and icon
The label and icon of the point unit can be simply changed by uploading the custom-designed image for points in the Configuration. Admin can free call "point" by any interesting names possible, depending on the branding or events purpose.
Feature Full-List
FOR CUSTOMER
Earn points for purchasing on the Website (based on Catalog rules, Shopping Cart rules or specific setup rule
Earn points for behaviors: Registering, Signup, Posting Review, Voting...via Magento 2 Reward Points
Earn points for Referral when referring friends for visit, sign-ups, purchases...
Allow using points to purchase products or redeem for a discount on Shopping Cart/Checkout page
Allow using points for shipping fees/tax
Allow sending reward points to friends
Customer can check their points balance and expiry in Magento 2 Reward Points
FOR THE STORE OWNERS
Create flexible Catalog Earning rules (reward points for specific products, brands, categories...)
Create flexible Shopping Cart Earning rules (reward points based on cart attributes, cart item attributes...)
Create flexible Spending rules based on Cart conditions
Set Points Earning rules for Customer Behaviours
Set specific points earned for dividual product
Allow customers to use/not use points on all or certain products
Track point transaction history of all or specific customers
Manage & edit customer's point balance directly on the customer account editing page
Import customer reward points in bulk via CSV
Display total rewarded and redeemed points by line chart/table of Magento 2 Reward Points
Display percentage of rewarded points for different group of rewarded activities (Purchase, Signup, Review, Referral, etc) on pie chart/table
OTHER FEATURES
SetPoint/Currency exchange
Set Reward point expiration period
Setpoint increments when redeeming
Choose to apply points before of after discount
Allow redeeming points for shipping fee/tax
Set maximum points allowed per account
Create custom reward point label and icon
Why should we choose MageWorld
Free
Life-Time Upgrade
Free
Life-Time Support
90 Days
Money Back
100%
Open Source
98% Customers
Satisfied
11 years
On The Market
Testimonials
Your satisfaction is our most value motivation
Mage-World's Magento 2 extensions are very impressive, they are all easy to install and use. I haven't experienced any difficulties when using these products. I highly recommend this site! I think I will sponsor this company to my friends in the future.
Ashley Rulin, Sales Manager
The support service is really good, you're always there when I have problems. I have worked with several services but you are the one that is able to satisfy my expectation. I will continue working with your service in the future! Keep the good work.
David Bleu, CEO
I'm really impressed with the Magento 2 Affiliate Pro module from Mage-world. It's simple, but powerful, and it can entirely replace my previous costly affiliate system without any difficulty. It's a valuable catch for anyone who wants to have an built-in affiliate system for your Magento site. Besides, the support is superb and affordable.
Steve Marshall
Customers reviews
Working well on Magento Community 2.2.3

Sherry

Thank MageWorld! Your extension work well with my website. Will recommand for my partners.

Working well on Magento Community 2.2.3

Kate

Thank MageWorld! Your extension work well with my website. Will recommand for my partners.

It is a good extension for reward points

Simon

Thank MageWorld team! I will recommend you for my partner.

Pretty good module

mark - 2dogrc

I had the Magento 1 module and upgraded to this module. Mage-world helped with some css to match my theme. The module is easy to config and enough rules for you to be able to do anything.

The only think I don't like are these banners that pop up when anyone does anything cart related that span across the website. "for using points,log in." These banners even pop up in the admin section when creating orders. Very much a nuisance, and hopefully will be removed in future versions.
faq
Q. Can I set and run different reward point rules at the same time?
A. Yes, you can set as many reward point rules as possible and you can even set the priority for these rules to avoid too many rules being applied for the same product.
Q. How can customers check their point balance?
A. Customer can totally login to their Account and go to My Account --> My Reward Points to check for their current point balance and Transaction History.
Q. If I already used another point system before, can I still use my old data when switching to MageWorld Reward Point Pro for Magento 2?
A. Sure, if you are switching to from another point system to our extension, you can totally import the point balance of all customers via CSV file to continue using on this extension.
Q. Which One Step Checkout extension will be compatible with MageWorld Reward Point for Magento 2?
A. Currently, our Reward Point Pro for Magento 2 extension can support the default checkout of Magento. If you want to use it with MageWorld One Step Checkout for Magento 2, we will do the integration for you for free. For more information, please contact us at [email protected]
Q. How exactly can I set my own custom points label and icon for the website?
A. To set this up, please login to your admin account and go to Reward Points Pro --> Configuration and change the label and upload the icon image in Display Configuration.
Q. Is it possible to customize this extension to add more features?
A. Yes, all of our extensions are open-source so you are totally able to customize it any way you want. Besides, we also provide the Professional Customization service; thus, if you have any requirement, just don't hesistate to contact us here.