Magento 2 Daily Deal Extension
Setting Deal

Frontend

Configuration

Active Deals

Daily Deal Pro

New Deal

New Deal Scheduler

Manage All Deal

Manage Deal Scheduler
Highlight Features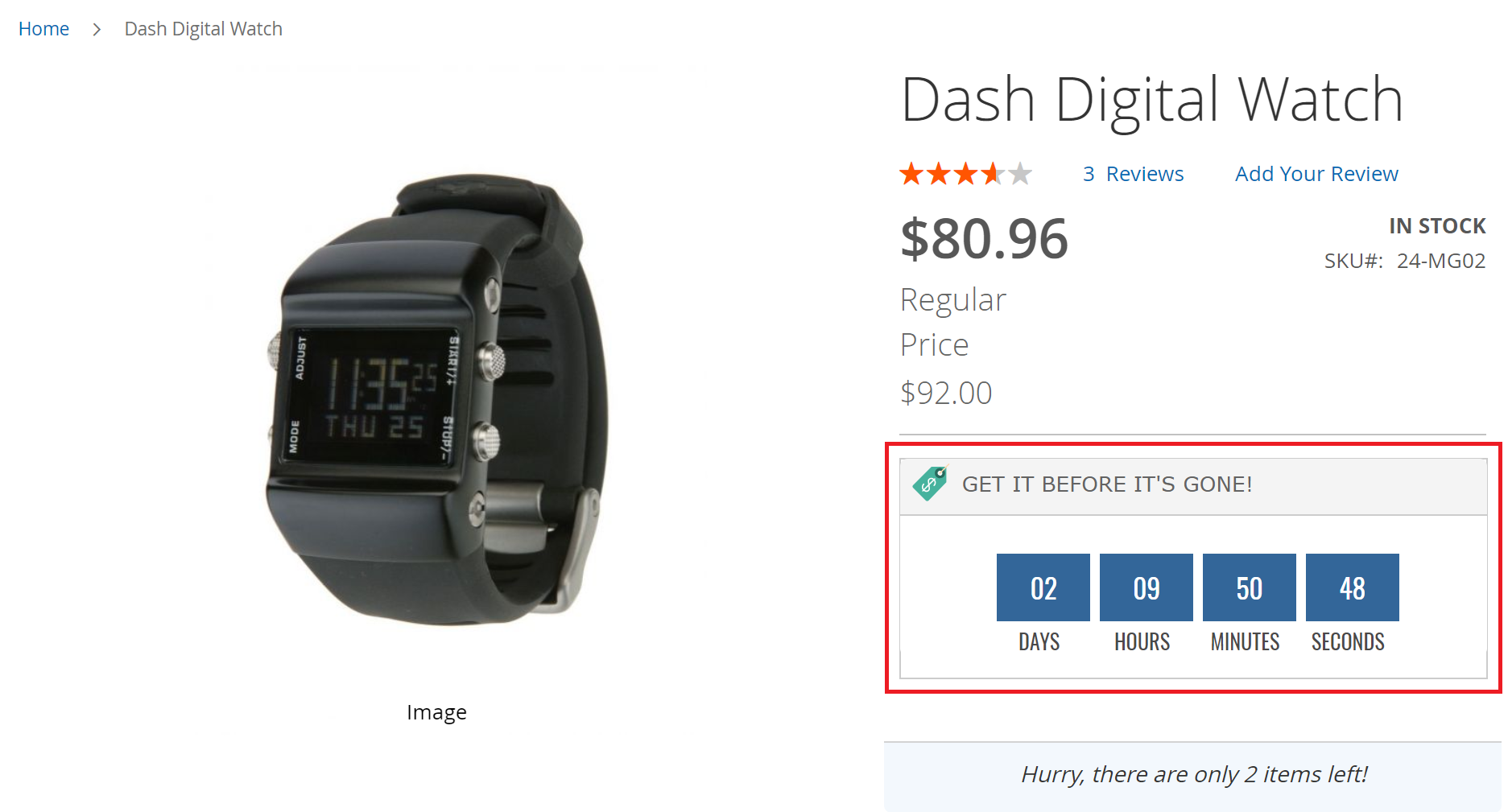 Show daily deals with countdown timer
Magento 2 Daily Deal extension motivates customers to buy products by displaying a countdown timer on the product page. Demonstrating a countdown timer on the product page makes a great effort that enhances customers' purchase products before the discount offer is closed.
This feature can be configured in the backend easily. You can also change the background color of the countdown timer to your favorite color.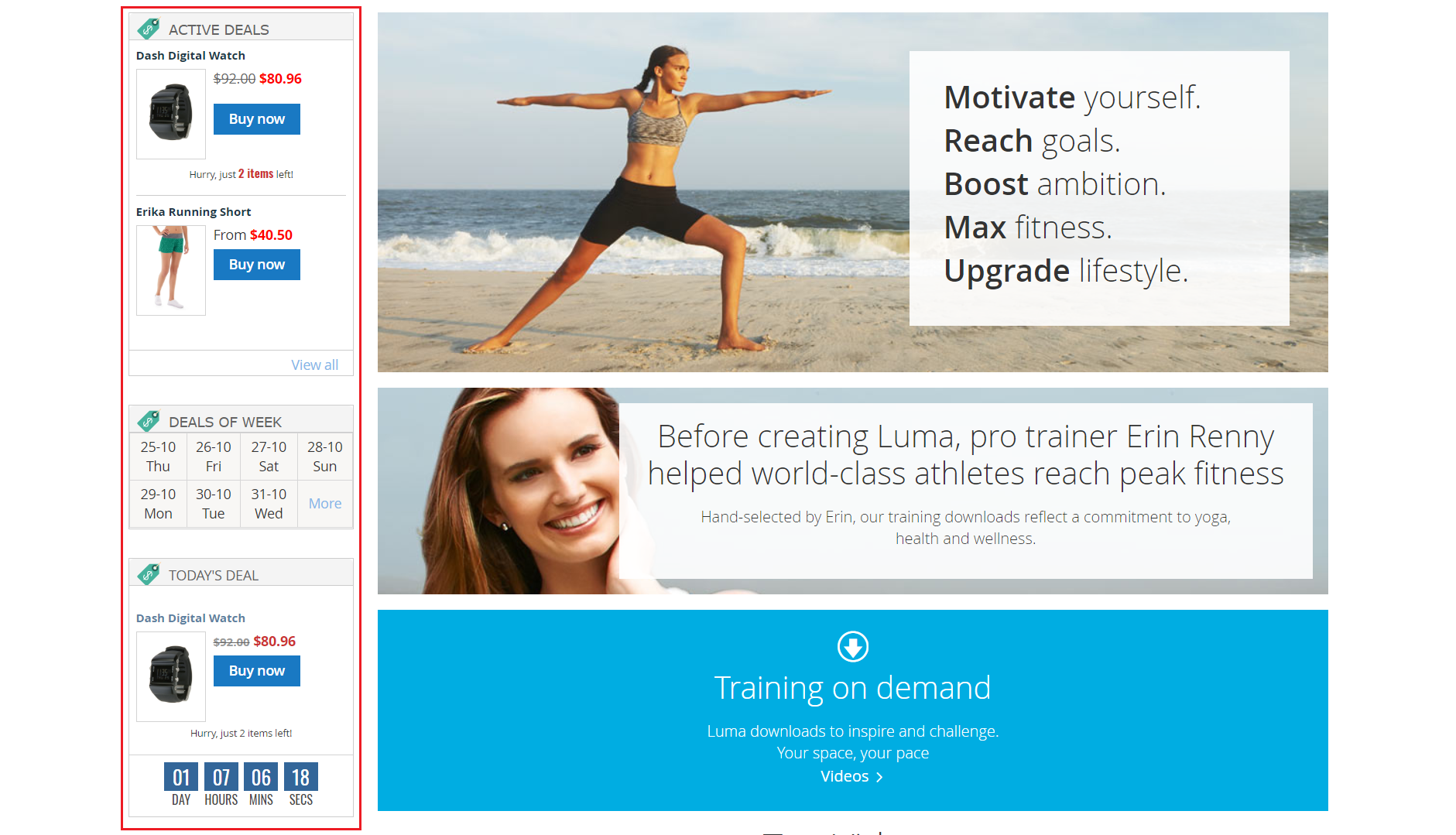 Impressive sidebar utilities
Magento 2 Daily Deal extension allows store owners to display "Today's Deal", "Deals of Week" and "Active Deals" blocks on the sidebar. Customers can easily see the deals from any place on the site. Since then, store owners may gain more revenue thanks to the increase in customer's attraction.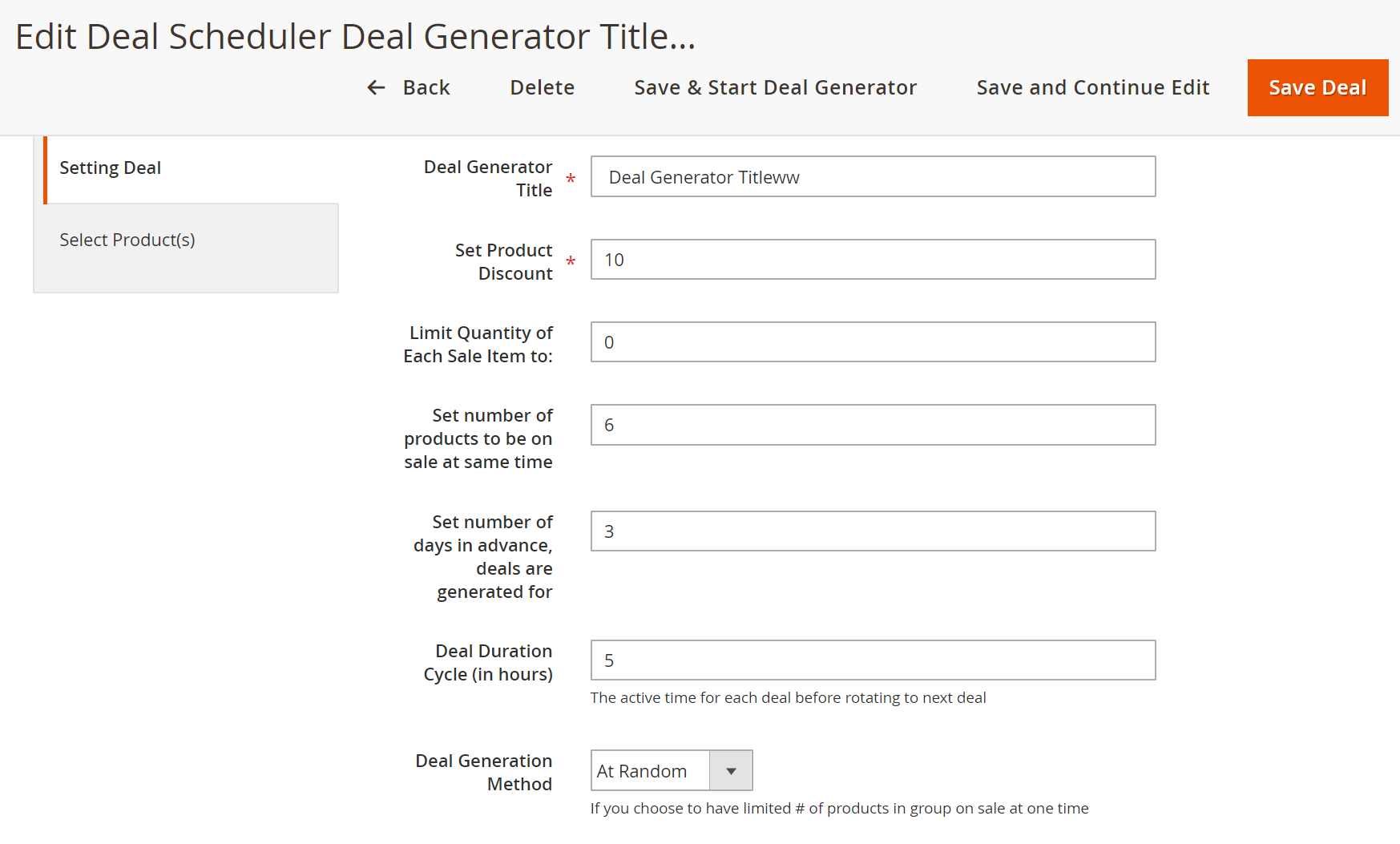 Smart deal generator
When you want to create a deal applied to several products, what would you do to boost up the working process for Magento 2 daily deal? This feature saves a lot of time for the store owners because it allows them to generate multiple deals at the same time instead of creating one by one.
Furthermore, even if the number of deal products you choose is higher than the value has been set, the Deal Duration Cycle will ensure all the selected products will be processed.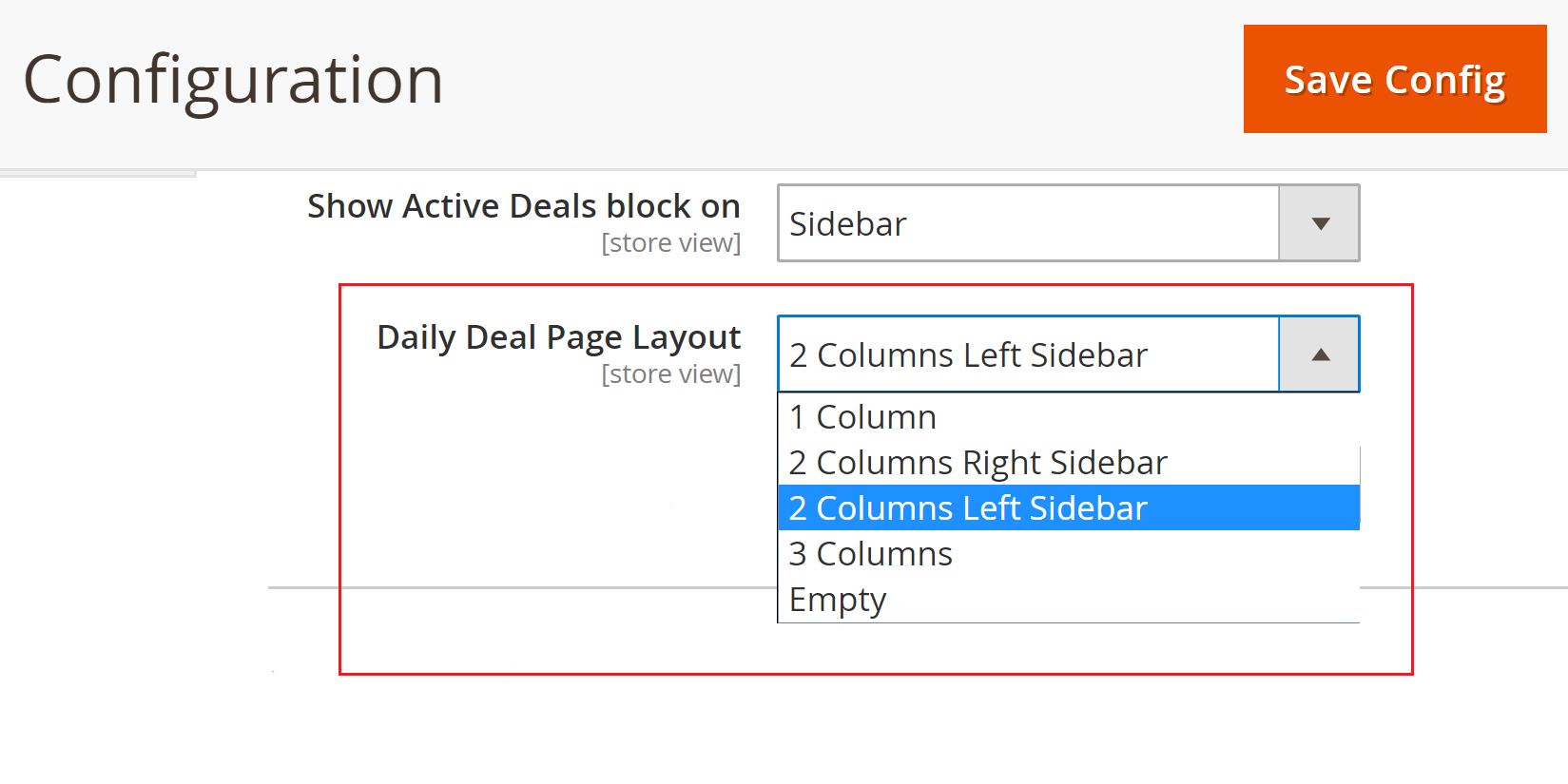 Adjustable daily deal page layout
There are different layouts for the daily deal page:
- One column
- Two columns with right sidebar
- Two columns with left sidebar
- Three columns
- Empty
Store owners can select their preferred style optionally and easily.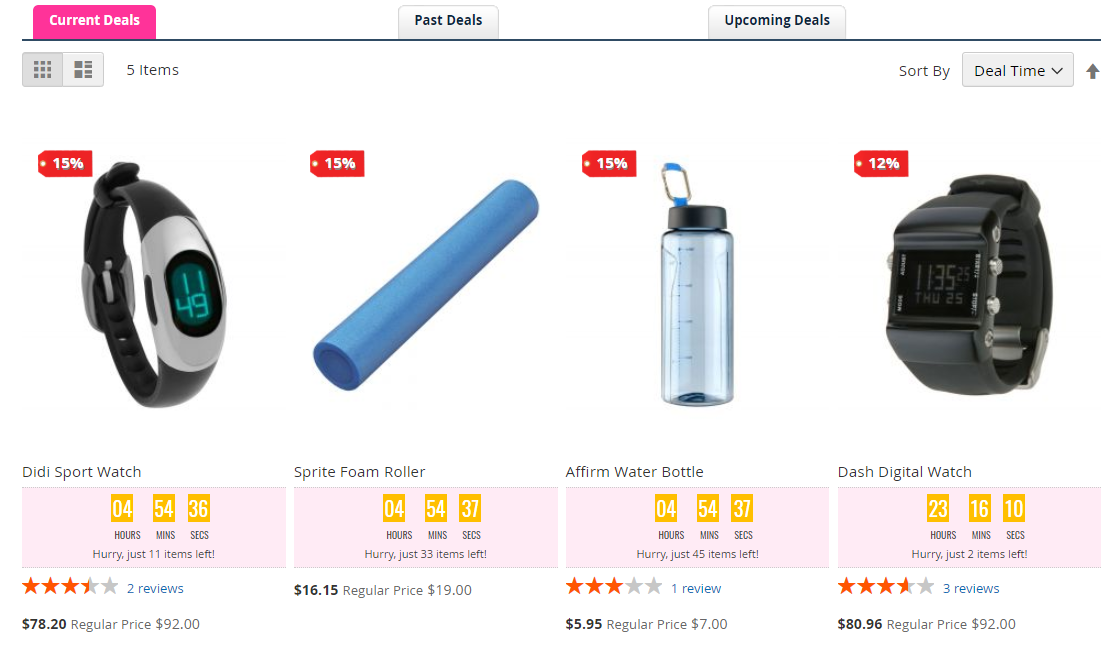 Display discount label on each deal
The extension let store owners display a discount label on each deal and customers can easily catch the sale-off information at the first look. Store owners are capable of configuring the label image and displaying the discount percent or not.
Feature Full-List
FOR CUSTOMERS
Know when the deals are expired with a countdown timer of Magento 2 daily deal extension
Noticed of the number of remaining items on each deal
Able to see the current deals, upcoming deals or past deals
Know the remaining quantity of items on each deal
View both original price and deal price in Magento 2 daily deal extension
View active deals on the sidebar of the page
FOR THE STORE OWNERS
Customize the color of the countdown timer
Change discount label and its background
Manage deals in an easy way
Generate multiple deals at the same time
Get e-mail notifications when there is no deal activated
Limit product quantity for each deal for Magento 2 daily deal extension
OTHER FEATURES
Support multiple stores & multiple languages
HTML & CSS Validation
Simple & Flexible configuration
100% open-source
Why should we choose MageWorld
Free
Life-Time Upgrade
Free
Life-Time Support
90 Days
Money Back
100%
Open Source
98% Customers
Satisfied
11 years
On The Market
Testimonials
Your satisfaction is our most value motivation
Mage-World's Magento 2 extensions are very impressive, they are all easy to install and use. I haven't experienced any difficulties when using these products. I highly recommend this site! I think I will sponsor this company to my friends in the future.
Ashley Rulin, Sales Manager
The support service is really good, you're always there when I have problems. I have worked with several services but you are the one that is able to satisfy my expectation. I will continue working with your service in the future! Keep the good work.
David Bleu, CEO
I'm really impressed with the Magento 2 Affiliate Pro module from Mage-world. It's simple, but powerful, and it can entirely replace my previous costly affiliate system without any difficulty. It's a valuable catch for anyone who wants to have an built-in affiliate system for your Magento site. Besides, the support is superb and affordable.
Steve Marshall
Customers reviews
Easy to use

Eric Cohen

I can easy config and use follow my plan.
Thankyou!