Magento 2 Affiliate Extension
Affiliate Pro

Configuration

My invitations

Credit Options

General Settings

Active Afiliates

Pending Affiliate

Manage Affiliate Group

Pending Withdrawals

Commission History

Manage Programs

Manage Banner

My Affiliate on Frontend
Highlight Features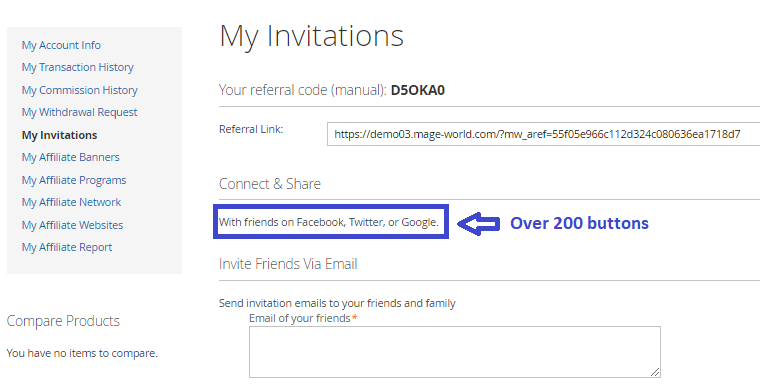 Refer friends through various ways
This is one of the best Magento 2 refer a friend feature that lets affiliates connect to customers easily. Affiliates can connect and share the referral link or code to a large volume of customers in many ways such as:
- Share to social networks like Facebook, Twitter, Tumblr, and other over 200 buttons.
- Send an invitation email to friends and family.
- Use banners to promote the products.
The feature is also a good solution for offline marketing to the affiliates. The affiliate referral link is encrypted to ensure privacy as well.
Multi-level marketing system
Magento 2 affiliate program is a great solution for your marketing strategy. This extension allows the store owners to create tiers and apply different commission level to each one.
For instance, when customers buy a product on a child-affiliate link, the child-affiliate get 5% of the order as commission portion, and the affiliate tier 1 still get a commission for the order. The wider affiliate network is, the larger profit affiliate gets.
This affiliate plugin helps to build your own community and will drive your sales dramatically.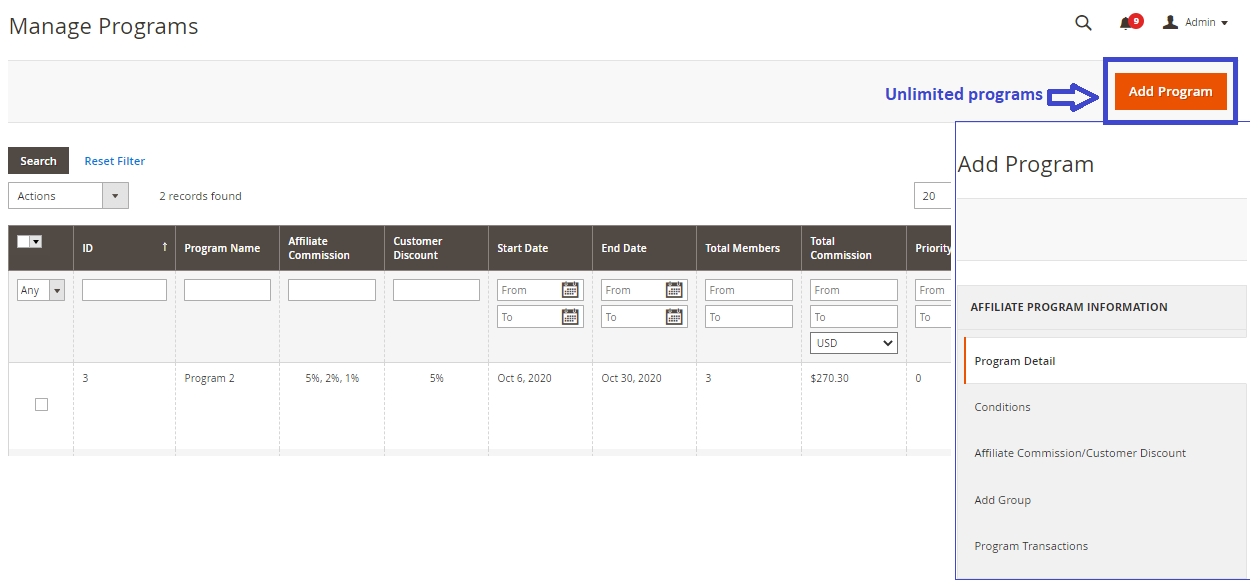 Allow store owners to create programs unconditionally
With the Magento 2 Affiliate extension from MageWorld, the store owners can create programs as much as expected without constraint. In every single program, the admins are able to manage conditions based on catalog rules and shopping cart rules. Each program will be nominated to particular Affiliate groups, and the admins can configure program's priority, it means you can set which one to be prioritized, if the affiliates meet the first program, the other won't be activated.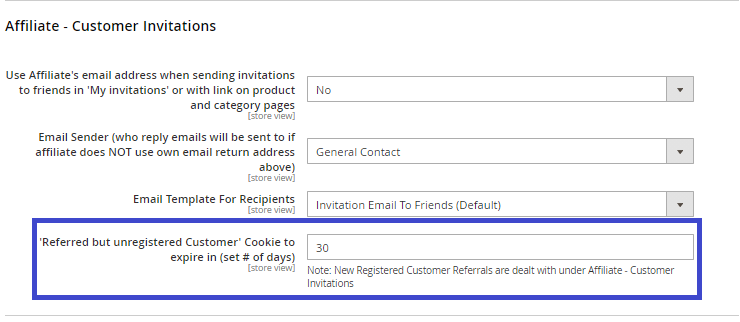 Commissions are auto calculated by cookies and client IP
This Magento 2 affiliate plugin brings an opportunity to the affiliates to gain commissions in a convenient way. When the customers visit affiliates link, the cookies will be saved on their site for a while, the number of days can be configured optionally. Even in the next time they purchase for products that not via the referral link, affiliates still get commissions from the order. The feature not only benefits the store but also raises the affiliate's income.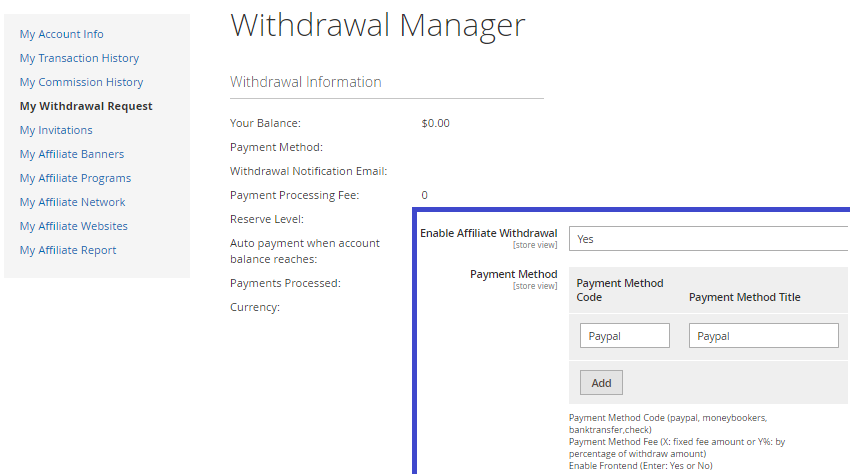 Commissions withdrawal
The affiliates can withdraw their commissions via many payment methods such as:
- Bank transfer
- Offline payment
- Paypal
They can manage to auto withdraw commissions in Magento 2 affiliate when the balance reaches the condition or withdraw in a manual way.
Effective programs management of Magento 2 Affiliate
In each program, the store owners are able to change:
- Name
- Commission proportion
- Valid date: The program will run out automatically when it comes to the end date
- Add groups of affiliate to the program
- Priority: In case the purchased product belongs to more than two programs, there is only one affiliate program takes effect
The program priority can be based on maximum commission or maximum discount as well.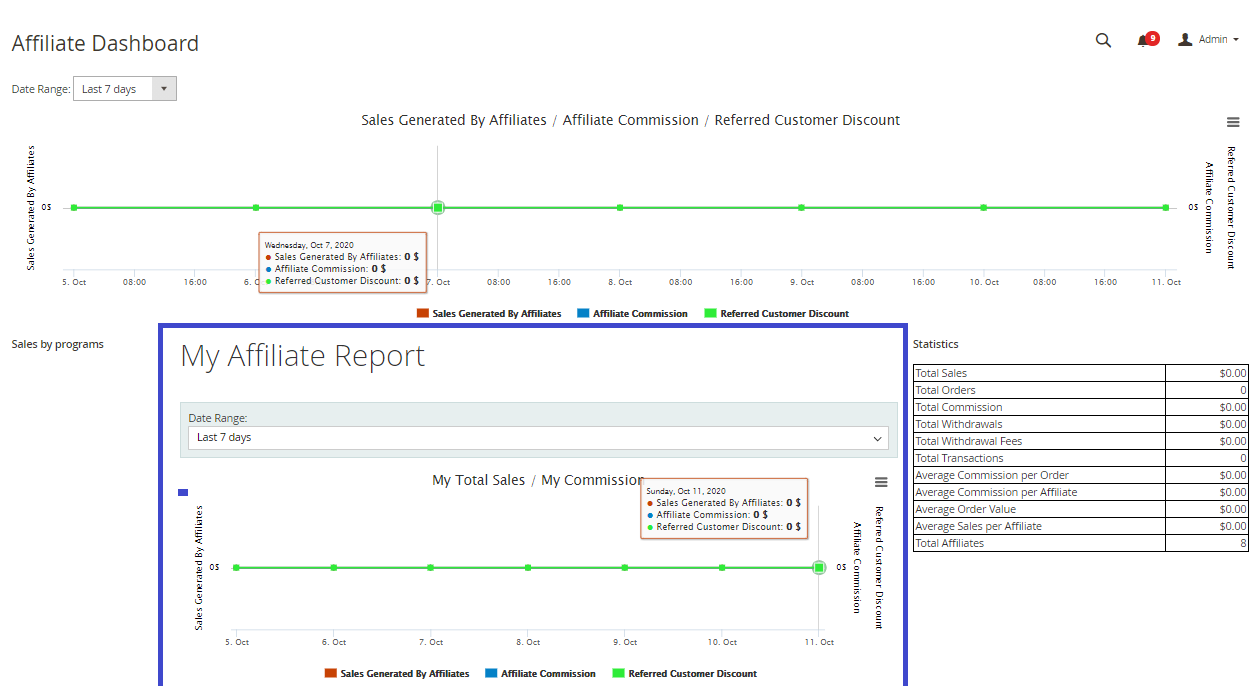 Affiliates can keep track of their transaction by reports
Our Magento 2 affiliate program shows reports to affiliates so they can follow all of their commission. Additionally, on the report page, there are also statistics about clicks, subscriptions, registered or purchased for affiliate invitations. The affiliate can easily see the whole sale activities of them through affiliate report.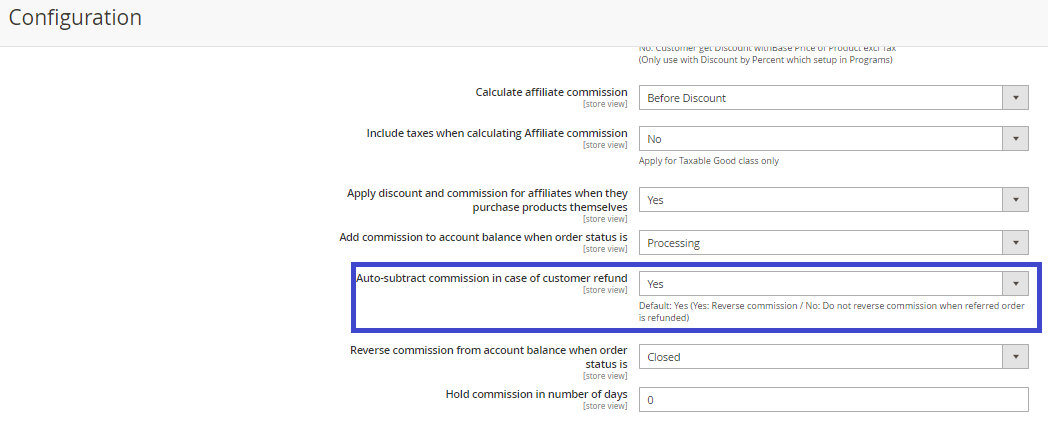 Subtract commission of affiliate automatically when customers cancel the order or require refund
Normally, commissions are added to affiliate account balance when the order is processing. What if the customer decides to cancel the order or they want to return the product and refund? What would happen to the transferred commissions? Don't worry! The Magento 2 Affiliate extension will subtract these commissions automatically when the order is abandoned for any reason.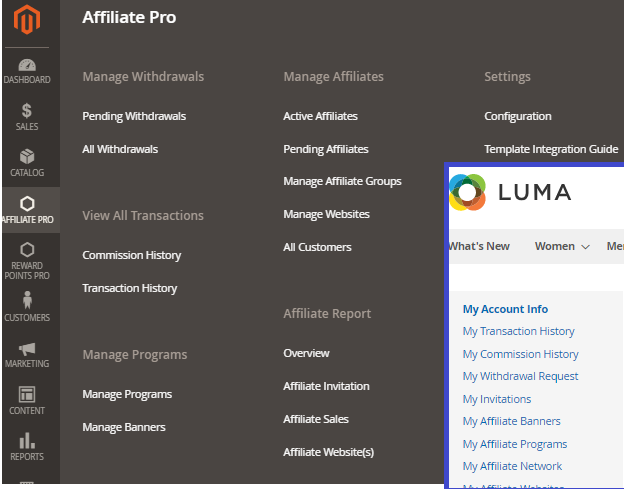 User-friendly interface, easy to use
The clear interface in both affiliate page and admin panel makes it easy to use for store owners and affiliates. The store owners take full control of configuration such as withdrawals, transactions, programs, affiliates, report and other settings. Each section is divided separately so you will not meet any problem or waste too much time to learn to use the program. Same to the admin panel, on the affiliate management page, affiliates can view and control their account through the fields listed on the page.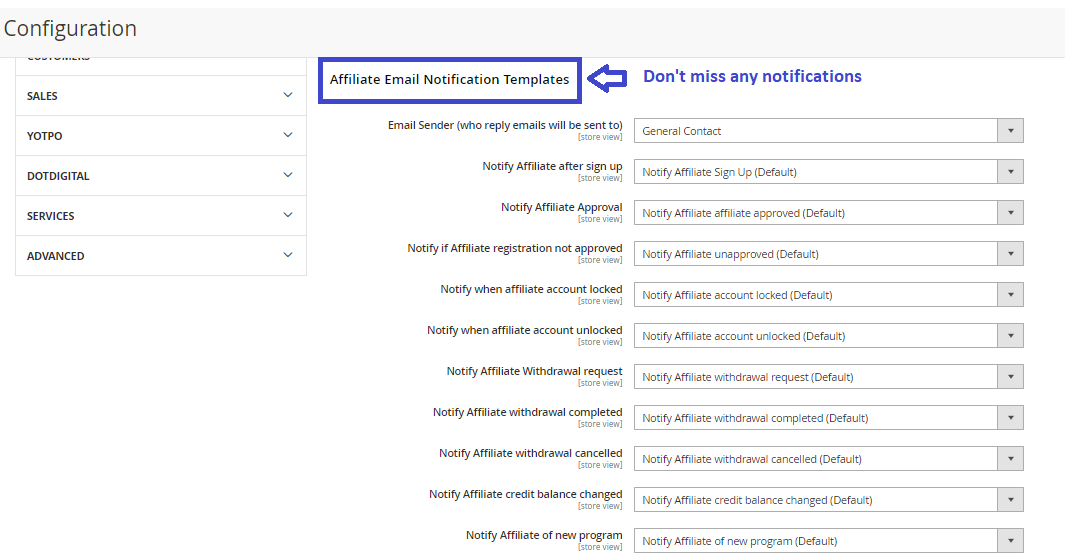 Affiliates are capable of getting in touch with affiliate information through emails
Every single new update from the store or affiliate activities are all sent to affiliates through email including:
- Affiliate sign-up notification
- Affiliate account locked or unlocked
- Evaluate withdrawal activities
- Credit balance changes
- Notify about new programs
With this feature, affiliates will not miss any notifications.

Supported by the API (new)
API (application program interface) provides an ideal solution for connection problems between affiliate extension and other applications. Nowadays, mobile phone is an indispensable part of life so the combination of API and Affiliate makes this utility run on mobile apps smoothly. Customers will have many options when visiting your website to bring comfort and convenience to them.
Feature Full-List
For the affiliates
Sign-up and manage affiliates
Easy to sign-up for new affiliate through default sign up form or customized form by admin
Each affiliate has own setting section to manage all affiliate activities, on this page affiliate can conduct: commission and transaction history, withdrawals, invite to gain commissions, affiliate program, etc.
Able to update referral account
Affiliates can use their referral code when buying products on the site and still get commissions
Get email to not miss latest notifications
Affiliate account dashboard
Choose to auto withdraw when the balance reaches the condition or withdraw in a manual way
Track all transaction activities
Easy to follow their sales and gained commissions
Affiliates can build their own network and gain commissions through the child-affiliates
Use referral code or link to share to over 200 social networks
Send invitation emails to friends and family
Manage all invitation results like total clicks, sign-ups, subscribes or purchases via invitation report
View detailed statistics for all purchases and commissions through affiliate report
Assume affiliate performance easily with a line chart, visualize commission source by a pie chart
Withdrawals and payment methods
Affiliates can withdraw commissions when their balance reaches the conditions provided by store owners and they can choose withdrawal methods as manual or automatical
Withdraw commissions through different payment methods such as bank transfer, offline payment, Paypal
Refer friends and family
Able to connect and share the referral link to many popular social networks: Facebook, Twitter, Tumblr, etc.
Send invitations via email from the affiliate management page
Use banners to spread and promote the business on forums, websites or blogs
A diversity of social networks made it a huge opportunity to connect with potential customers
For the store owners
Manage referral accounts
Fully control on affiliate account: add or edit, enable, disable accounts
Able to view affiliates information on the site such as commissions, programs, transactions or payments
Move affiliate account among different groups
Enable auto sign-up for the affiliate when buyers register a new account
Enable auto approve sign-up registration
Pre-select affiliate group when registration auto-approved
Magento 2 Affiliate programs
Create new programs easily and unlimited action
Store owners can choose to notify affiliates about program changes or not
Set priority to each program: when more than two purchases meet programs' conditions, there is only one program to take effect. Execute program priority based on 3 types: by maximum commission, maximum discount or program priority
Enable or disable a program with just one click
Schedule active date range for each program, when the period ends the program will disable automatically
Create flexible rules for each program based on shopping cart rules and catalog rules
Different programs can have different commission levels
Create affiliate tiers and specify commission for each of them. For example, for each order via child-affiliate link, affiliate A gets 10% commision, his child-affiliates get 5% commission if they sell products successfully, and so on
Enable customers to receive a discount when buying on affiliate site
Visualize all program transactions
Manage withdrawals
Provide minimum and maximum amount of commission to withdraw for each request
View withdrawal report and able to export them to .csv or .xml files
Manage when to send commissions to affiliate's balance
Auto subtract commission if an order is canceled or refunded
Manage all withdrawal requests in an easy way
Able to add new payment methods and set withdrawal fee
Set withdrawal period and processing day
Banners and links
Upload banners and create banner links, easy for affiliates to get and spread to websites, blogs, forums, etc
Choose specific affiliate groups or members for each banner in Magento 2 affiliate.
Support flash banners
Manage transaction
Follow commission history from all affiliate accounts
View affiliate balance from transaction history page
View exact type of transaction together with detailed time:
Updated by admin
Use credit to checkout
Canceled order using credit
Refund product
Withdraw
Canceled withdraw
Referral purchase
Referred customer receives refund
Referral visitor
Referral subscribe
Referral sign-up
Report
View statistics of sales generated by affiliates, commission as well as referred customer discount via a line chart in an optional date range
Update the top affiliates by sales
Understand Magento 2 affiliate invitations performance: see the number of clicks or purchases, number of new accounts
Other features
100% Open-source
Based on Magento 2 default closely
Responsive design
Optimized for PC, laptop, mobile or tablet
Easy to install
Customize or make changes easily
Why should we choose MageWorld
Free
Life-Time Upgrade
Free
Life-Time Support
90 Days
Money Back
100%
Open Source
98% Customers
Satisfied
11 years
On The Market
Testimonials
Your satisfaction is our most value motivation
Mage-World's Magento 2 extensions are very impressive, they are all easy to install and use. I haven't experienced any difficulties when using these products. I highly recommend this site! I think I will sponsor this company to my friends in the future.
Ashley Rulin, Sales Manager
The support service is really good, you're always there when I have problems. I have worked with several services but you are the one that is able to satisfy my expectation. I will continue working with your service in the future! Keep the good work.
David Bleu, CEO
I'm really impressed with the Magento 2 Affiliate Pro module from Mage-world. It's simple, but powerful, and it can entirely replace my previous costly affiliate system without any difficulty. It's a valuable catch for anyone who wants to have an built-in affiliate system for your Magento site. Besides, the support is superb and affordable.
Steve Marshall
Customers reviews
Great Service

Laville

Great customer service from the MageWorld team. I was able to fix all my issues and customize according to our needs thanks to the superb customer service team. Thank you!

Ourstanding!

Dante

Too many features! I haven't explored them all yet but are looking forward to it

Nothing to complain

David

Leading product with the enthusiastic support team. I am pleased so far.

It is the best extension for Affiliate

Smith

High recommend for other customers. Support quickly!

Powerful affiliate solution

Eric

Was looking to get an affiliate system for my site and evaluated several alternatives, but decided to go with MageWorld since I have purchased from them in the past. Had issues installing, but the support was really helpful and awesome, they will work with you until everything is resolved in a very timely manner. Best extension purchase ever.

Good extension

Lucas

So simple but easy to use. Thanks
faq
Q. Do I have to pay for any additional fee after purchasing?
A. There is no extra fee for this extension only if you require us for your own customization.
Q.

Which edition does this extension compatible with?
A. Magento 2 affiliate extension can work well with other extensions for Magento 2 such as Free Gift for Magento 2 extension, One Step Checkout extension of Reward Points for Magento 2. Please take a look at these products Magento 2 extension.
Q.
How does the affiliate program work?
A. The Magento 2 affiliate program allows affiliates to make money by inviting new customers to your site and purchase for the product when an order is successful, the affiliate will receive an amount of the order as a commission. This is a great way to expand your sale market and attract potential customers.