Magento 1 - The fall of an empire
12 Mar 2020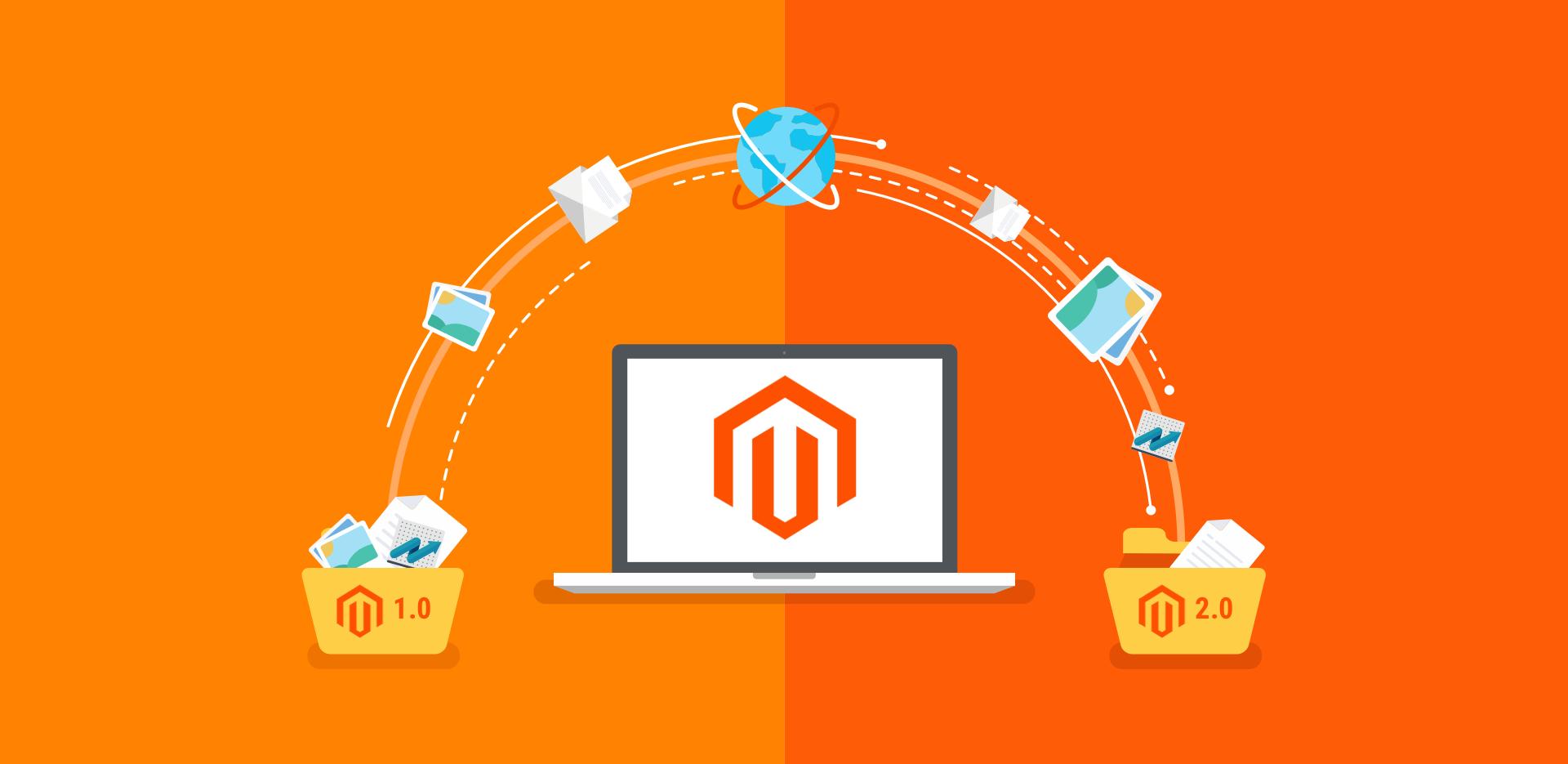 The world is growing constantly and the increasing demand of people leads to the development of all industries. And, what all businesses are concerned about is the satisfaction and convenience for their customers. Therefore, the fierce competition on e-commerce platforms took place from which e-commerce empires were born. So, what makes a breakthrough in this industry?
The beginning of Magento 1
Magento was born by accident but it makes a lot of sense for most companies today. If you are interested in this platform, let me explore its development.
2007
Roy Rubin and Yoav Kutner were working for Varien Inc while they were still in college and they were responsible to develop and enhance the osCommerce platform. However, seeing a lot of limitations of osCommerce, they decided to build a new platform from scratch with a higher level of scalability, stability and more e-commerce features. That's the way Magento was born.

The first beta version of Magento was released on August 31. The name of Magento was derived from the magenta color, however, since the domain "magenta.com" had already taken, the founders went for "Magento".
2008
Just 7 months after the first release, on March 31, the first stable version of Magento was introduced and which was called the Magento Community Edition (CE).

Since this was an open-source platform that everyone could download at no cost and free to customize, it quickly became popular.
2009
Bob Schwartz became president of Varien and played a pivotal role in expanding Magento's reputation worldwide.

Magento became more and more prevalent, even more well-known than osCommerce.
2010
Varien Inc. changed its name to Magento.

eBay made a huge investment in Magento to possess a nearly 50% share of the company.
2011
In June, Magento company was acquired entirely by eBay and this was a big event in the history of Magento.

It's worth noting that eBay was also the owner of PayPal, that's why they decided to integrate PayPal payment into the Magento e-commerce platform.

The first Magento Imagine Conference was organized in Los Angeles which drew the attention of over 600 Magento users, merchants, and partners.

Magento introduced Magento Developer Certification, providing official training programs and holding competitions to evaluate the capability of developers.
2012
A new record was made: Magento platform was downloaded more than 4 million times and was widely used by over 150,000 e-commerce stores globally.

In April, Yoav Kutner left Magento.
2015
In July, Magento 2 was released, marking a breakthrough not only in the history of Magento history but also in the e-commerce industry history. Compared to Magento 1, Magento 2 brought about plenty of improvements and enhancements in terms of design, performance and user experience. Nevertheless, as it was just released and unstable, not many merchants wanted to migrate from Magento 1 to 2.

On November 3, Magento was separated from eBay with the new owner – Permira, a private equity company.

Became independent again as a consequence of the restructuring of eBay, its new owner, Permira - a private equity firm, thought it would be better to unleash the developers.

Due to the split of PayPal from eBay, Magento was spun out as an independent company by the new owner Permira private equity fund in November.
2016
On August 1, Magento acquired RJMetrics which is a cloud-based analytics company.

The Magento Enterprise Edition (EE) was released with the aim of targeting large e-commerce businesses that have more complicated demands.
2017
Magento renamed both of their platforms to Magento Open Source (previously Magento Community) and Magento Commerce (previously Magento Enterprise).

In January, Hillhouse Capital, one of the biggest Chinese funds, invested $250 million in Magento to boost company growth in the Asia Pacific area.

In March, Magento honorably received the 2017 Global Ecommerce Platforms Product Line Strategy Leadership Award by Frost & Sullivan business consulting firm.
2018
In May, Magento was acquired by Adobe for $1.68 Billion and prepared for the integration with Adobe Experience Cloud and Enterprise CMS platform.

Magento Imagine 2018 conference in Las Vegas attracted more than 3,000 attendees, across 60 countries around the world.

Magento keeps releasing new versions of Magento 2 every three months. There were numerous bug fixes and feature enhancements seen in recent Magento 2.2.4, Magento 2.2.5 and Magento 2.2.6.
2019
In 2019 Adobe merged Magento Commerce Cloud into the Adobe Experience Cloud. According to Adobe, this integration allows businesses to merge end-to-end customer experiences from creation to commerce.

With the higher enhancement and more convenience, Magento 2.3.0, 2.3.1, 2.3.2, 2.3.3 was released. Magento 2.4.0 is going to be released with a lot of expectations. That's why most Magento 1 store owners now are planning to migrate their website to Magento 2
Magento 1's achievement
After being born, Magento brought a great chance for the eCommerce industry in the whole world.
The huge Magento community
After only 4 years, Magento 1 becomes the most widely used and fastest-growing eCommerce platform which has been downloaded over 4 million times and with over 200,000 brands using Magento 1 as their choices, it has come a long way from its early days.
Magento is an open-source that has everything you expect from an e-commerce platform. It supports multiple payment gateways with standards-compliant security. It supports multiple languages ​​and multiple currencies, ideal for traders with foreign markets to serve.
Of course, eCommerce sites are not just about on-site conversion – it's also about being searched, and Magento is very SEO friendly. In the backend, sections are supplemented with tags, descriptions, meta descriptions, URLs and everything else Google requires for a complete website.
Any serious eCommerce platform needs to integrate with 3rd party payment providers. With the right technical know-how, Magento can fit seamlessly with all the leading retail software.
Open source is free to use and usually developed and supported by a large community as opposed to proprietary software for which you pay a license. Magento community is free ( there is a licensed version, Enterprise, for large retailers which are supported and gives you the best of both worlds). Furthermore, the fact that it's open-source brings particular benefits. You own your code which keeps your developers on their toes and means if they're not performing you can just take it to someone else and you're not locked into the platform provider's development schedule meaning you don't have to wait for the next version for improvements
What if you don't upgrade Magento 1 to Magento 2.
You need to note Magento has officially announced that all versions of Magento 1 will become the end of life on June 1, 2020. This means the support and updates will eventually stop altogether. Any investments made in this version are useless and will be replaced at later stages. The more you delay to upgrade to the latest version, the costlier it will be for you at later stages. There will also be higher security threats for Magento 1 as fewer security patches are released for it making it vulnerable.
However, the main reason for upgrading from Magento 1 to Magento 2 is the new version offers a host of benefits that could make a significant difference in the long run
Improved performance and scalability
Magento 2 was created on the basis of Magento 1 so there's no doubt that Magento 2 performs superior to Magento1 in all cases which accompanies an improved indexer that helps in increasing its query performance speed. Furthermore, Magento 2 uses Varnish Cache, the prominent HTTP accelerator technology which makes it simple to cache requests.
Magento 2 has enhanced performance and scalability because of it:
- Improves web pages for faster delivery
- Boosts server response times for all website activities
- Enhances proficiency of backend operations
- Enhances database flexibility and scalability to deal with peak loads.
Magento 2 has put a considerable focus on security subsequently, has more secure information handling. So, it has been primarily focused on protecting user information and providing a secure payment process to meet all the important requirements of the advanced e-commerce website development.
Improved checkout process
The Magento 2 platform provides an approach to identifying visitors as their guests, so this will remove the login or signup form necessary for users to continue the checkout process. Moreover, it offers an active shipping rate as per country, region or postal code. And you can easily integrate the convenient payment method into the checkout procedure. The features of Magento 2 help reduce the checkout hassle and enhance customer experience.
The reporting is needed for the admin store, the new advanced reporting features offer 20 reports through its web interface. This feature gives you insight into three critical areas such as Order, customer, product.
Mobile-friendly and responsive design
Magento 2 offers responsive and mobile-friendly designs to provide a perfect payment experience for its customers. The Magento 2 admin panel is user-friendly with touch screens and makes it easy to transact with your store via a mobile phone or tablet. It makes your site engaging, easy to use and navigate irrespective of the device in use and its resolutions.
In short, the relentless race that leads to breakthroughs becomes competitive and you cannot stop. The end of Magento 1 is the new turning point of the Magento and eCommerce industry. So the countdown has begun. With 56,134 websites already running on Magento 2, it's time for you to make this waiting decision. It is a step that will make the entire eCommerce experience seamless for both users and businesses.
This change is inevitable, so why hesitate about it and wait until June 2020. Instead, contact Magento developers, who can assist you in moving from Magento 1 to Magento 2 thanks to their technical background.