Some new features on Magento 2.3
30 May 2018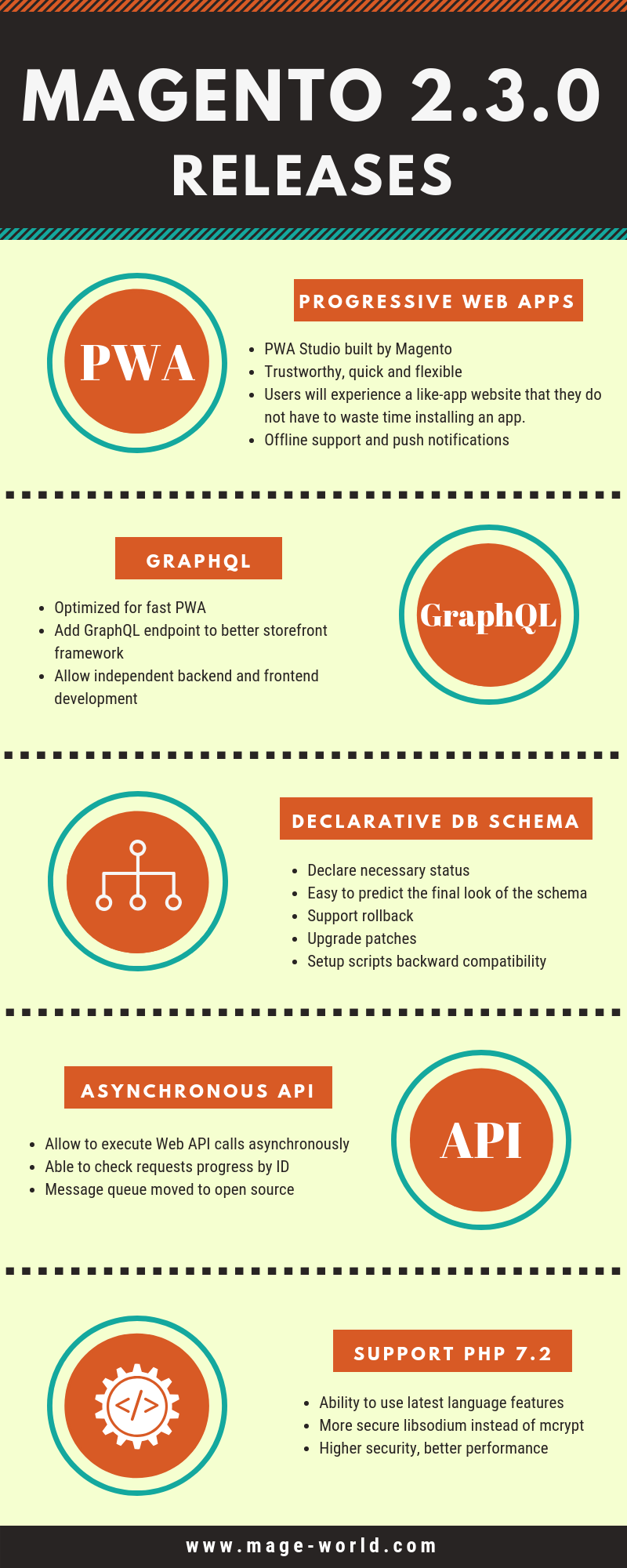 Magento version 2.3 brings some features to improve UI, UX, and performance. For example, it has a friendly page builder and able to asynchronous API. Besides, Magento 2.3 provides a feature which is MSI - Multi Source Inventory that allows store owners to use function multi-stock on many locations.
1. Friendly page builder - Bluefoot CMS
The new launched version of Magento releases a page builder interface that is friendly even to non-developers. This responsive interface allows Magento users to build an engaging and dynamic CMS pages just by dragging and dropping the elements. This new feature of Magento 2.3 will be included in Commerce version and will be available on marketplace for Open source version
Photo by @mgeoffray
2. Asynchronous API
Different from traditional API, Magento Asynchronous Web API provides users with ability to make a request without waiting the response from server which is really a huge advantage for big site that receives large amount of API requests daily. Let's take an example to understand how beneficial Asynchronous API could be: Imagine that you make some changes to your ERP system and trying to sync these changes with Magento Inventory API. Using traditional API can take long time to wait for server's response, the bigger the amount of changes and products, the longer it takes
Photo by @alexanderdamm
3. Cache Management ACL
Like magento 1, magento 2 have many cache types and an single action to cache can cause a bad performance to the whole system. Understanding this disadvantage, Magento 2.3 provides Cache Management ACL that interferes deeper in admin permission: it can grant separate access to admin account. For example: Magento 2.3 allows that only super admin can flush Magento cache
4. Multi Stock Inventory
Multi Stock Inventory allows merchants to define multiple stock locations: website, marketplace, POS,....

Why did Magento start?
Need multiple warehouse

Cant split inventory for a single product
Detail: https://www.slideshare.net/maghamed/multisource-inventory-imagine-las-vegas-2018
5. PWA
Progressive Web App: is invented by google

Why we should use PWA?
Work like a native app

Cache, offline

Push notification
The first Magento will provide a toolkit that helo developer can build Progressive Web App on Magento platform
6. Message Queue
Is an asynchronous communications protocol

sender does not require an immediate response to continue processing.

A message queue is designed for optimizing a system by proving a task queue need to complete
Example: when your system connect to an ERP software, auto import or export,...
7. Two factor authentication
This new released version of Magento provides an additional layer of security for magento store which store owners can configure at admin panel. This 2 factor authentication will require users to verify via sms, phone call, access token… after finishing login steps

Magento 2.3 version will support 3 authentication methods:
8. Google Recaptcha
Taking advantage from Google Recaptcha free service, Magento 2.3 platform provides this feature to protect Magento sites from spam and abuse. Using an advanced risk analysis engine, Google Recaptcha requires human verification thus detect any malicious or spam activities that can reduce site spam and abuse

All pages that site owners can secure
Login

Register

Contact form

Forgot password

Admin Login
9. Graphql: updating