Increase Ecommerce Revenue by Enhancing Delivery Capabilities
23 Apr 2015

In this blog post, we will introduce you some key findings about Ecommerce Delivery based on an online survey of Forrester in 2013 in the UK, France and Germany to enhance delivery capacities.
Getting an online order is difficult but fulfillment continues a great challenge to retailers. Online sellers are getting to know the importance of fulfillment on customer satisfaction and repeat purchase, however, the responsibility of fulfillment is the carriers. The increasing diversity of products in different size, shapes and higher customers' expectation such as convenience, speed, and shipping cost create online order fulfillment more challenging.
The fact has shown that in order to provide a multiple delivery options to allow customers to choose among a selection of delivery options based on their specific purchase, retailers must work with a wide range of carriers.
In this blog post, we will introduce you some key findings about Ecommerce Delivery based on an online survey of Forrester in 2013 in the UK, France and Germany to enhance delivery capacities.
1. Cost Is King, But Flexible Delivery Options increase repeat customers
Retailers in 3 investigated markets, especially in the UK, recognize that multiple and flexible delivery options improve customer satisfaction. Cost, speed, and convenience play an important role in boosting revenue, whether through repeat purchase, increased basket size, or increased customer lifetime value.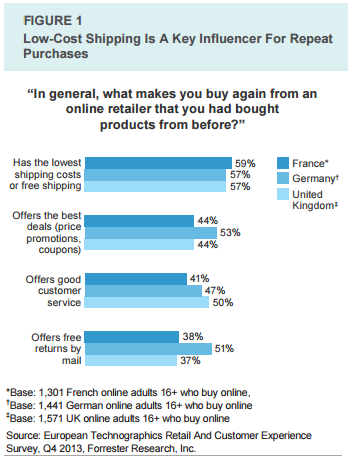 "It all comes back to convenience and allowing customers to choose their ideal method to receive or retrieve merchandise." — European director of digital marketing, multichannel retailer, Germany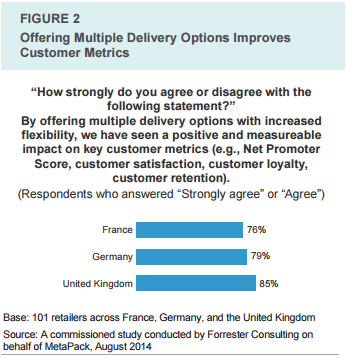 2. Measure customer satisfaction is a key to monitor fulfillment
Customer satisfaction is one of the top success metrics tracked by retailers across markets to monitor their fulfillment operations.
Retailers across France, Germany, and the UK: Regularly track the impact of the delivery experience on key customer metrics.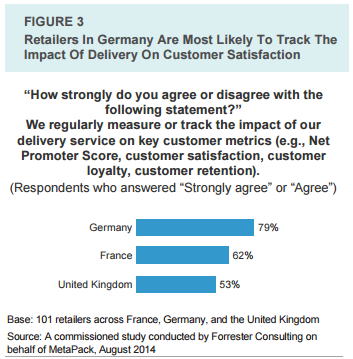 Use customer satisfaction as a top success metric for delivery operations.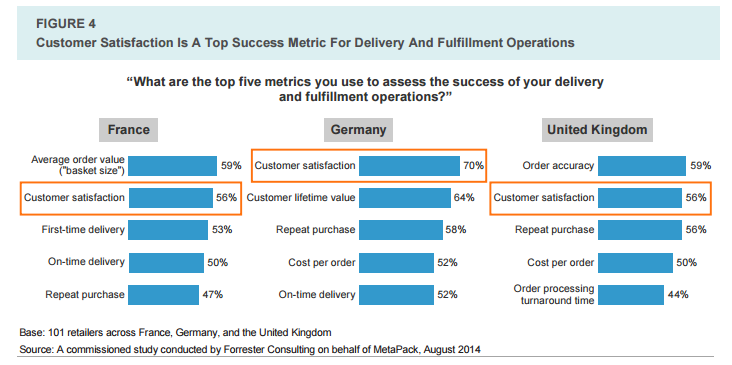 3. Rising Customer Expectations Demand Enhanced Delivery Capabilities
Customer expectations are changing. They predict:
› Today's express delivery will be tomorrow's standard. Retailers across the board anticipate that customer expectations of faster delivery will only increase.
"Everything will go down to next-day delivery. . . . That will become the standard option rather than the express or paid-for option." — European logistics manager, UK-based multichannel retailer
>Flexible delivery options are required to meet changing customer expectations. As consumers are increasingly connected through multiple devices, including smartphones and tablets, they have heightened expectations of their experience and ability to access information and services whenever they want. Consumers will expect retailers to provide them with multiple delivery options to select from to serve their needs for a particular purchase at a particular point in time.
> Investment in delivery capabilities is expected to increase. With rising customer expectations anticipated and flexible delivery options significantly improving key customer metrics, it comes as no surprise that the majority of retailers surveyed expect the investment in delivery capabilities to increase or significantly increase in the next two years
4. Retailers tend to work with multiple carriers
Not only do retailers measure the impact of delivery options on customer metrics, but they also see that the flexibility of offering multiple delivery capabilities improves key customer metrics, including retention. However, the majority of retailers face the challenge of working with multiple carriers to provide this increased flexibility through multiple delivery options.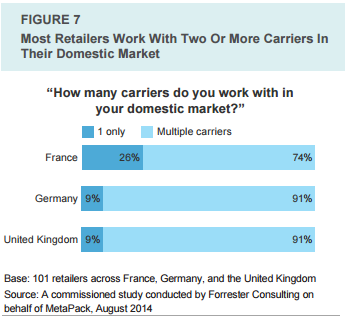 We hope that with above key findings you will know what should be done to improve delivery capabilities.
Source: Forrester