Allow Customers To Choose Delivery Time
08 Apr 2015

Let allow your customers to choose delivery time easily by Advanced Delivery Schedule by MageWorld.
Important benefits of online shopping are no limitation of time and space. Online shoppers are now free to go shopping wherever they are and whenever they want. However, delivery is always a great concern to many customers. People are now very busy in a fast-moving environment, and they are not always available to receive products delivered. The best offer to modern customers is multiple delivery options.
If you can't have better products but you have better services, you win. Hence, there is nothing better than meeting this demand and surpass your competitors.
Let allow your customers to choose delivery time easily by Advanced Delivery Schedule by MageWorld.
1. Flexible delivery time options
Unlike tradition of online shopping, customers just know that their purchased products will be shipped after several days but they are not sure about exact time. With Advanced Delivery Schedule by MageWorld, customers can actively choose delivery time, which is most suitable with them.
Time slots can be easily set up by admin, and delivery off dates are also set up. These off dates will not be available for customers to select.
It doesn't only stop at selecting delivery slot but the module also allows customers to give comment for delivery. It could be notices about address, products handling,
With these setups, delivery is convenient for both customers and store owners.
2. Easy to manage number of orders per slot
Whether you have in-house delivery staffs or outsourced delivery service providers, the management of delivery is very important. You will be overloaded of orders if you don't know how to manage, then the quality of services is definitely affected.
With Advanced Delivery Schedule extension, you can limit the number of orders per time slot. This is very helpful to make sure that everything is in well control without any minor error.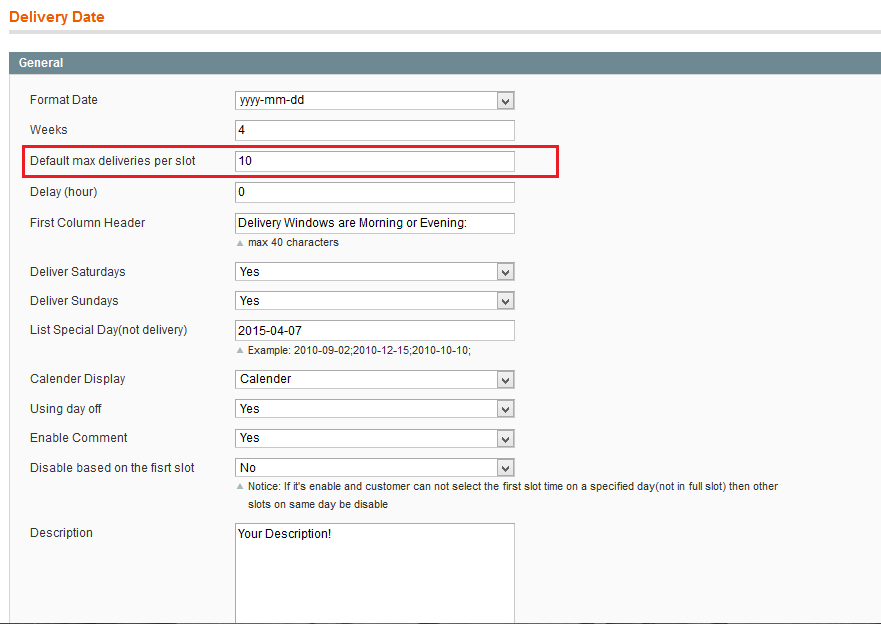 3. Set delay time to delivery
We all know that we can't deliver right away after too short period of time. Understanding that, Advanced Delivery Schedule extension lets admin to set delay time to delivery.
For example:
When admin inserts 24, the current time is 5:00pm, 2015/03/26, then only slots after 24 hours counted from the current time (5 pm) will be enabled at Frontend. All earlier slots are disabled and customers can't select.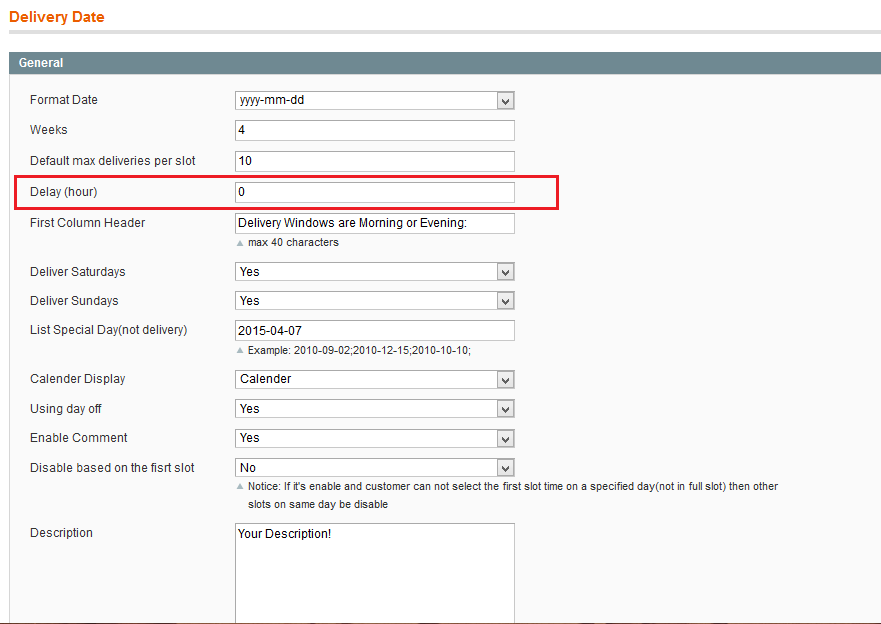 Allow your customers to choose Delivery Time Now!