Magento Affiliate Pro Version 4.1.0 With Visual Report
01 Apr 2015

Hi guys, Affiliate marketing has been a very popular way to increase your sales, and magento affiliate pro is a perfect tool to grow your affiliate networks
Hi guys,
Affiliate marketing has been a very popular way to increase your sales, and magento affiliate pro is a perfect tool to grow your affiliate networks.
Magento Affiliate Pro helps affiliates easily sign up and pay out and store owners create single or multi-level affiliate marketing. It is a low cost marketing program for any magento website.
This month we are excited to launch new analytical features of this module to help you manage your affiliate networks better. Check it out!
1. Report feature for affiliates in frontend
Through line and pine chart, affiliate can track commission/discount and transaction history. So affiliates can evaluate their performance more effectively and take suitable changes: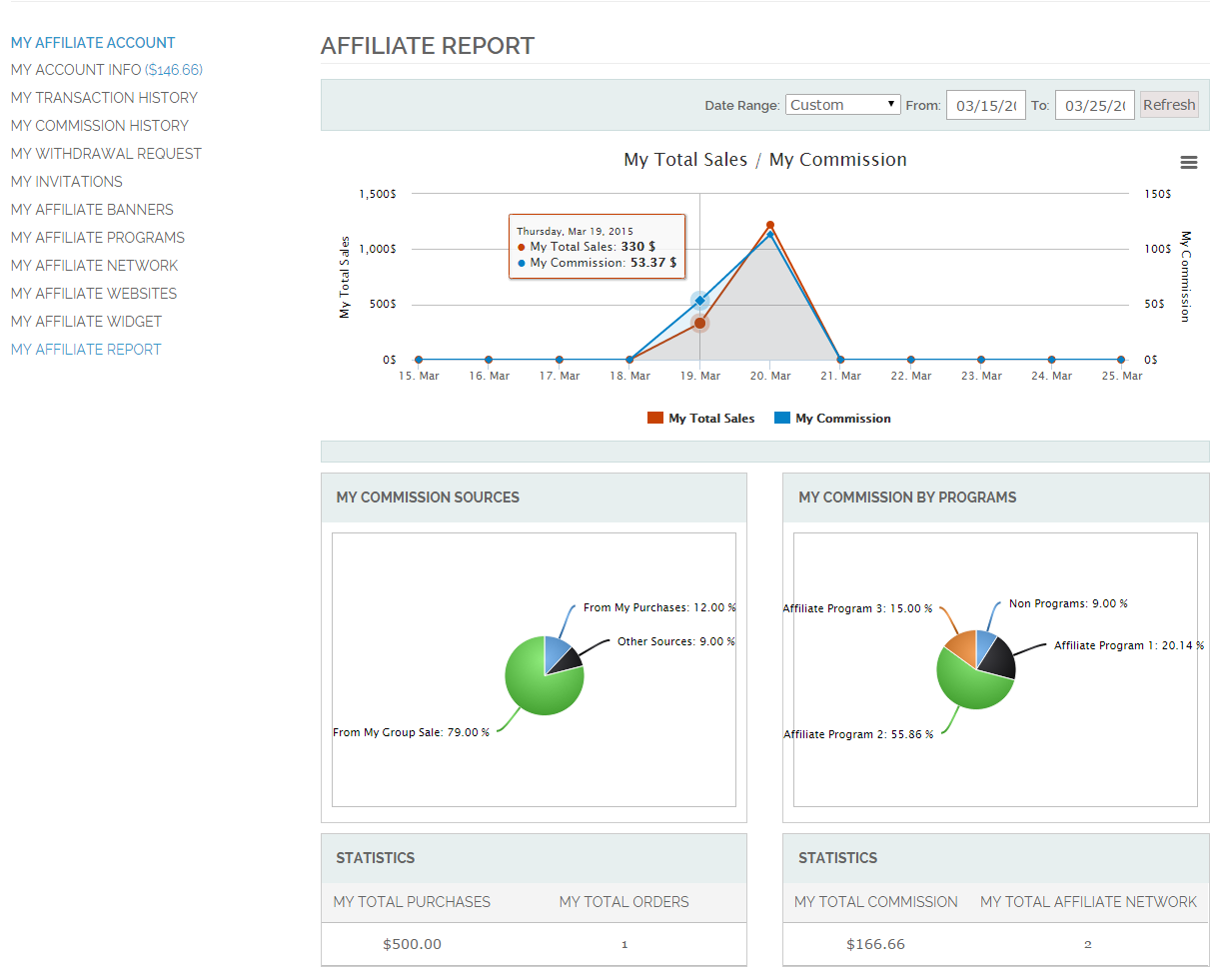 The invitation report allows to see the results of sharing such as total click, sign-ups, subscriptions and purchases. The result of sharing activities from affiliates is reported through this part so they can easily track their efficiency.

2. Report feature for admin in backend
Admin can track the performance of all affiliates through line chart and pie chart:
+ Line chart displays the total sales generated by affiliate, total commission and total referral discount.

+ Pie charts show the percentages of sales/commission generated by different sources and programs.

- The statistics summarize important numbers such as total sales generated, commission, top affiliates, etc.
3. Different withdrawal fee for each payment method
Admins are no longer worried about how they can set up different withdrawal fee for each payment method because this upgraded version of magento affiliate pro includes this:

Magento Affiliate 4.1.0 is clearly a more complete upgraded version, which can help store owners manage affiliates more effectively, then increase sales from affiliate channel.