5 Best Magento 2 One Step Checkout Extensions
01 Jan 1970

Are you confused of finding out the best one step checkout extension for your Magento 2 website? Let's figure it out through this post!
Magento is an amazing open-source platform that allows you to configure anything you want with no fear of damaging on other parts of the template. There is one problem is the default checkout process is too complicated that force customers reloading and redirecting page by page to complete purchasing. This issue may cause customers annoyed and increase cart abandonment rate. So, have you ever wondered how to better your customer's checkout experience? In order to find out the answer to this question, you need to understand your customers, know what checkout method would make them satisfied. There are several points recommended to be taken care about for every Magento e-commerce websites such as the site should be supportive to many payment methods, all the fields should be easy to follow and well-performed, or has the ability for both registered and non-registered customers, etc. The checkout process is also an important point affects to success order rate. If your checkout page performs good enough, provides customers with the best experience you can motivate them to purchase. Somehow, the default Magento 2 checkout page takes too many steps to complete the order, this is the reason why you need an extension to better the checkout process.
There are multiple checkout extensions in the Magento 2 development community. Here below is the suggestion of the best 5 one step checkout extensions, let's take a look and find out which one can be the most suitable for your site!
1. One Step Checkout by Onestepcheckout.com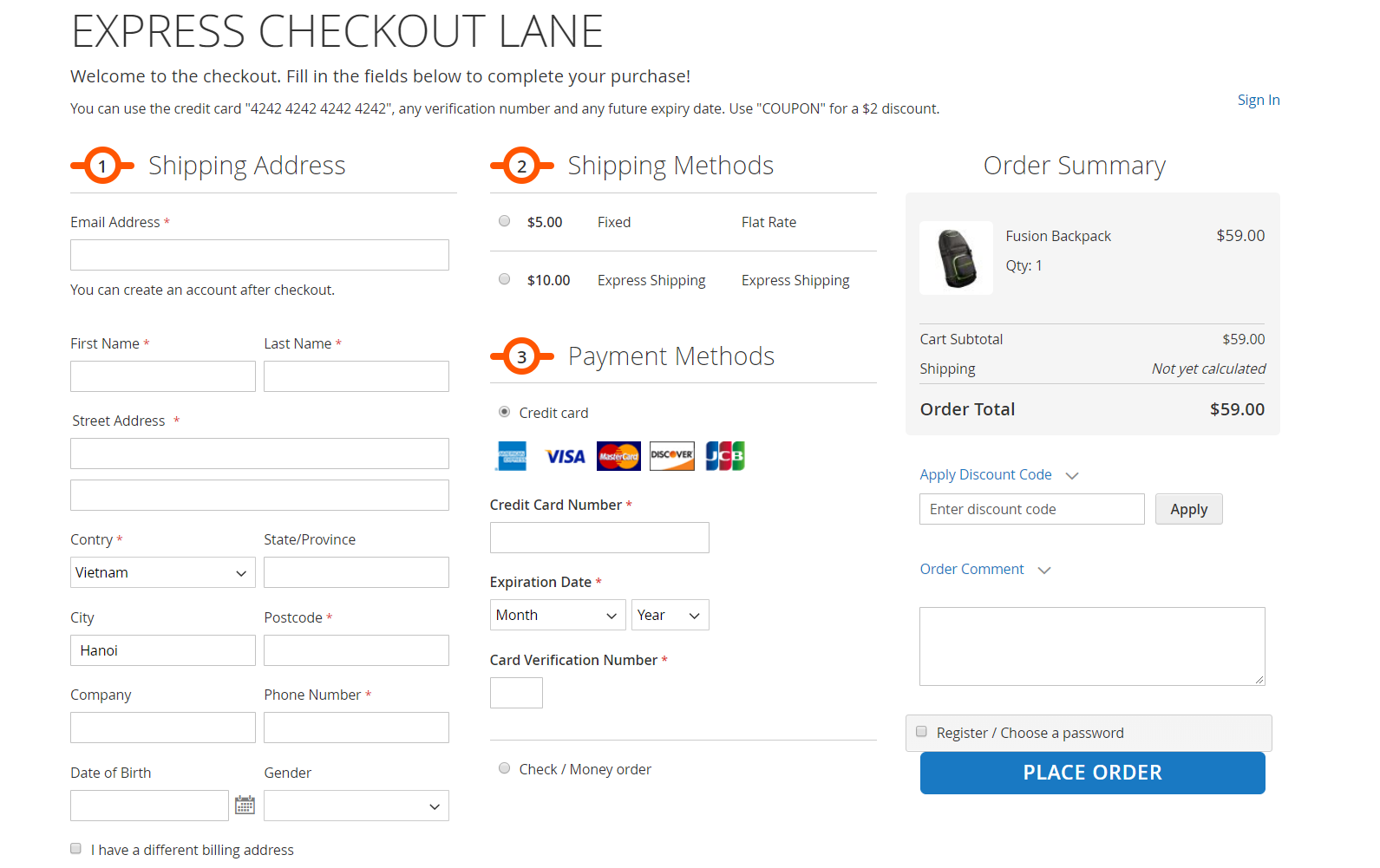 Revealed by the provider with the same name, One Step Checkout extension is the solution to make the checkout process easier and faster. It does not only bring out sales but also increase long-term returns. The checkout page concludes every checkout steps with a user-friendly layout so your customers will be more satisfied when experiencing on the page. This extension allows the buyers to create an account right at the last step of the checkout. Customers have the ability to choose shipping methods between fixed rate and express shipping. This function helps the supplier to understand customers' demand better, increasing the satisfaction of buyers. It is possible for the customers to add or remove product quantity right on the checkout page. The extension bases on Ajax making the website works fluently.
Take a look at more features from this extension from Onestepcheckout.com:
- One-click to edit product
- Works well with customized Magento 2 templates
- Able to edit checkout page layout and color
- Fills customers easily with Google address suggestion
- Geo IP detects customers' IP address automatically
- Let customers choose the shipping method and delivery time
- Customers can insert coupon code right on the checkout page
- User-friendly configuration
The extension costs a large amount, from €485 for the standard edition.
2. One Step Checkout by Mage-World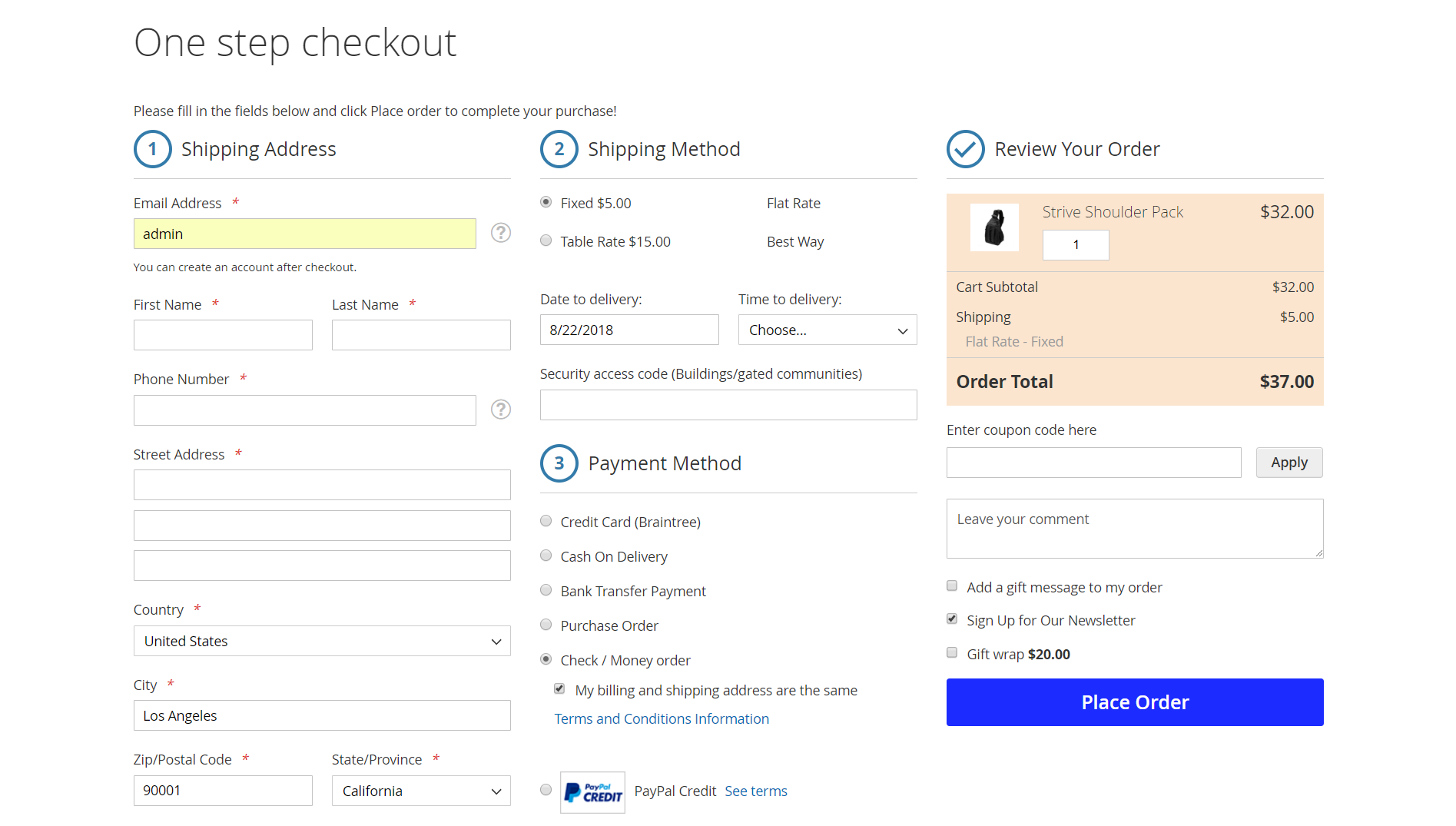 We can easily see a clearly interface at the first sight with flagrant steps that easy to follow. Instead of loading page by page to across the checkout process, customers can complete their order via only one page. One bright point is when the customer adds a product to cart, the system auto redirects to the checkout page. This leads the customers to focus on their checkout, avoids cart abandonment. The "Place Order" button is always displayed on the checkout site to call for action to customers. Google address suggestion is supported on this extension so customers can find their addresses by just entering some first characters. There are different payment methods that are integrated with the extension such as PayPal, Amazon pay, Stripe, Braintree,... Admins can choose the popular methods in their marketplace to be supported. In addition, all fields are customizable in an easy way. The responsive design also optimized with different types of devices like PCs, laptops, mobiles or tablets.
What else makes the extension excellent?
- Auto detect and fills the address of the customer by Geo IP through IP address
- Gift message and gift wrap service
- Allows customers to choose the delivery date and time, the admins can disable some days or hours that they don't want to provide the service.
- Let customers comment on the order
- Manage and arrange field positions
- Allows to display header and footer or not
- Apply discount code instantly
- Customize top and bottom block to be shown on the checkout page
- Adjustable page title and description
- Enables newsletters subscription
Mage-World offers this extension for $149 with a lifetime support, free upgrade and refund guarantee in 30 days. Click here to see detail.
3. One Step Checkout by Mageplaza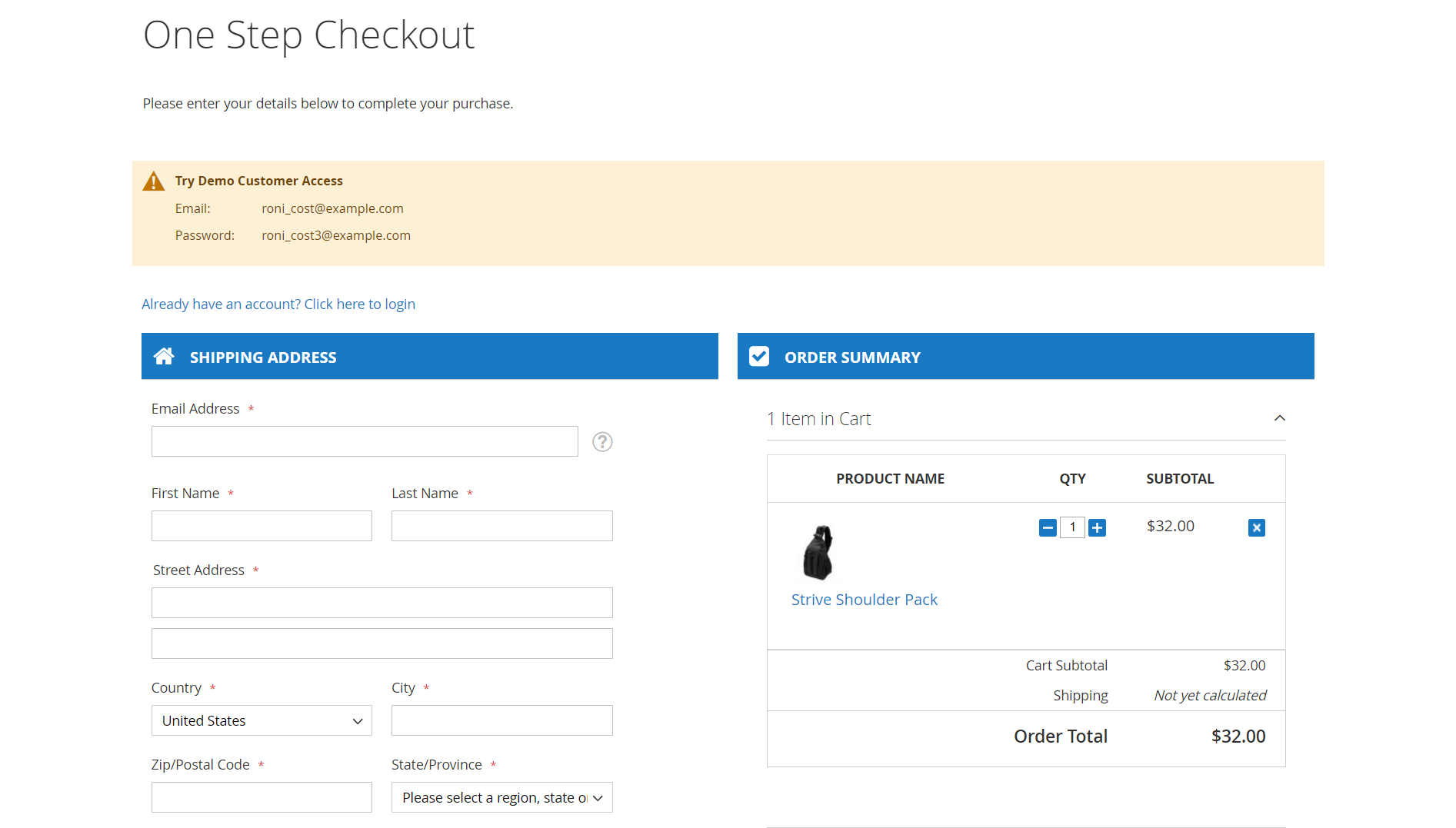 The interface is divided into 2 columns with one on the left side contains information fields for customers to fill in and one on the right side is the order summary. It is stated from the site that this extension can decreases checkout time by 80% and increases the conversion rate up to 30%. The extension is compatible with different third-party extensions like shipping providers or payment methods. The site also offers to connect to the third provider to fix the problem for free in case their extension does not run well with the third-party ones. This extension helps to recover cart abandonment by auto sending buyers emails to remind them of their abandoned cart and offer them a discount. A report to be shown lets web owners be able to catch the site's recent situation.
This extension is offered for $199 at the standard edition, including one-year support and free updates. Below are more detailed features that the extension can do for your store:
- Google address suggestion
- Optimized checkout page layout
- Support nearly 100% payment methods
- Customizable field positions and page layout
- Allows to add a security of a trust badge
4. One Step Checkout by Amasty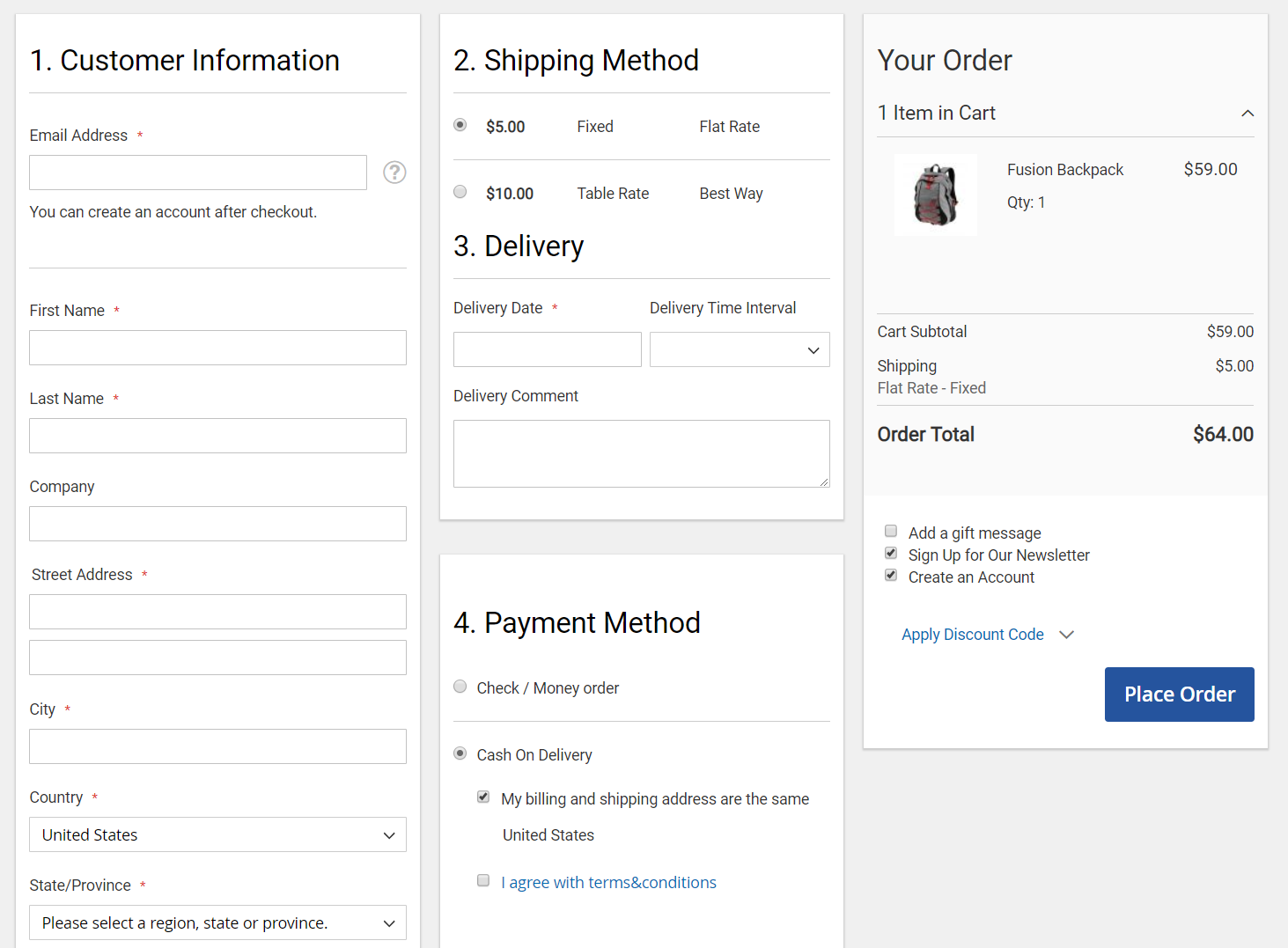 The One Step Checkout extension created by Amasty speeds up the checkout process significantly. The module setting allows the web owners to edit field positions, enable editing product option right on the checkout page and specify default values for different fields. A responsive design is supported on this extension. All layout designs are customizable and easy to take action like changing text font and field color, optional column layout to choose. The fast and simple functionalities are really impressive which allows customers to fill their address faster based on Google address suggestion and Geo IP detecting users' IP address. Advanced options including gift wrap and gift message, showing header and footer or let the customers choose the delivery date and time as they expected. The shop owners can obviously configure where to display the checkbox for Terms and Conditions.
Amasty values this extension as $249 for the community edition with $59 for the installation fee, plus $300 for the enterprise ver. They provide a free lifetime update, 90-day support for free and 60 days money back.
More remarkable points of this extension are:
- Enables subscribing for newsletters and commenting on the order
- Manage required fields
- Automatically fills the information of registered members to the fields when they create a new order
- Allows buyers signing in their account from the checkout page with the pop-up powered by Ajax
- Able to specify checkout page title and description
- Customizable layout, responsive design works well with different devices: mobiles, computers, tablets, etc.
5. Checkout Suite (One Page/Step) M2 by Iwdagency
The last extension to be introduced is Checkout Suite (One Page/Step) M2 developed by Iwdagency. This extension fastens the checkout process and brings an amazing experience to the customers. The extension provides a quick checkout through one page to customers. It is easy to customize, suitable for any custom themes and performs well on every device. With the extension, customers can add store credit, reward points, coupon code or use gift card. Moreover, it helps to analyze the checkout performance and raises conversion rate. Besides providing all checkout steps on one page, the extension also allows customers to pick-up the product themselves by coming to the nearest store location. Moreover, you can create your own store's currency and customers can purchase by it.
Along with the above-mentioned functions, this extension also offers:
- Auto defines customer's address by IP
- Applies different payment methods: PayPal, Authorize.net, Braintree, Amazon Pay, Apple Pay.
- Allows customers to place the order to their address or another one by creating billing and shipping address are the same
- Different versions in different languages
- Address suggestion by Google
This extension is valued a high price is $299 and needs an extra amount of $25 to upgrade to Pro level to get full features and free installation.
In conclusion, there are multiple of one step checkout extensions in the Magento market, we hope you would find the one matches your site best through this post. Let's look once again on all the highlight features of each extension through the summary below: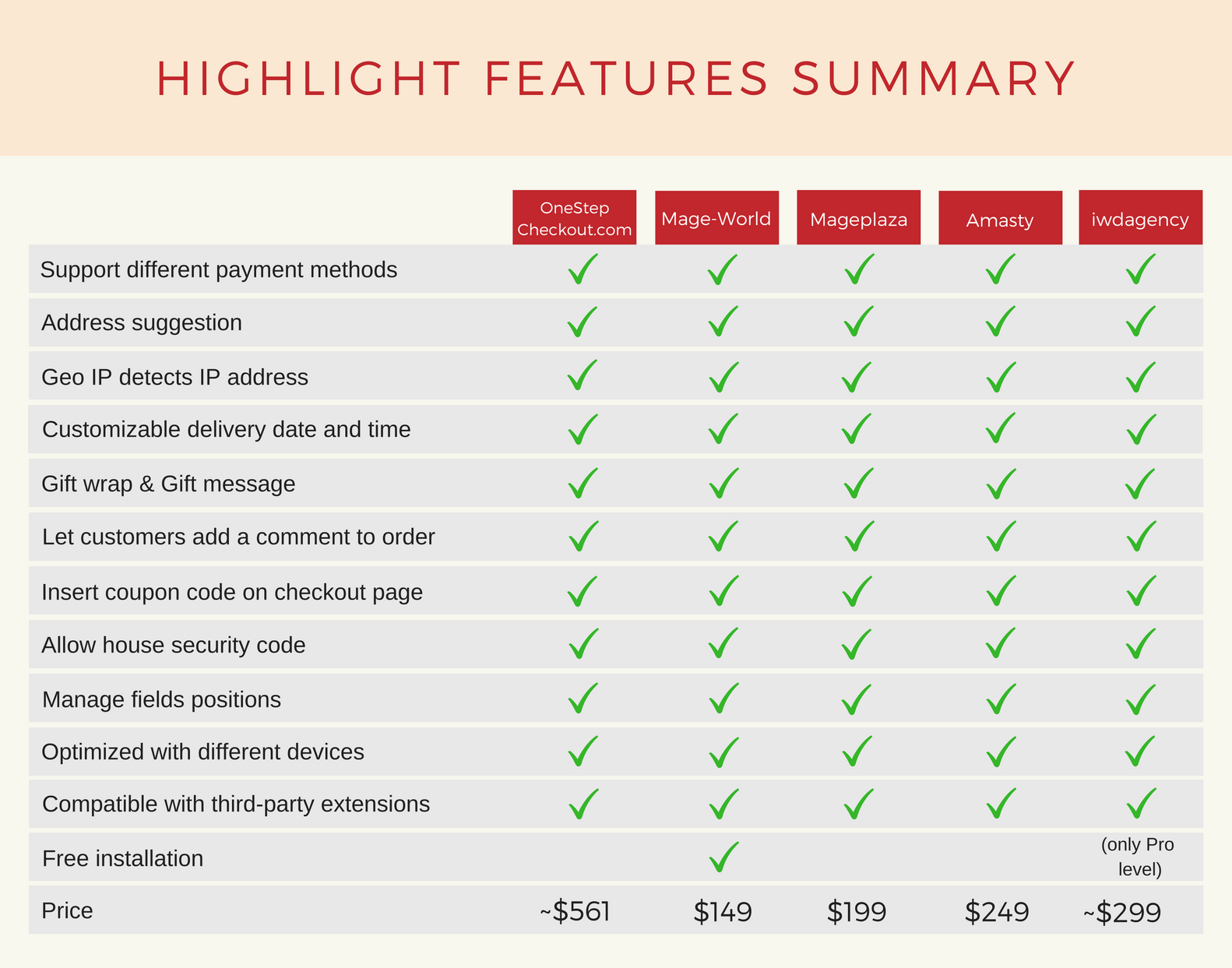 Besides functionalities, the price is also a subject to be cared about. We highly recommend the One Step Checkout Magento 2 extension from Mage-World because of its fully-provided features and the midrange price.