Magento 2 Store Locator
General Information

Manage Store Locator

Enter Address

Store's Holiday
Highlight Features
Why Magento 2 store Locator is suitable for your stores?
Save money and time
Improve user's experience
Increase traffic to the sites
Easily identify the store
The outstanding feature of Magento 2 store:
Show multiple store locations on a map.
Displace the nearest offline stores automatically.
Supply filters to find stored according to certain criteria.
Display store information and images for Magento 2 Store Locator
Add store locator map to any page of your website.
Set up working hours and holidays for a store location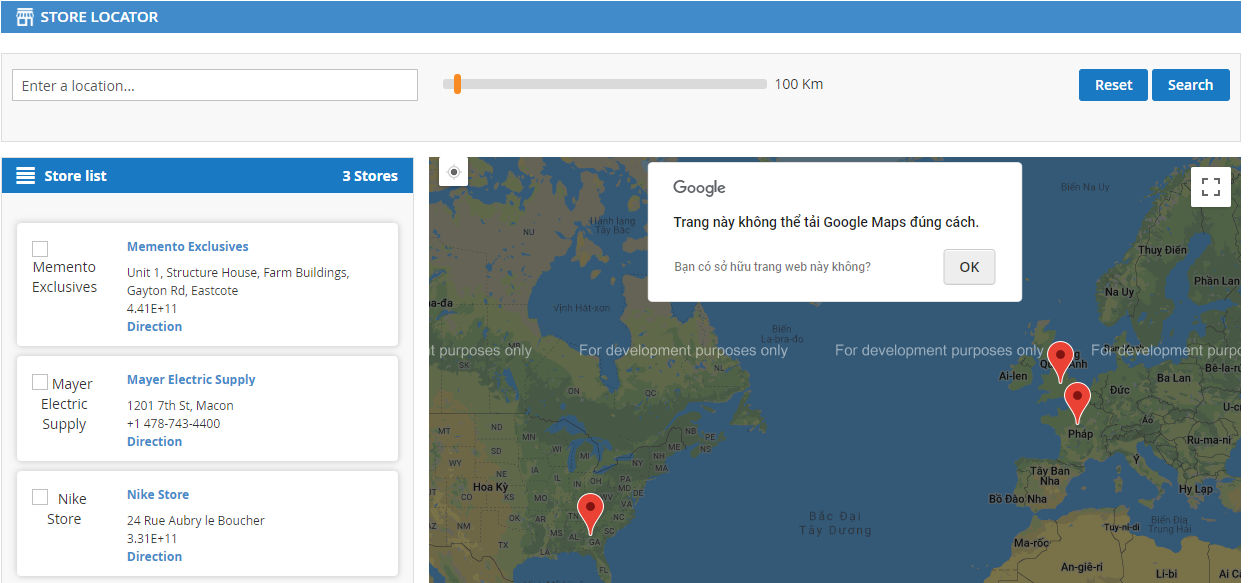 Show multiple store locations on a map
Magento 2 store locator will allow you to set up and show an unlimited number of store locations by handy maps. Besides, update easily the information that you want the customer to know (ex: name, mail, address,...) and store locations to the map.
Customers only need to type some letters in the Address box and are well recommended with all relevant suggestions for shop addresses.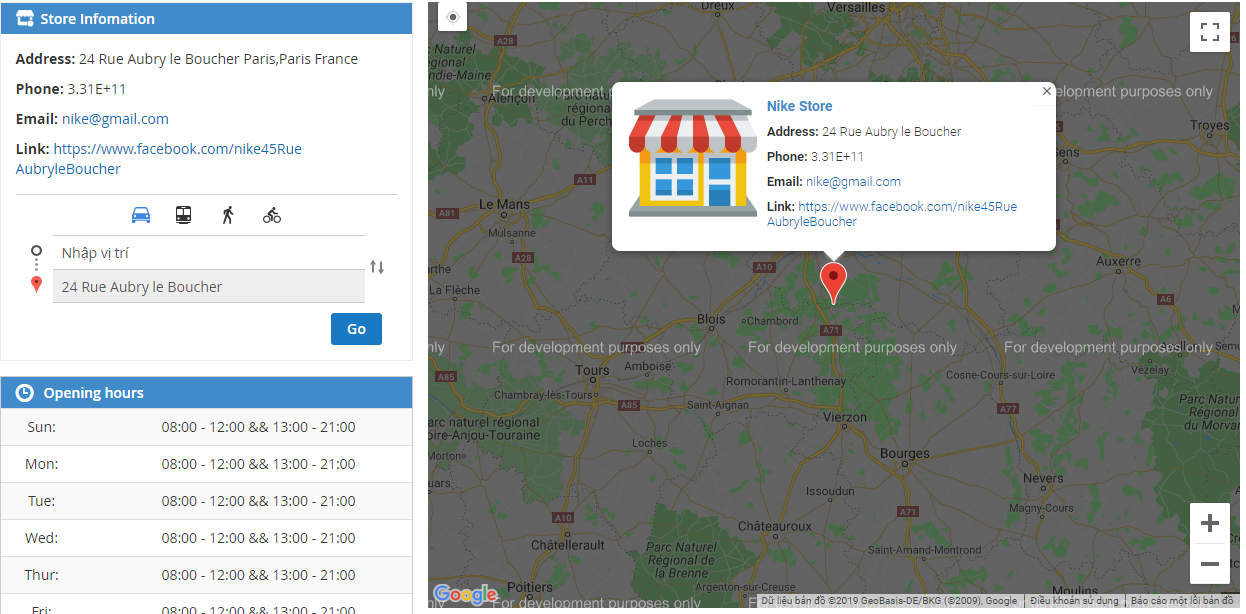 Display the nearest offline stores automatically
Wherever the customers are, they can easily locate themselves and the module will automatically show the nearest offline stores.
-Customers are able to input the street and/or district and/or city where they wish to find nearby stores
-Customers can choose to specify the radius of their search to narrow or broaden the results
The typical feature of Mageplaza Store Locator is also integrated with Google Map which allows customers can select the convenient route and the suitable transport to the store.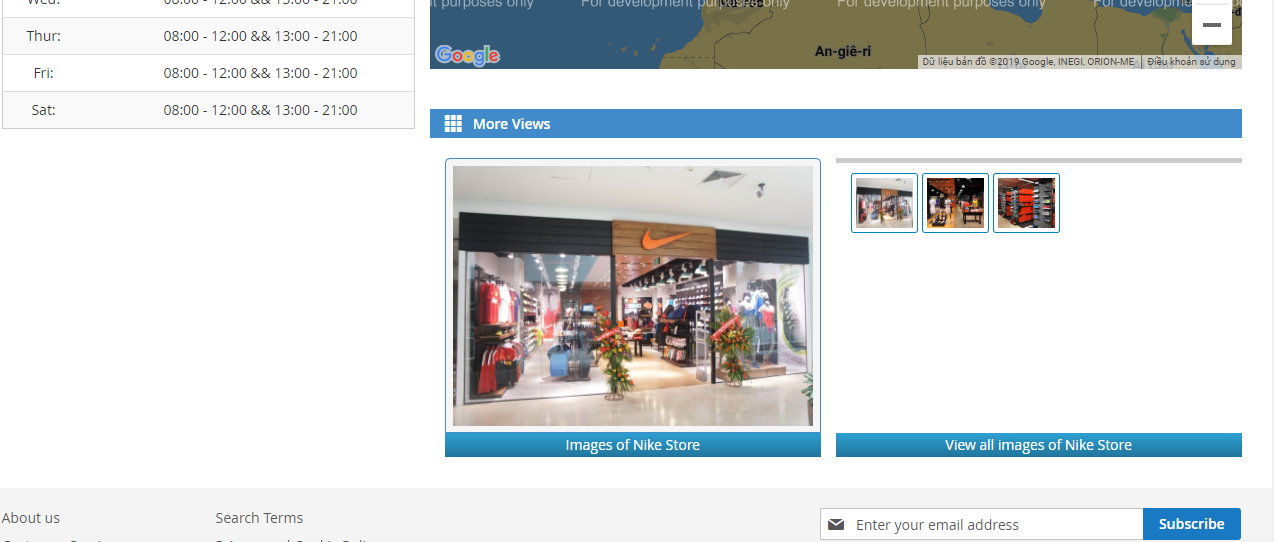 Display the information and images of the store
The main information of each store is shown clearly next to the map. The data can be the address, phone, website&hellip...
Magento 2 store locator also enables the user to add the available images into the screen from many angles. A nice view will stimulate the desire of customers to visit the store and help customers visualize the store easily.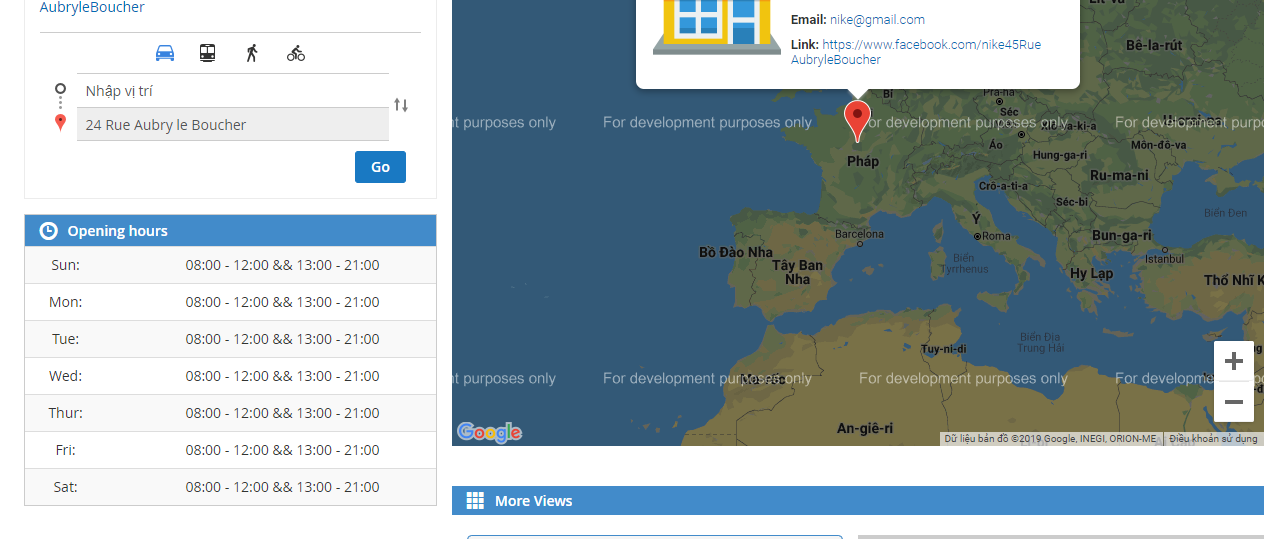 Set up working hours and holidays for a store location.
This feature brings the user a new experience. You can set the working mode to display right on the map and it allows put on "Open" during working hours and "Close" when the time is up.
Furthermore, the user can also configure holidays and special days in the backend as well. More conveniently, manage location schedules in one handy grid. Create multiple schedules to fit different store types.
Benefit from this Magento 2 store locator
It is a perfect solution that brings consumers closer to your store. The utility and smart functions enable to perform operations on all devices. This design help customers to identify store easily on the map and quickly make the decision.
Easily control and manage your store
Magento 2 Store Locator supplies you with access to the list of all offline points of sales. Not only save your time and efforts editing your store locations right from the grid but also create as many attributes as you need to provide your customers with the opportunity to quickly find the best-suited store.
Feature Full-List
FOR CUSTOMERS:
Look all store list and store location on Google map
Filter store by radius
Search stores by area (country, city and zip code)
Find the nearest store Google maps suggestion address of Magento 2 store locator
Get direction guide from a user location to any store
Get contact information of a store: address, phone, email, fax, website URL
Know the opening time and holidays of a store
View image of stores
FOR STORE ADMIN:
Map/Info settings:
Add store address: street, city, state, zip/postal code, country
Get automated GPS coordinates
Manually add latitude and longitude
Add store contact: phone, email, fax, website URL
Upload store image
Select Map style
Get autoGeocode Set zoom default
Set filter radius selection and default radius
Choose distance unit
Upload marker icon
Set store opening time: day, hour
Set holiday time: status, date, type
General configuration
Enable/ Disable the extension
Set title for store locator page
Set description message
Upload a background image
Add URL Key
Set display for the link
Enable/ Disable to get direction
Enable/ Disable filter function
Enable/ Disable filter by the current position
Management grid:
Edit, manage store location via the grid
Edit, manage holidays via the grid
OTHER FEATURES
100% Open-source
Based on Magento 2 default closely
Responsive design
Optimized for PC, laptop, mobile or tablet
Easy to install
Customize or make changes easily
Why should we choose MageWorld
Free
Life-Time Upgrade
Free
Life-Time Support
90 Days
Money Back
100%
Open Source
98% Customers
Satisfied
11 years
On The Market
Testimonials
Your satisfaction is our most value motivation
Mage-World's Magento 2 extensions are very impressive, they are all easy to install and use. I haven't experienced any difficulties when using these products. I highly recommend this site! I think I will sponsor this company to my friends in the future.
Ashley Rulin, Sales Manager
The support service is really good, you're always there when I have problems. I have worked with several services but you are the one that is able to satisfy my expectation. I will continue working with your service in the future! Keep the good work.
David Bleu, CEO
I'm really impressed with the Magento 2 Affiliate Pro module from Mage-world. It's simple, but powerful, and it can entirely replace my previous costly affiliate system without any difficulty. It's a valuable catch for anyone who wants to have an built-in affiliate system for your Magento site. Besides, the support is superb and affordable.
Steve Marshall