Every one
LOVES
Free Gifts
Boost your Sales with Special Promotions
With flexible gifting rules, Free Gift Pro is the best tool for Magento stores to run special promotions. By installing this Magento extension, you are creating attractive incentives for both new customers and loyal customers. Line Chart and Statistics are provided to get insights of Order value and Gift value.
Create Flexible Gifting Rules
Buy X get Y free (BOGO sale supported)
Buy 3 Items get Y free
Buy any item from Category A/ Brand B get Y free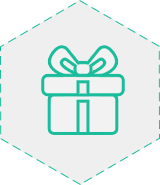 Spend greater than $300, choose 2 free items from a list of 5
Spend greater than $500 get Y free
Sharing on social networks get Y free

Boost sales by up-sell banner
Up-sell banners encourage customers to spend more to get free gift(s)

Increase customer loyalty
Attractive incentives motivate customers to come back more often

Make it limited
Limited number of free gifts creates a sense of urgency (e.g: For the first 50 customers)
NEW
Share purchase on social networks get free gift(s)
Support Visual Report, which displays Order Value and Free Gift Value in Line chart and Statistics

Magento Free Gift Extension
Magento Free Gift Extension
For Your Customers
Customers Love Free Gifts
Let customers choose free gift(s) when they meet conditions
Motivate customers to buy by limited number of Free Gifts (e.g. For the first 50 customers)
Examples of Rules
Spend greater than $500 and share on social networks, get a free gift
Buy one book get one book for free
Buy 3 shirts get 1 free (gifting rule based on order quantity)
Buy any furniture product get free gift(s) (gifting rule based on category)
Buy any Nokia cell phone get free gift(s) (gifting rule based on brand)
Purchase products, which price is equal or greater than $500 get free gift(s) (gifting rule based on product price /attributes)
Purchase over $1000 get free gift(s) (gifting rule based on total purchase)
FOR THE STORE OWNERS
Backend
Share purchase on social networks get free gift(s) NEW
Visualize Order Value and Free Gift Value in a line chart NEW
View statistics of total order value, total gift value, average gift value per customer, average gift value per order on table NEW
Add free gift(s) automatically to cart when customers meet conditions (Catalog rules) Hot
Allow customers to choose free gift(s) from a gifting list (Shopping cart rules) Hot
Apply different rules for multiples stores
Set individual rules for each customer group
Be able to limit the number of free gifts (e.g: only the first 50 customers will get a free gift)
Set active date for each rule
Set priority for rules
Combine multiple conditions in a rule
Display up-sell message banner and visual promotion banner on the shopping cart (or the checkout page) to promote customers to purchase more.
Frontend
Show free gift label and details on category / product page
Show free gift selection box on shopping cart
Show promotion message / banner on shopping cart
Show social sharing buttons on shopping cart
Auto-add free gift to cart when customers add main product to cart
Auto-update quantity of free gift when customers update quantity of main product in shopping cart
Allow customers to select free gift(s) from shopping cart when a rule is matched
Support AJAX add to cart and edit free gift's options
OTHERS
Install and upgrade easily. All you need to do is copy to use
Support multiple stores with multiple languages
Customize front-end easily via HTML/CSS
HTML/CSS validation
Flexible and friendly configuration
100% open-source
Magento Free Gift Extension
Documentation & Support
Compatible with Magento
Community: 1.6.x - 1.9.x
Enterprise: 1.10.x - 1.14.x

Magento Free Gift Extension
great extension, great support

Viet Nguyen - cbdflorist.com.au

Just like to express my appreciation for your help on installing and solving the problem with the Onepage Checkout extesion I purchased. Really happy with the extrension and your help through period.
Thanks again,
Viet

I had some issues with this extension for our web and got great support whenever I needed. This extension is really useful and a must-have!

Works the way gift extensions should

josh - mrb-supply.com

This extension proves a carousel style slider in the cart which allows the customer to select a gift. No more going up and down menus to add a gift to the cart and see what you are eligible for. It manages stock well if you are offering existing products as gifts as you can assign it similar to an attribute (it may be an attribute). And more importantly, if the customer edits their cart value/items and is no longer eligible for the gift, it removes the gift from the cart.

Conflicts were resolved in good time with one of my more troublesome extensions.

Great extension :)

Martin - navipartner.dk

The latest version 3.3.2 works fine with ME 1.9 - after the latest updates from Mage World. It worth the try.
The support provided is incomparable. They works fast, and know whay they are doing.
Keep it up ;)


Great Extension

Vicki - www.bubblebubs.com.au

I have been struggling with stock levels of my gift/free products, this extension has fixed that problem! Very happy and as always great service

Great Extension + Great Service

Travis - Portablefridgesonline.com.au

Very useful extension. I use the Free Gift for adding bonuses to products. I don't use the advanced shopping cart features. Quick to set up as you can set rules for categories of products.

I had an issue with the extension after upgrading to Magento 1.7.0.2. Developer fixed problem quickly for us which was great!


Excellent Product and Support

Tambourine-Stephen - www.blincinc.com

Product out-of-the-box required customizations to meet our specs. Developer made all customizations in a timely manner and at a reasonable price. Developer provided excellent support during the process. We are very happy with the product and sales have already increased.

WOW - A Must Have!

Rainier - www.beautyrun.co.nz

With this extension we offer a wide range of free gifts with all order over an X amount. Since the implementation we have increased our over all sales average with 50%. Customers spend more to be able to choose their free gift. Probably the best promotion extension out there - Highly recommended recommended

Great extension

P.Jordan - Innovaction

Hi,
I just want to emphasize great extension Free Gift and the most greatest support provided by Hai NGUYEN. Really outstanding !
I spent whole month comparing gift extensions on market. The decision was one - Free Gift from Mage-world.com. I bought it with release 1. And few days after that - Hai provided for me hot upgrade with version 2. I must say - this is awesome now. I cannot see anything comparable on market. The great role - was outstanding support. I bought a lot of extensions from other providers but support from Mage-world is a world's number one. I definitely will continue cooperation - and can't wait for their reseller program
Best Regards
P.Jordan, Innovaction

Great! Amazing! Professional Support! etc

Bibi Chris

This extension is great and the guys behind it are amazing!
Your are not buying just an extension - you will receive a full support in a record time! We had some questions at the beginning (we are new to Magento) and this guys were always there for every issue and questions we had - in a very friendly and professional way. (This is rare today) Good job guys!

We are happy that we found this extension!

Thanks MageWorld for such great extension. The extension works like a charm. The support is perfect, MageWorld team always reply me for any questions, even for questions which not related to the extension I bought, they also tried to answered and suggested me.
Thanks again. 5 Stars ++



Working like a charm

rossi

The extension works like a charm. I just spent 5 minutes to install and make it work. That is really all what I need. Thanks.

Fantastic extension

Danielle

Easy to install and configure. I am very happy with this extension. Thanks Mage World.

I bought this product and I never regret that I did. This guy is just too too supportive.
Even it is not convenient for him, he still make up a time to help.
Very cool headed and understanding.
I'll rate this product as follows.

Product = 100%
Services = 100%
Support = 150%

Thanks MageWorld, you are a gem.

Excellent component with excellent support

Miken

I bought and installed this extension a while ago because I think it is essential for every webshop to have a gift promotion.

I had a special request and within a few days the developer released a new version with the features I needed. He also helped me out with some customization and template issues I had. Well done Stan!

So I really recommend this component to anybody who wants to increase sales.

Very nice support

Flash_pro

Nice extension, the support was great, I couldn't setup the extension because of my own theme issues, but MageWorld fixed those directly on my website. Couldn't be happier. :) Recommended!

Great module and great support

Mindsmonk

Even though it has some issues with our theme but the support is super. I love how it functions and hope to see more developments in the future!

I have a issue with this extension, but they supported excellent. I think this is one of the best extensions I used. 100% recommended.
Write Your Own Review
Only registered customers who bought this extension can write a review. Please sign in here
What made 40.000 customers from 100 countries
trusted in MageWorld
High quality, stable & user-friendly extensions
Professional support until you get satisfaction
Lifetime free support and upgrade
Free installation service
Support developers / starts-up
Reward points for all purchases
Awesome loyalty program
30 days money back for any reason
What People Say About MageWorld

"Great team, great extension, great company! Highly recommended"
Francois-Frlix Bisson Sales Manager www.ironbullstrength.com

"What I like the most is the service of your company. .. even beyond their duty"
Anton Kuratov Co-founder www.rechemco.com

"The techical support from MageWorld is definitely one of the best."
Guy Alony CEO www.shoptoshape.com

"The support from technical staff of MageWorld is very great & quick. Many thanks!"
Andreas www.epc.st

"MageWorld is one of the most impressive Magento vendors and the support is TOP ... Very recommended."
Heinrich Steier www.youkauf.com

"Overall very impressed with the extensions supplied by MageWorld!! We done guys."
Anthony Mixides MD www.bondmedia.co.uk