Free Gift Pro For Magento 2
In Stock On Frontend

Shopping Cart

Proceed To Checkout Cart

Rule Information

Banner On Shopping Cart

Report On Marketing

Add to Cart

Free Gift Logo

Show Product With Gift

Catolog Rules

Shopping Cart Rules

Configuration
Highlight Features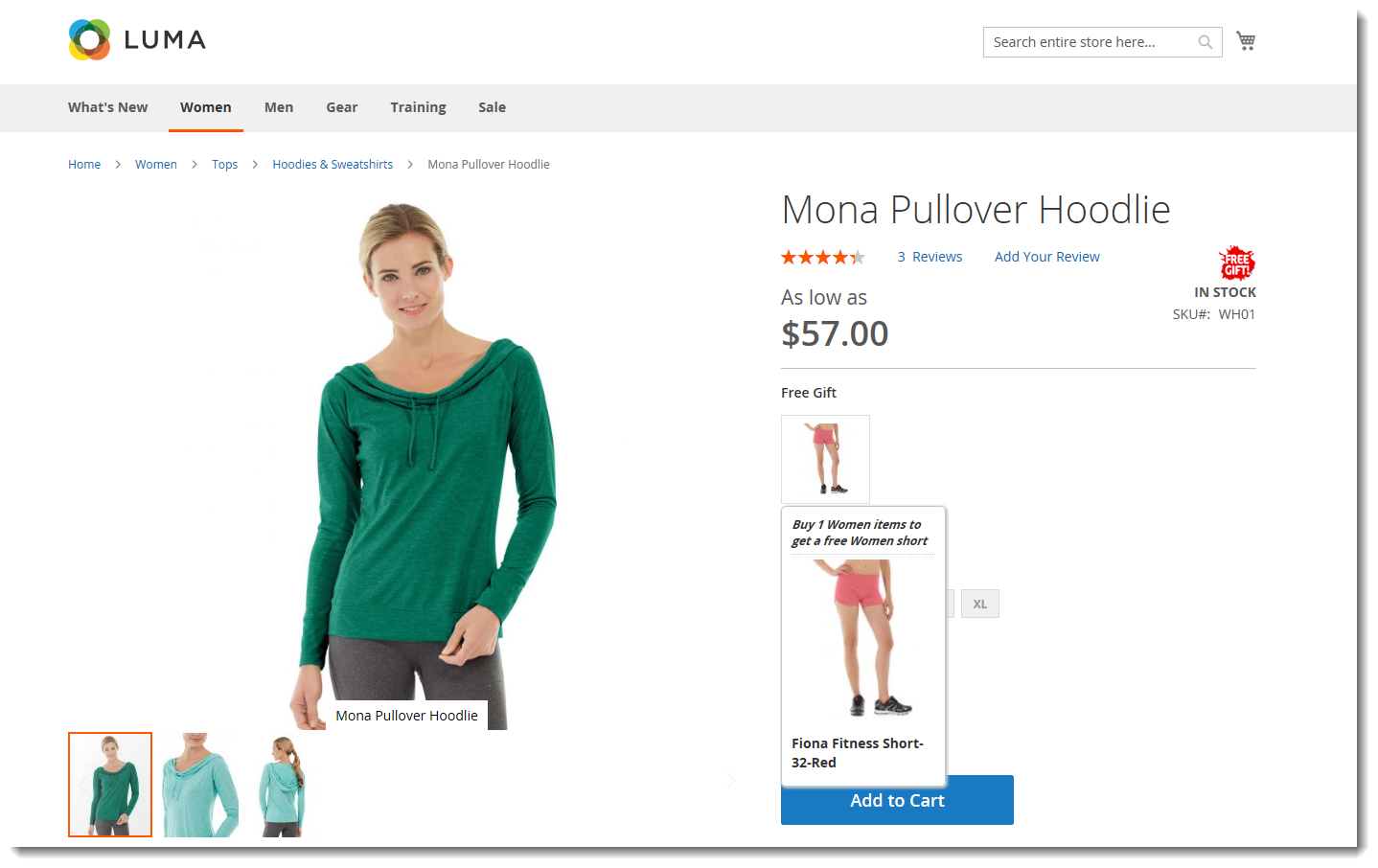 Boost sales up with various Free Gift promotional programs
Magento 2 Free Gift Pro allows admin to easily setup a million of creative Free Gift programs, just by using the familiar condition sets of Catalog Rule, Shopping Cart Rule, or combination of both. Some popular examples here:
- Purchase a makeup set to get a free lipstick (Catalog Rule)
- Receive a free T-shirt for any orders with value higher than $500 (Shopping Cart Rule)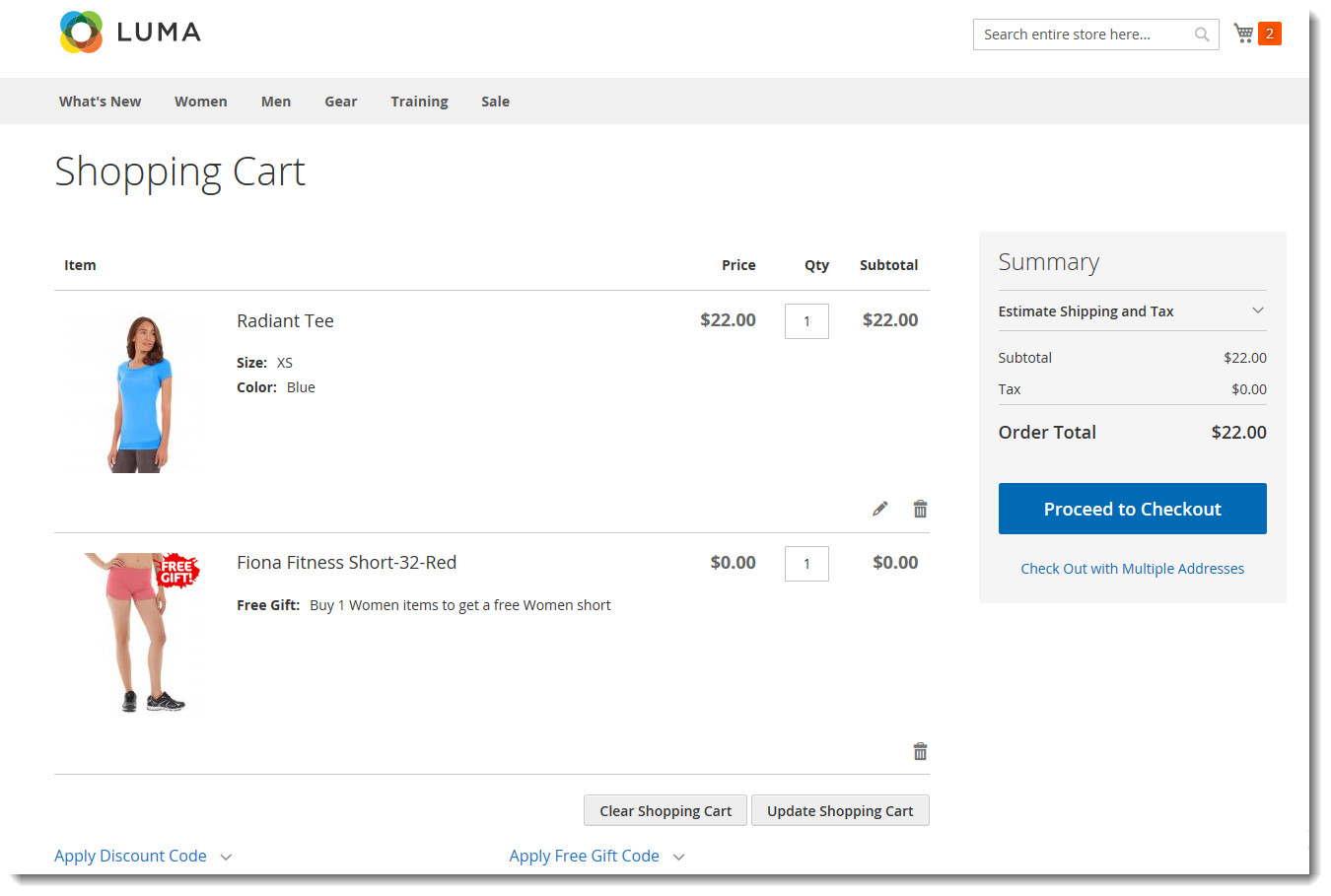 Save time when checking out with gifts automatically added to cart
One of the best ways to increase the sales conversion rate is making the checkout process as easy as possible. With the gift automatically added to the cart (Catalog Rule), customers can quickly complete the order in just a minute and do not worry about missing anything.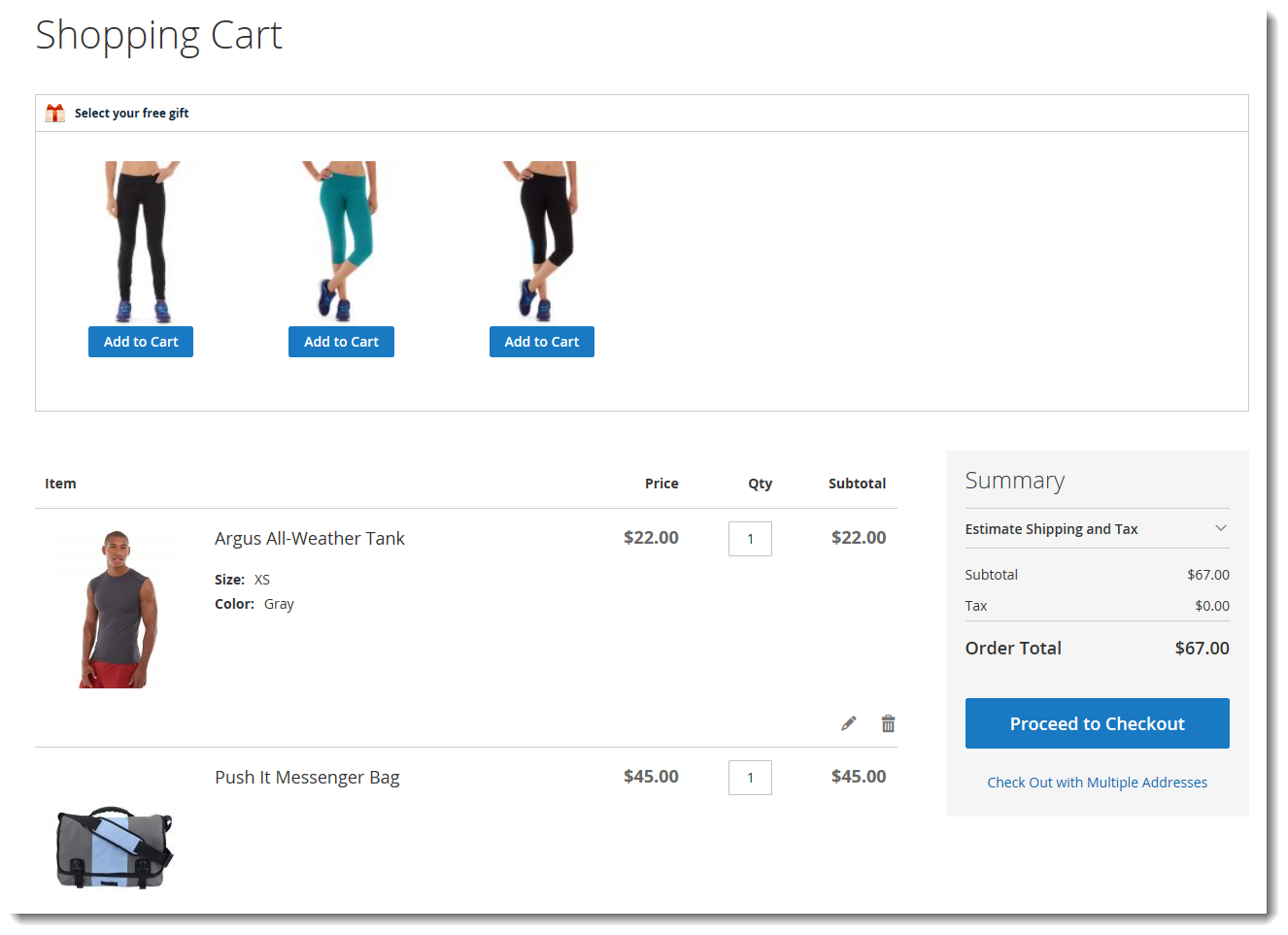 Various gift options for customers to choose on the Shopping Cart page
With the Gift programs using Shopping Cart rule, admin can set up a list of gift products that are available for customers to choose on the Shopping Cart page. It is possible to set an unlimited number of rules per shopping cart to impress your customers, as well as restrict the number of gifts allowed for each order or customer. It is even possible to offer configurable products as gifts with the popup appear right on the Cart page of Magento 2 Free Gift.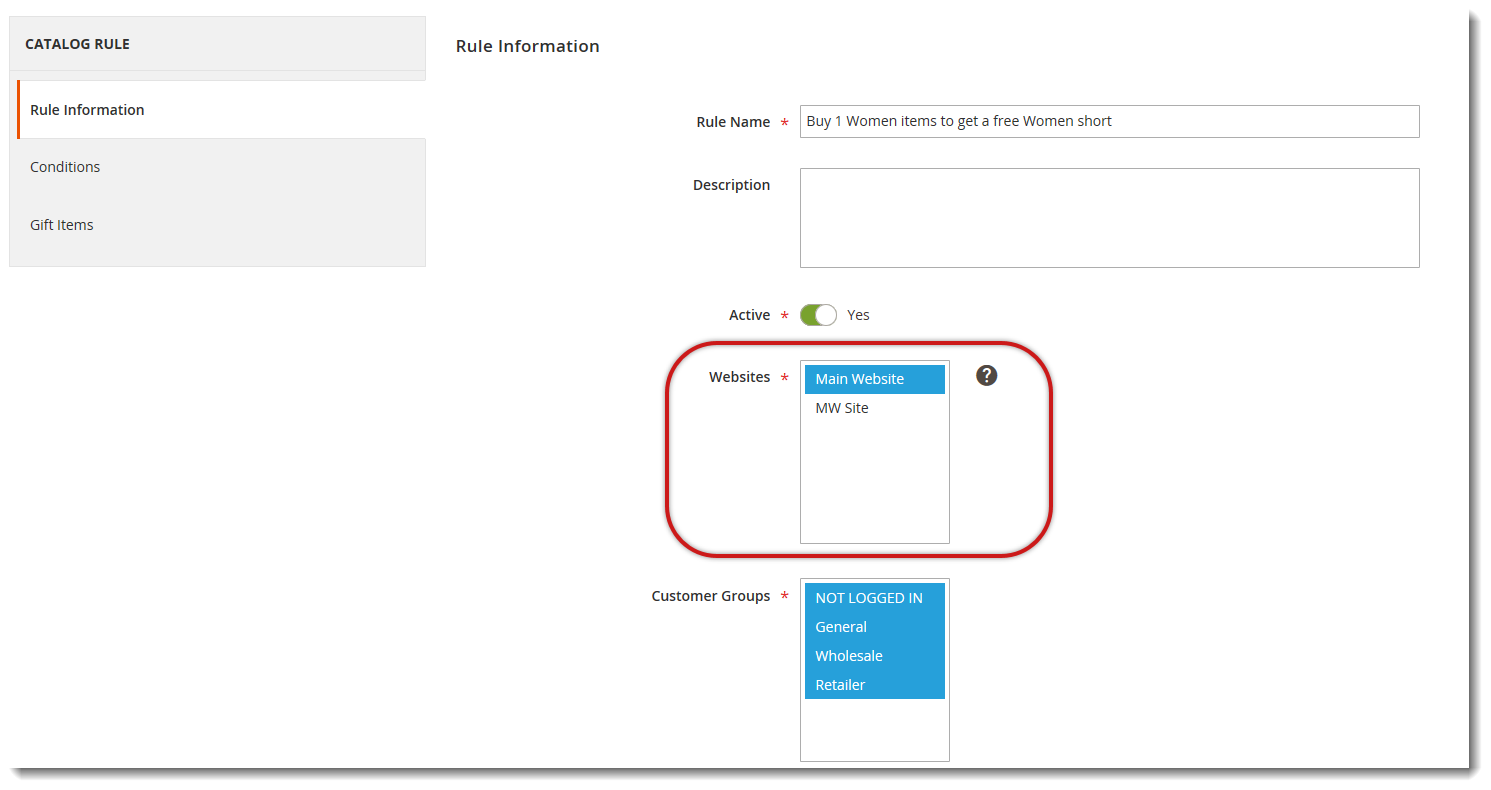 Different free gift rules can be applied to different stores
Wondering how to promote different products in different stores? No more worries as Magento 2 Free Gift Pro already supports multi-store, which allows admin to create different rules applied for different stores. Admin can easily set up separate promotion programs for 2 or more stores without any conflicts.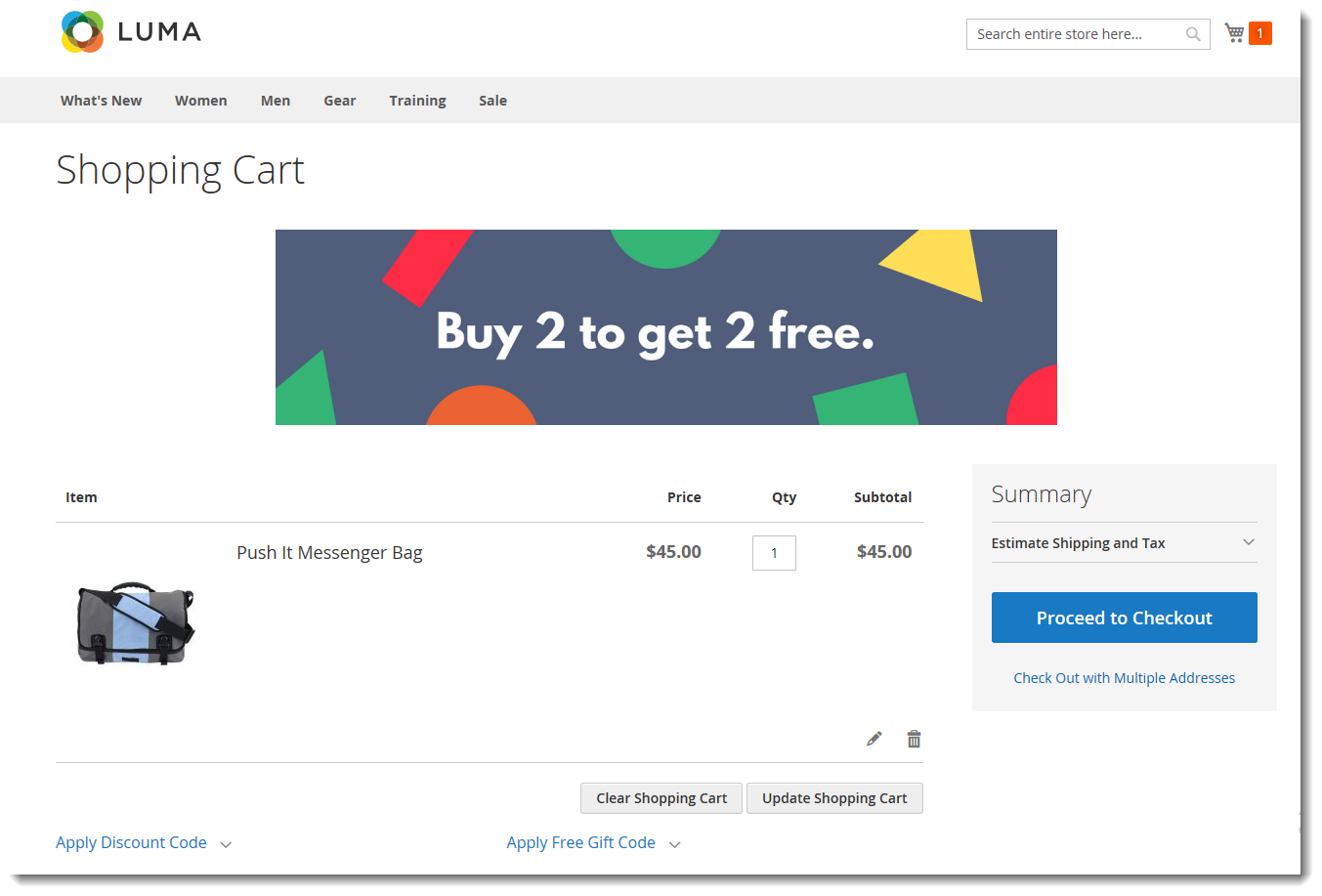 Effectively cross-sales/up-sales with other promotion banners or messages on Shopping Cart page
Letting customers know what and how to get a free gift will effectively navigate customer's behaviors toward achieving that condition. With Magento 2 Free Gift, admin can totally show some catchy banners or messages of current promotion programs on the Shopping Cart page for cross-sales/up-sales purposes.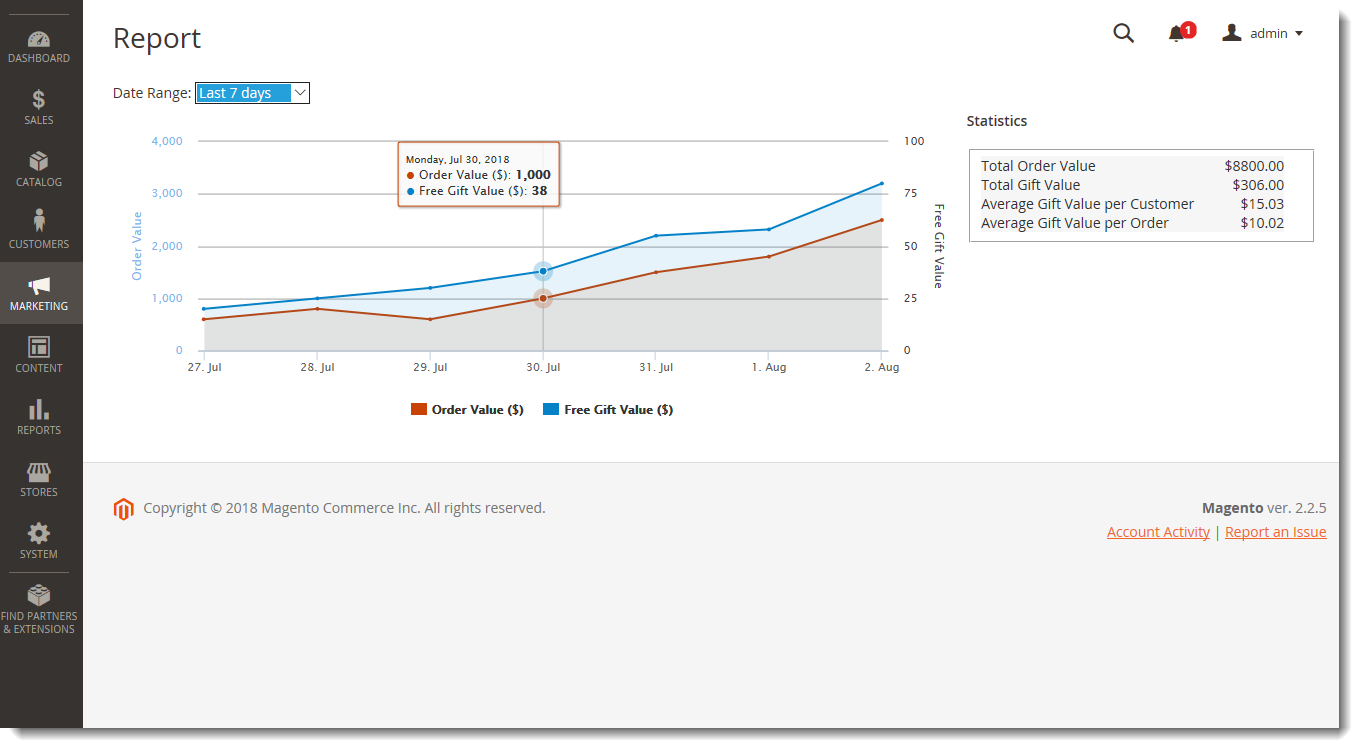 Easily keep track of the balance between order value & gift value with Report chart
With just a glance at the Visual Report, the store owner will well aware of the Transaction Value and Free Gift Value in Line charts and Statistics. This information will help store owner adjusts the program if needed to make sure of maximum profit.
Feature Full-List
FOR CUSTOMERS
Display gift icon and gift message on the category/product page
Display free gift options on Shopping Cart page for customer to select when the condition is matched (Shopping Cart rule)
Display banner/message of promotion program on Shopping Cart page of Magento 2 Free Gift
Automatically add free gift(s) to cart along with the main product (Catalog Rule)
Automatically update quantity of free gift(s) corresponding to the main product's update (Catalog Rule)
Allow editing free gift's option
Support AJAX cart
FOR THE STORE OWNERS
Setup promotion program(s) based on the Catalog RuleSetup promotion program(s) based on Shopping Cart Rule
Combine multiple conditions in a gift rule, such as attribute combination, subselection, combine conditions and Cart attribute
Set the validation date range for each rule
Allow setting rules for specific targeted customer group(s)
Set priority for rules
Apply different rules for different stores of Magento 2 Free Gift
Limit number of free gifts available for each promotion program
Allow to create & use gift code to add free gift on Shopping Cart page (Shopping Cart Rule)
OTHER FEATURES
Support multiple stores & multiple languages
HTML & CSS Validation
Simple & Flexible configuration
100% open-source
Why should we choose MageWorld
Free
Life-Time Upgrade
Free
Life-Time Support
90 Days
Money Back
100%
Open Source
98% Customers
Satisfied
11 years
On The Market
Testimonials
Your satisfaction is our most value motivation
Mage-World's Magento 2 extensions are very impressive, they are all easy to install and use. I haven't experienced any difficulties when using these products. I highly recommend this site! I think I will sponsor this company to my friends in the future.
Ashley Rulin, Sales Manager
The support service is really good, you're always there when I have problems. I have worked with several services but you are the one that is able to satisfy my expectation. I will continue working with your service in the future! Keep the good work.
David Bleu, CEO
I'm really impressed with the Magento 2 Affiliate Pro module from Mage-world. It's simple, but powerful, and it can entirely replace my previous costly affiliate system without any difficulty. It's a valuable catch for anyone who wants to have an built-in affiliate system for your Magento site. Besides, the support is superb and affordable.
Steve Marshall
Customers reviews
Greate support!

Carlos

When I install Free Gift extension, there is a small conflict but MageWorld team solved it quickly.
Thank you very much!
faq
Q. Can I change the Free Gift logo with my own designed one?
A. Yes, we do have the Installation Guide , which will show you how to implement the extension in detailed steps. Besides, we also provide the Installation Service ($40/installation) along with the extension in case you need.
Q. Where can I show the promotion banner(s) on the website by using Magento 2 Free Gift Pro extension?
A. You can configure to show the promotion banner(s) at the Shopping Cart page and Checkout page.
Q. Which type of products will be available to be selected as free gift?
A. Our Magento 2 Free Gift Pro can support using Simple Product,Configurable Product & Virtual Product for free gift product.
Q. Can I change the Free Gift logo with my own designed one?
A. Sure, our Magento 2 Free Gift Pro extension allows admin to upload their own logo as preferred. This can be done in the backend configuration by going to:
Marketing --> Free Gift Pro --> Configuration.
Q. If I want to add some more custom features to this extension, is it possible?
A. Our extension is 100% open-source, which mean you can freely customize it anyway you want. Otherwises, you can always use our Professtional Customization Service. Feel free to give us your request and we will send you the quote.
Q. Is this extension already compatible with any Checkout extension?
A. Yes, our Magento 2 Free Gift Pro is already integrated and working well with MageWorld Magento 2 One Step Checkout extension. If you have any problems or want to integrate it with any other checkout extension, just contact us.