mHitech (Free)
mHitech (Free)
mHitech (Free)
Mage World is happy to introduce new free mHitech theme which fits products of technology world such as computer, camera, mobile phone, etc.
Simple but impressive, mHitech must attract more potential customers to any web-shop using it. It is a basic Magento theme that is perfect for ones looking for clean and clear design. Included is beautiful banner on homepage and very customizable sub-pages, which enables you to showcase any special offers.
Plus with that, this theme is HTML & CSS validated carefully by our experienced experts. Also, it is very easy to install, easy to use and edit.
Check out our other free Magento themes here.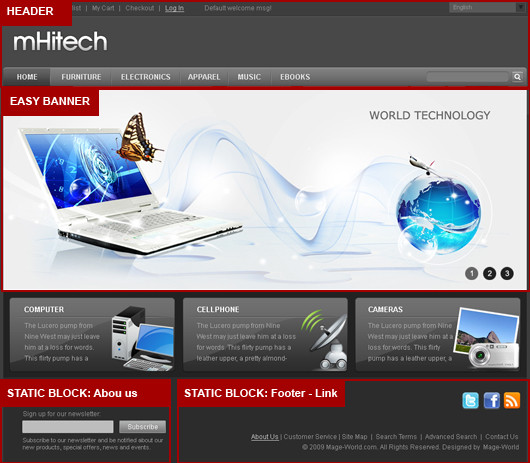 License Note
(+) Allow: You have full permission to use or customize for your website or for your client website.
(-) Not allow: You are not allowed to redistribute or resell this theme any where.
(*) Copyright: You must keep our copyright at the footer of the template. To remove it you have to purchase the theme with Remove Copyright option.

FEATURES
+ Compatible with all major browsers(IE6, IE7, IE8, FireFox, Safari, Chrome)
+ Optimized for fast loading
+ Easily customize with PSD files (included in the package)
+ SEO (Search Engine Optimization) compliant
+ W3C HTML & CSS validated carefully


ADDITIONAL EXTENSIONS
This theme uses Easy Banner extension, Smart Menu extension.
Please contact us to get the additional extension if you have purchased it.

LIVE DEMO
http://demo.mage-world.com/1620/index.php/mhitech/
* We are sorry but we can not offer support for our free downloads. If you have any questions, please post them on the extension/theme discussion page. If it is a common question and we have the time we will answer for you.
mHitech (Free)
mHitech (Free)
mHitech (Free)
Write Your Own Review
Only registered customers who bought this extension can write a review. Please sign in here
mHitech (Free)
mHitech (Free)
mHitech (Free)
mHitech (Free)