Mage-World is pleased to inform that new free theme mEbay is now available after two week wait.It is a basic magento theme with clean look and user friendly performance.
Get the inspiration from one of the world leading online auction and shopping website, eBay, we have designed this free theme with the aim of bringing customers great shopping experience. It is promisingly suitable for any kind of magento web-shop. In addition, completely customizable sub pages are included.
Like other magento themes of Mage-World, this theme is HTML & CSS validated carefully. It's also easy to install, easy to use and quite free.
Check out our other free Magento themes here.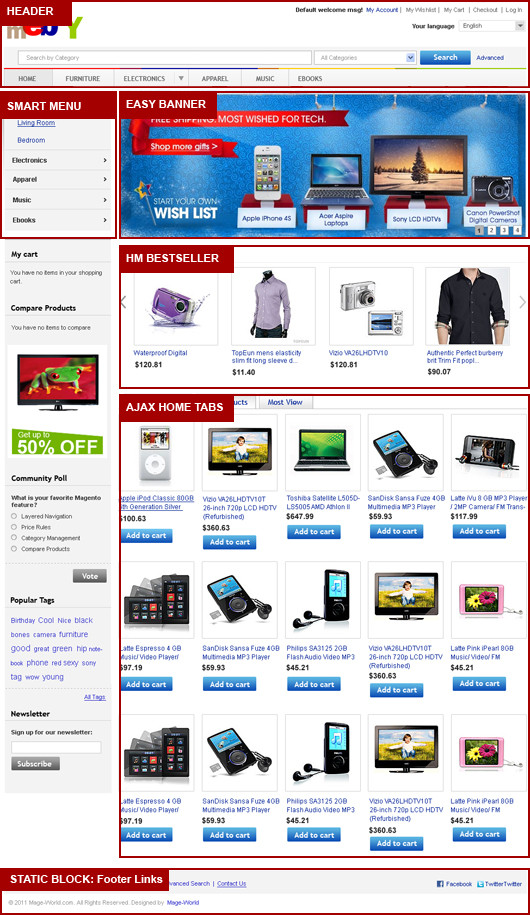 License Note
(+) Allow: You have full permission to use or customize this theme for your website or for your client website.
(-) Not allow: You are not allowed to redistribute or resell this theme any where.
(*) Copyright: You must keep our copyright at the footer of the template. To remove it you have to purchase the theme with Remove Copyright option.

FEATURES
+ Compatible with all major browsers(IE6, IE7, IE8, FireFox, Safari, Chrome)
+ Optimized for fast loading
+ Easily customize with PSD files (included in the package)
+ SEO (Search Engine Optimization) compliant
+ W3C HTML & CSS validated carefully


ADDITIONAL EXTENSIONS
This theme uses Easy Banner extension, Smart Menu, Best Seller Products
Please contact us to get the additional extension if you have purchased it.
* We are sorry but we can not offer free support for our free downloads. We do offer our inexpensive Installation package to fix most conflicts with other themes/extensions and customize your free theme/extension.
* Free Themes do not include additional extensions shown in pics/live demo.
Perfect template - easy to install

mEbay template is very easy to install following the instructions provided by Mage-World.
Also it looks good - and have good functionality.
Overall very satisfied with mEbay and Mage-World.
/Kent


Kent
Write Your Own Review
Only registered customers who bought this extension can write a review. Please sign in here
Discussion Board