mApple 2 - New Design with Apple store style
With the purpose of support your e-business for free, Mage-World is glad to introduce new free theme mApple. This Magento theme has the advantage of clean and clear design which is suitable for wide variety of products.

mApple is a basic magento theme allowing you to show products in the middle of the page, and functional modules on two sides. It provides customers an ease when visiting a webshop with clear lay-out like this. Included is a great looking banner and very customizable sub pages. Plus with that, this theme is HTML & CSS validated carefully by our experienced experts. Also, it is very easy to install, easy to use and edit.
Check out our other free Magento themes here.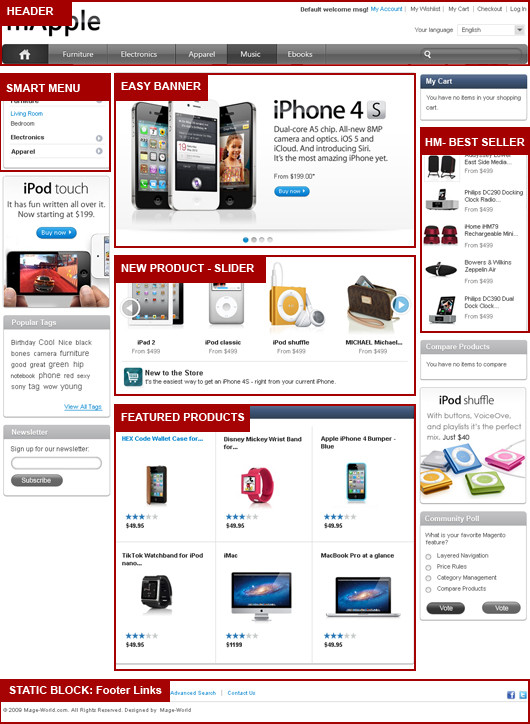 Allow: You have full permission to use or customize this theme for personal website or for your client website.
Not allow: You are not allowed to redistribute or sell this design any where.
Required: You must keep our copyright at the footer of the template. To remove it you must select Remove Copyright option.

FEATURES:
+ Compatible with all major browsers(IE6, IE7, IE8, FireFox, Safari, Chrome)
+ Optimized for fast loading
+ Easily customize with PSD files (included in the package)
+ SEO (Search Engine Optimization) compliant
+ W3C HTML & CSS validated

ADDITIONAL EXTENSIONS:
To fulfill functionality to your web-shop, you should use this free theme with Magento extensions Easy Banner, Smart Menu, Best Seller Product.
Please contact us to get the additional extension if you have purchased it.
* We are sorry but we can not offer free support for our free downloads. We do offer our inexpensive Installation package to fix most conflicts with other themes/extensions and customize your free theme/extension.
* Free Themes do not include additional extensions shown in pics/live demo.
excellent theme... I bought a little time and I'm still customizing, but the theme is excellent!

Eduardo

I looked at a lot of themes before deciding on this one. This one is great and easy to use. Thank you

Karen

I'm a developer, I used this theme. It is very good in html, css. Easy to customize theme. Thank for sharing this theme.

Budd

A wonderful theme! I love it so much. I also used the easy banner for this theme. The extension is very simple and friendly.

Phils

Easy to install theme. Thank for sharing. Keep up a good work.

Carter1982

I love this theme. I purchased additional extension for this theme. Every thing work fine. Thanks MageWorld

Powel
Write Your Own Review
Only registered customers who bought this extension can write a review. Please sign in here
Discussion Board