One Step Checkout Pro
One Step Checkout Pro
One Step Checkout Pro
Overview
Streamline your checkout process! Our One Step Checkout Pro extension condenses the standard 6 steps check-out process into one step saving your customers valuable time. This hassle free and fully customizable extension focuses only on the essential fields. Increase your customer retention and conversion rates and increase sales with our One Step Checkout Pro extension.
We bought this extension to improve our checkout conversion rates. This was the single most cost efficient purchase we made ever. Excellent service from the MageWorld staffs...
Heinrich Steier, www.youkauf.com
30 Day Free Trial
Quick View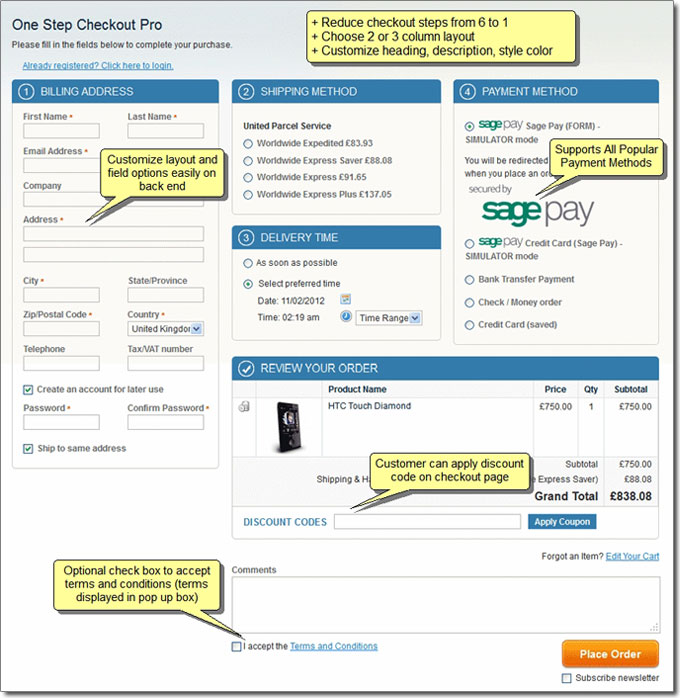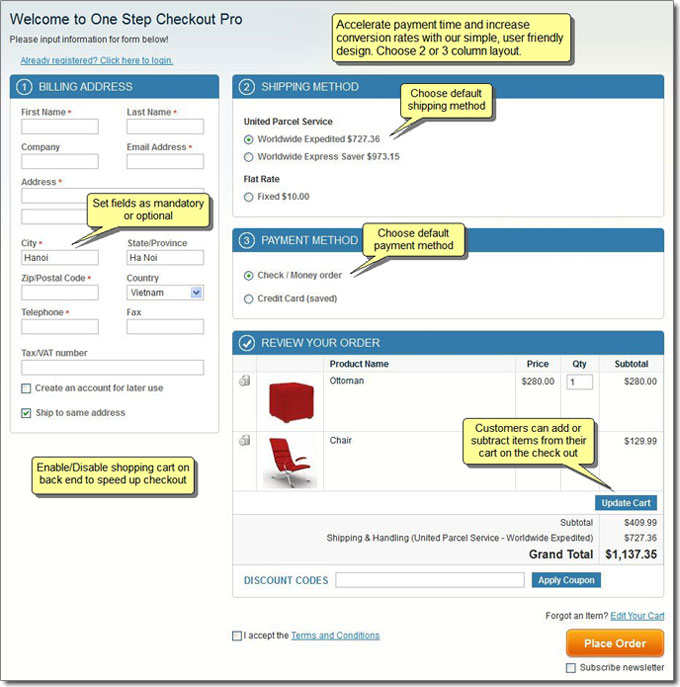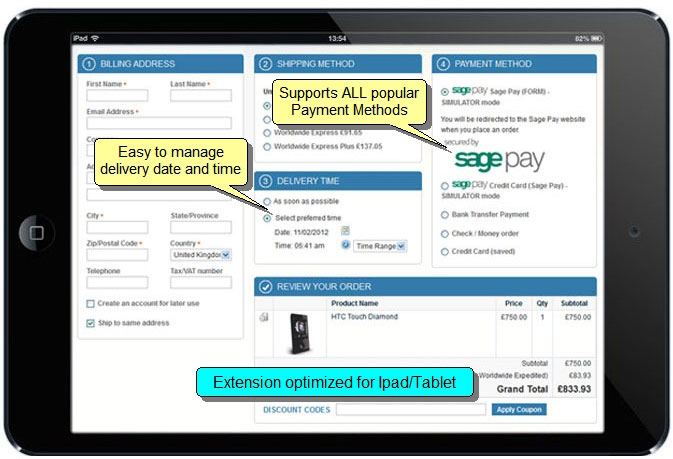 30 Day Free Trial
Features
Easy Management
Allow to enable/disable shopping cart to speed up checkout
Auto-disable One Step Checkout on mobile phone

(New)

Ajax customer email validation
Easy to change the checkout heading / description
Set/sort and customize fields on the back end. Set as mandatory/optional
Change style color in the backend configuration

(New)

Allow to set default country, default shipping method and default payment method
Easy to enable/disable all address fields, set them as mandatory or optional
Easy to sort address fields your way. These include: Company, City, Region, Telephone, Fax, Postal Codes and VAT/TAX number among others.
More Convenient Features
Enable check box for approval of terms and conditions (terms displayed in pop up)
Allows to add poll on the checkout page

(New)

VAT/TAX number verification for Europe Union countries

(New)

Allow to enable/disable Newsletter subscription when checking out
Auto-detect customers' country, city, state/province and zip code with Geo IP technology

(Featured)

Auto-update customers shipping method and shipping rates when they choose their country, city, region and zip code

(Featured)

Auto-update prices, taxes and totals when choosing Shipping or Payment methods

(Featured)

There is flexibility for the admin to manage the delivery date, time and other components easily.
Quick Checkout
All checkout steps in one page
Customers can add or subtract items from their cart on the checkout page

(Featured)

A log-in pop up allows customers to log in quickly when checking out
New customers can create an account when checking out (optional)
Gift messages can be sent to friends with an order
Customers can make comments when checking out
The checkout page allows customers to enter their discount codes

(Featured)

All unnecessary fields can be set as optional
More Convenient Features
Easy to select delivery date and time
Allow to subscribe newsletter when checking out
Easy to vote poll on the checkout page

(New)

Auto-filling country, city, state/province and zip code with Geo IP technology
Allow customers to select an address from their address book

(Featured)

Auto-select default shipping method and payment method
Auto-update prices, taxes and totals when choosing Shipping or Payment methods

(Featured)

Delivery can be made to different address than billing
30 Day Free Trial
Other Features
With the optimization of java script, the product runs 30% faster

(Featured)

Works perfectly with popular browsers including Firefox, Chrome, IE 7,8,9,10 and Safari

(Featured)

Upgrading and installation is easy, just copy and use
Configuration is easy and flexible
Simple backend management
Front end can be easily customized with HTML/CSS
Multiple stores and multiple languages are supported
Full HTML contents are supported
100% open source
Highlighted Features
Checkout steps have been reduced from six steps to one
Supports most popular payment gateways (Paypal, Moneybooker, Sagepay, 2Checkout,...)
Change layout from 2 columns to 3 columns, change style color on the backend
Optimized for Ipod/Tablet
One Step Checkout Pro
One Step Checkout Pro
One Step Checkout Pro
Great company overall highly recommended.

Although this module and the other eight or so are still on my testing site, all seems well and the support has been second to none-really. The responses have been quick, friendly and efficient. Give them a shot today.

Best regards
Jason

Jason - Allgermanparts.co.uk

Although we got it for full price before the special, this extension is worth every penny. We use it on our Fitness website (http://www.ironbullstrength.com/) and already have seen our conversion go up! The customer support is awesome and the extension is fully customizable! 5+

Frank - Ironbullstrength.com

If one hesitate if he/she should buy this one from Mage-world DON'T!
Buy this awesome extension right away !!

Quick and smooth installation. Clearly documented.
A major customer saver. We receive many positive feedbacks from our customers after installing this extension.

Hope you to.




Webmaster - Suzalle.com

I just want to say that i am very satisfied with the One Step Check pro module I bought from MageWorld. I needed some extra modifications for my checkout and they have responded and supported me correctly to make those changes possible by modifying the module. A big advantage of their module is that you get 1 year free support and 1 year free updates (others only offer 3 to 6 months and their module is twice as expensive. This is very important as Magento keeps updating too. Nice product and very nice Support! Keep on the good work!

David - LysaFlores.com

I compared also other extensions from other companies. This vendor offer really a great product and cheaper as other vendor do. Price of 149USD is also ok because the support at this company is really amazing.

Anton - Rechemco.com

Great extension with even better support

Very well designed one step checkout solution. Clear and clean design with a lot of backend "tuning" options.
I had been having some adjustment to be done because of a third party extension that had to work together with this module. The work had been done with a lot of patient by real professional guys.
Thank you so much !

Guy Alony - Shoptoshape.com

Very good and important extension

We bought this extionsion to improve our checkout conversion rates. This was the single most cost efficient purchase we made ever. Excellent service from the MageWorld staffs. MageWorld is one of the most impressive Magento vendors. Their products install very cleanly, the admin & front end interfaces are clean and comprehensible, and the support is TOP. Very recommended.

Heinrich - YouKauf.com

The OneStep Checkout makes the checkout process look much more appealing and user friendly.
The site intalled on was running an old version of Magento with other extensions, so there were a few hitches, but the support team were very responsive and sorted out all issues. Very reassuring.

Jo - incacreative.co.uk

I bought this extension with multi domain license so I can use for all my sites. It works fine for all. If I have a question, MageWorld usually reply it in hours. Very good customer service.

Fernando

Easy to install, easy to setup and easy to use. The extension provided many options to customize on checkout step. Thanks.

Farrugia

Best onestepcheckout ever!! Great support!!

I was looking for a one step checkout for Magento and found this one. This works out of the box perfect!
Then my client wanted some adjustments on this one step checkout page, i contacted MageWorld on live chat, this guy really gives a new meaning to the word "support". He made the adjustments and tested everything for me and it works great! my client is happy and so am i :)
MageWorld keep up the good work and i will spread the word on this one, everybody that uses Magento should use this one page checkout for your site.

Roderick

Highly Recommended! + Great Support!

This is a fantastic Extension for Magento! The ease of installation, the simplicity for your customers now to checkout in under 60 seconds will definitely improve sales! & customer experience! the support from MageWorld has been the best I have ever experienced! especially with their online chat... It is worthwhile to checkout this extension - Highly Recommended!

Intwo

Well... Extension works as described.
I had A LOT of problems, because of an Extension i had on my installation.
I needed both extensions to work with each other and Wage World fixed that for me :)
They also translated what could not be translated via In Line.

Basically the extension is good, but the support is the BEST around :)

Martin

I purchased One Page Checkout for my site and had some problems with Pay Pal integration. Actually I think my problem was partly with Magento's Pay Pal(new api), however MageWorld helped me through my problem, and answered my questions quickly. Support staff even took a look at my site to get a sense of what was going on. It is rare to find this level of support with an extension. Thanks MageWorld!

Cswikon

The best estensions for Magento with great support

In my opinion this is definitely the best extensions you can get if you run a Magento e-store.
For a very reasonable price you get a super component which will really help you in increasing your sales on the internet, the very smart developer of this piece of cake, offers a STELLAR and effective support.
One Page Checkout is also fully customizable and very light weighted; in 3 words: SIMPLY THE BEST.
In my opinion we should encourage the great work of serious developers as MageWorld because Magento world needs them!

Avalon86

Easy to install, easy to configure. I think All people need it for their site.


Pablo

I bought this module and i had some problems with my template i was running on my website.
I send an e-mail to MageWorld the maker of the component. And he help t me solve the problem.
It's a perfect component, and will help my clients to shop and register and pay easier on my website.
Thanks for everything.

Best regards Jorik

jorikb

I used this extension for many sites. It works totally fine. The support is quick.

De vart

Very nice extension. There are many options for you to manage this. I love this module. 100% recommended.

Paulino

Great support, awesome extension

Bought this extension couple of days ago and had problems with installation. Probably due to other extension that I use. So I send an email for support and Nguyet NGUYEN helped me out. He and his team fixed all problems and now its running like a charm! Thanks very much!

Hopefully this will give me more sales, but I bet it will.

Danny

it's a must have extension for any serious web store owner. This One Step Checkout Pro will make life easy for your customers as it combine 6 steps into only 1 step and will increase sales.

THE BEST INVESTMENT YOU CAN DO IF YOU WANT TO RUN A SUCCESFULL WEBSHOP!

raizen

I am very happy with this extension and the support from Mage World.
It's easy for me to install and really improves sales conversions.
Recommend this to everyone.


Elvar

The best extension I ever bought ! My boss love it too ! but ,there is a little problem hope that you can fix for me ! I want to add some downloadable products into my store , But if I only add downloadable product into shopping cart , I can't checkout !
My email is 124937255@qq.com ! hope that you can contact me !

tom

Great support and nice extension

A very nice and good working extension.
The support is also perfect.

Lovely greetings

Marcel

Marcel
Write Your Own Review
Only registered customers who bought this extension can write a review. Please sign in here
One Step Checkout Pro
One Step Checkout Pro
One Step Checkout Pro
Legend
+ New features added
* Fix bug
v3.1.1 (May 17, 2013)
+ Reorganize configuration tab

v2.1.9 (April 18,2013)
+ Intergrate enterprise reward points
+ Integrate Matrix_rate
+ Checkout with paypal paypal advanced, paypal payflow link,
* Fix fancybox, jquery
* Update backend configuration

v2.1.6 (March 22,2013)
+ Checkout with paypal pro hosted solution
+ Update shipping method when update product quaty or remove product if enable ajax update shipping type
+ Save address when customer logined but not show address book.
* Translate some text
* Update backend text

v2.1.5 (February 20,2013)
+ Apply Referral code for extension affiliate
+ Update item number on my cart when add, remove product
* Show email when create email in backend
* Checkout as guest not depend default magento
* Change auto disable on smart phone
* Disable default term and codition in onestepcheckout

v2.1.4 (February 17,2013)
+ Processing Persistent shopping cart
+ Remember estimated shipping rate in shopping cart
+ Update product according to url
+ Don't allowed subcribe new letter with the same email when checkout as guest
+ Fix change layout in Magento Enterprise
* Alert error if it has error when place order
* Update some text in backend
* Remove disable onestepcheckout on ipad in config.xml

v2.1.0 (December 7, 2012)
+ Fix "Allow checkout as guest"
+ Fix "Delivery time"
+ Show list poll in "Show poll" features so that manager can chosen poll to show.
* Fix Error in IE
* Fix white page when checkout by sagepay server payment method.

v2.0.6 (November 23, 2012)
+ Add feature allow add operations system is disabled onestepcheckout.
+ Show user comment in their email when place order.
+ Change position of poll.
* Fix error when click "use billing address" with shipping and billing is new address.
* Fix issue with virtual product
v2.0.4 (November 15, 2012)
+ VAT/TAX number verification for Europe Union countries
+ Allow votting poll on check out page
+ Auto-disable One Step Checkout on mobile phone
+ Optimize checkout for Ipad and tablet
v2.0.3 (November 10, 2012)
+ Change sort billing-shipping, disable sort billing-shipping.
+ remove . in zipcode in order
+ Intergrate Sage pay form, sage pay direct.
+ Save address infomation.
+ Show or not show user comment, delivery date, delivery time in admin Grid
+ Show user comment, delivery date, delivery time in email order.
* Fixed bug not save address street line 3 and address street line 4
v2.0.1 (November 1,2012)
* Fixed bug CSS, JS on Magento EE(IE7)
v2.0 (October 29th 2012)
+ Allow changing layout in backend (Support 3 columns/2 columns layout)
+ Show address form with address book
+ Improve many features
+ Optimize Ajax/Javascript
+ Reorganize backend configuration
+ All new design, allow change style color in backend
* Fix place order error of optional fields
v1.4.3.1
*Fixed "geoip make double checkout page".
v1.4.3
*Fixed login box's dimension on IE9.
+Upgrade jquery library to newer version.
+Upgrade "VAT ID" feature to compatible with Magento 1.7.x.
v1.4.2.2
*Fixed "Sales order grid" and order details in backend.
*Fixed "place order button is disabled" on IE.
v1.4.2.1
*Fixed "Table rate" shipping method does not update shipping type when active prefix and date of birth of customers.
v1.4.2
* fixed double address
v1.4.1
* Remove blanket "[]" at review form.
v1.4.0
* Update shipping method
+ Upgrade for magento 1.6.x
v1.3.7
* Fixed viewing customer in admin, file : mysql

v1.3.6
* Fixed IE 9 while invalid, still Submit -> change type of button from submit to button, allow to click but not submit
v1.3.5
* Fixing payment method doesn't update discountFile: IndexController.php

v1.3.4
* fixed N/A in order

v1.3.2
+Date format change added for delivery date (mm/dd/yy, dd/mm/yy)
- Auto-reload payment method when customer change country, city. postcode, ...

v1.3.1
+ Allow showing product image in checkout cart
v1.3.0
+ input discount code
+ if product is type of download-able or virtual>> disable shipping address, disable shipping method
+ valid email ajax
+ disable notification of valid email
+ turn off load effect in case of customer logged in
* fig bug " inserting coupon at Magento version 1.5"
* fig bug "order disappear when customer view order in my account (in case of disable one_step_check_out and default checkout)"
* fig bug "save new information when customer insert new form or change form"
* fig bug "table prefix(add file sql 1.1.3-require of creating new table prefix when install magento)"
* fig bug "not display gift message in my account or sale/order/view (add code 713 controller)"

v1.2.9.3
+ Compatible with Magento 1.5.x
+ Add new feature: Allow customer to subscribe newsletter
* Fixed error: download_able product related problem, search sale order by status at backend

One Step Checkout Pro
One Step Checkout Pro
One Step Checkout Pro
One Step Checkout Pro
One Step Checkout Pro
One Step Checkout Pro
One Step Checkout Pro