Daily Deal
Daily Deal
Daily Deal
Overview
Highlight and manage your e-store advertising campaigns in a professional and attractive way with our popular Daily Deal Extension.
You can simultaneously manage past, present and future deals, multiple specials and highlight "featured items". Count down to the start of your deal or to the expiration date.
Deals will be automatically activated at the specified time and deactivated once the set time expires. You can also automatically update sold quantities on your website.
Quick View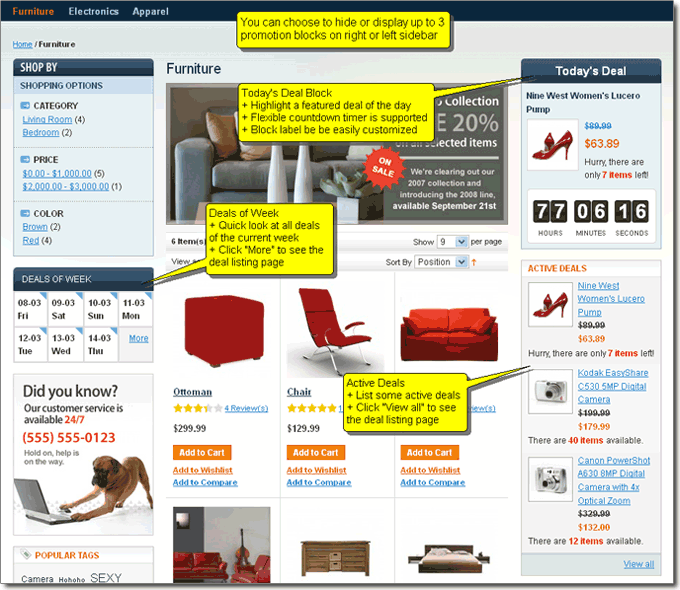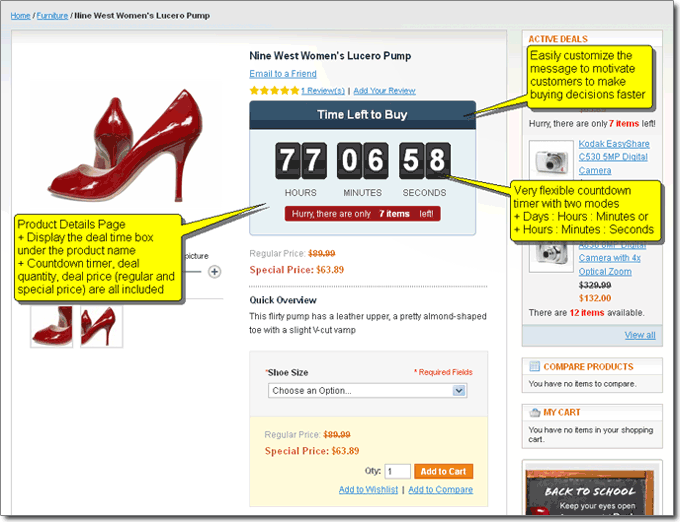 Add to Cart
Frontend Features
Multiple deals are supported, with featured deals easily highlighted
Three promotion boxes: "Today's Deal", "Active Deals" and "Deals of Week" can be flexibly displayed on right or left sidebar
All of your deals can be organized in three tabs: Past Deals, Active Deals, and Upcoming Deals in the deal listing page.
'Today's Deal' block for CMS page is supported for your own marketing purposes
Flexible countdown timer with 2 modes: Days:Hours:Minutes or Hours:Minutes:Seconds – depending on the countdown's duration.
Backend Features
Deals can be managed according to a schedule
Deals can be activated automatically on the basis of a preset activation time
On exhausting the deal quantity or completing the time duration, the deal will be automatically disabled
Once a deal period is over, it is automatically reassigned from the 'Active Deal' tab to the 'Past Deals' tab.
Sold quantities are reported and automatically updated
Deal price and deal quantity can be set flexibly
Other Features
Easy to install, easy to upgrade, just copy to use
Friendly and flexible configuration
Support multiple languages
HTML/CSS validation
Easy to customize front-end via HTML/CSS
100% open-source
Daily Deal
Daily Deal
Daily Deal
Must have - Customers love it

This is an awesome extension and forms part of our overall promotion strategy. We use it to offer weekly deals and customers are returning each time to see whats been added. Sales have increased and we share our deals via facebook which has been great for increasing traffic. Great support team which got this extension working 100% for our needs!

Rainier - www.beautyrun.co.nz

Extension extremely flexible and extremely stable and just works as expected!

The functionality and look-and-feel this product provides is perfectly implemented, just in all sense a Magento extension should be!

In our case it integrates perfectly with our existing (custom) themes. One of the most powerful features is the fact you can change your default Store home page that it shows your day deal and just by adding one line of code.

I can confirm it works on Magento version 1.7

Jason - Idiva.nl

this extension is perfect for my shop. I'm totally satisfied with it. Strong recommended

Neil85

The extension is easy to install, easy to configure. it is very powerful with a lot of features. You can easy to manage deal plan by back-end. I want to rate 6 stars for this product :)

Mathew

This extension works perfectly for my site. This is really powerful extension with a lot features. I'm satisfied 100%, love it so much. I recommended extension to every one.

Lenore

It's an excellent extension. It does exactly what I want. They also responded any questions quickly and helpful. I think they did an awesome job all around!

Rosato

This is a great promotion extension. It works as advertised. However the support team is more than excellent. It's really the best support I have found.
Highly recommended!

Nicky78

Excellent extension for promotion

Except default promotion of Magento. This extension is one of the best ways for promotion. It has every things I want. I had small problem but the support helped me to fix this. Great support and excellent extension.

Ortuno
Write Your Own Review
Only registered customers who bought this extension can write a review. Please sign in here
Daily Deal
Daily Deal
Daily Deal
Legend:
+ new feature added
* bug fix
V1.3.4 (February 20 2013)
* Fixed error "when product is out of stock or sold out it does not remove from daily deal product list".
* Fixed error with database prefix
v1.3.2 (January 12 2013)
* Fixed error "Backend: place under " Daily Deal Price" or "Schedule" can enter text".
* Fixed error "Backend/ Daily Deal Price / Discount type /To fixed price : enter price to check >>error".
* Fixed error "Backend/Manage deal : at "Select all" column click to choice deal, after edit "Actions" status to "Disable" and click "Submit" to save >> at "Status" column not show text "Disable"".
* Fixed error "Backend/ Manage deals : double click "show deals" will show schedule error".
* Fixed error "Can not create more deal from a product."
v1.3.1 (January 8, 2013)
* Fixed error "enter value more than 100 and less than Regural price for discount type(By fixed amount) then Deal price auto-change to 0".
* Fixed error "at Shopping cart,update deal's Qty to 0 in case of customer enters over deal qty before,still show warning"
v1.3(January 7,2013)
* Fixed error can not delete deal at deal information page at backend
* Fixed error can not display status of "disable" at Manage Deals page when diable deal at deal infomation page at backend.
+ Change: remain inserted qty that customer inserts at the shopping cart page instead of turning to 1, showing warning.
v1.2.9(January 4,2013)
* Fixed error relates to limit deal can use the other tab to buy more than limited deal quantity
* Fixed error not display all deals when click <View All> from frontend.
v1.2.8(January 3,2013)
+ Optimal code when loading deals in product list.
+ Support downloadable product "show deal information at the prodcut detail".
+ Show warning when store owner insert the deal price that is bigger than product price.
* Fixed error still show deals at Calendar when deals were sold out.
* Fixed error still show deals at past deal when deals were disable.
v1.2.7 (November 28 2012)
+ Fixed some bugs: undefined variable, change some block name,...
v1.2.5 (September 4, 2012)
+ Support virtual and downloadable product
v1.2.4 (August 29,2012)
* Fixed error that not display deal price at catalog page
v1.2.3(August 27, 2012)
* Fixed error that not show date deals of block calendar
* Change URL of tabs: daily-deals,daily-deals/past,daily-deals/comming
* Add new condition for active deals: deal qty> sold qty
+ New feature: limit purchasing deal qty per customer
v1.2.1 (August 15, 2012)
+ New feature: Today's Block for CMS page, display Today Sale product on CMS page
+ New feature: Support Configurable product
* Fixed faltal error, happening when creating new order
* Fixed error - can not select deal quantity for products with unlimited quantity (No stock configuration)
* Fixed error not auto-subtract deal quantity, for configurable product
* Fixed CSS error, relating to side bar deal block
v1.1.0
+ add sold quantity field
+ Use javascript for deal quantity and active time
+ Control deal time to avoid dupplicating.
v1.0
Extension realeased
Daily Deal
Daily Deal
Daily Deal
Daily Deal
Daily Deal
Daily Deal
Daily Deal