Advance Categories
Advance Categories
Advance Categories
Overview
To a big online store with various product categories, it is more convenient for you to organize your categories in a new, interactive and more friendly way. With our Advance Categories extension, you can do that easily.
Advance categories is an useful magento extension that allows customers to see subcategories together with their images in one page when clicking on one category. Therefore, it provides customers an ease when visiting an online store with more beautiful lay-out and clear content like yours than normal ones.
In admin panel, you can freely choose the level of product category as well as column number of products you want to showcase. Furthermore, you can also upload thumbnail images for them. Also, you can arrange your categories flexibly.
Advance Categories is a really good solution for big stores. If you are looking to add functionality and interaction to your magento store, let Mage-World do it for you. Don't hesitate to put this useful magento extension to your cart, or you will miss the chance to increase your sale.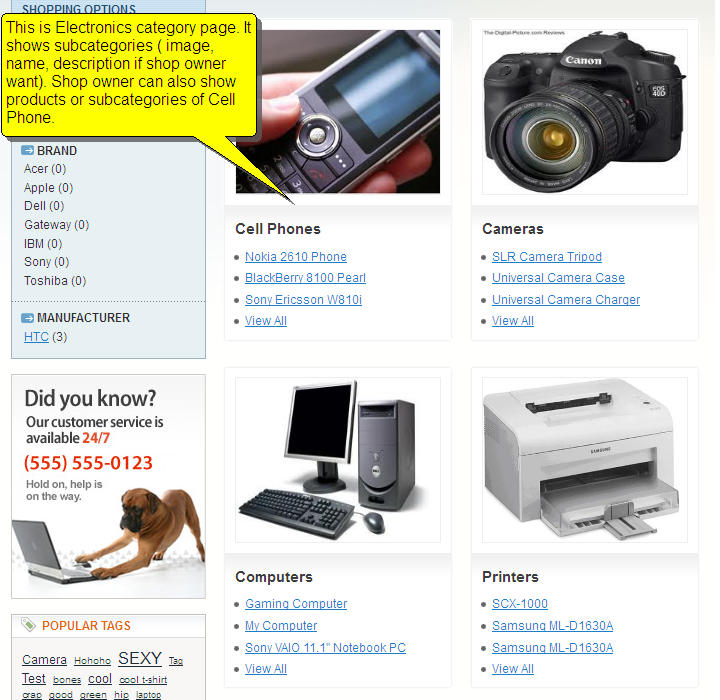 Frontent
Show subcategories with thumnail image when click on category (called categories list page)
Show show products and/or subcategories (Third level) in the categories list page
Backend
Allow to show subcategories when clicking on category
Allow to set the category level which will show its subcategories
Allow to show products and/or subcategories (Third level)
Allow to set the number of subcategries or products
Allow to set the number of columns in the categories list page.
Allow to show category description
Support Alt tags
Other Features
HTML/CSS validation
Easy to install, easy to upgrade, just copy to use
Friendly and flexible configuration
Support multiple stores and multiple languages
Easy to customize front-end via HTML/CSS
100% open-source
Advance Categories
Advance Categories
Advance Categories
Very easy to install. Simple to configure. The support is helpful. I have a issue with my template and extension, and mageworld have fixed this free for me. Thank MageWorld. I will buy more extensions in the future.

Nelson

It takes me 15 minuets to make working on my site. There is very simple. It works as advertised. I recommended.

Joesph

I purchased and installed extension. I used magento 1.7 and after install extension, on product page the long description is disappeared. I posted a ticket and they fixed it for me on 1 hour. Thanks Mage World for fast support.

Chaples

This is simple extension, easy to install, easy to configure. I used on magento 1.6 and you should remove image thumnail field because on magento 1.6 have supported this.

Bum12
Write Your Own Review
Only registered customers who bought this extension can write a review. Please sign in here
Advance Categories
Advance Categories
Advance Categories
Legend:
+ new feature added
* bug fix
v3.4.0 (March 13, 2013)
+ Optimize code (filter method related)
v3.3.0 (December 13, 2012)
* Fixed bug "make shop-by block not filter properly"
v3.0 (September 21, 2012)
+ Show subcategries in the category list
+ Show products in the category list
+ Show category description
+ Add more configuration
+ Making compatible with Magento PE, Magento EE
* Change MageWorld tab position
v2.2.0 (August 22, 2012)
* Fixed stop showing long description
* Fixed bugs on magento 1.7: double show category menu
v2.1.0
* Upgrade for magento 1.6.x
v2.0
+ Extension release
Advance Categories
Advance Categories
Advance Categories
Advance Categories